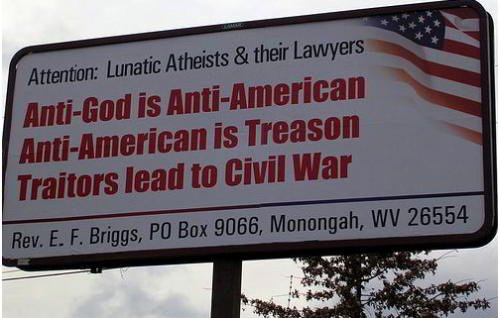 The short answer is no!
I do not know of one atheist who is working to turn the United States into an atheist nation. I do know a number of atheists who are working very hard to stop theocrats from turning the United States into a Christian nation.
Most atheists want neutrality. Theocrats want authority, domination, and control. When it comes to government and public education, atheists want Christian dogma checked at the door. Atheists want science taught without creationism and other mythical Bible stories being part of the curriculum. Christians are free to learn about creationism at home or their house of worship.They are also free to home school their children or send them to a Christian school. However, when it comes to the public schools, evidence-based science is the only science that should be taught in the classroom. Atheists expect public school classrooms to be free of sectarian prayers, Bible readings, and attempts to proselytize school children.
Atheists want oaths and prayers to God banished from the halls of Congress and any place our secular government does its business. Atheists want the first amendment and the separation of church and state strictly applied. Atheists know that the United States is a secular state and they expect the government to function as a secular state.
Atheists promise to fight attempts to use government funds and programs to support churches and private religious schools. Atheists promise to work to end church tax exemption, clergy tax exemption, and the clergy housing allowance. The fight is direct and to the point…there is no place in the United States for state sanctioned, state funded religion.

Atheists respect the right of religious people to believe what they want and they ask Christians to extend atheists the same courtesy. Atheists have no desire to turn the United States into an atheist state and they sure as hell do not intend to let theocrats turn the United States into a Christian state. Atheists know that history clearly shows that when church and state are one, people die and freedom is lost.
Note
I speak generally about atheists and atheism. I know I can not speak for all atheists.