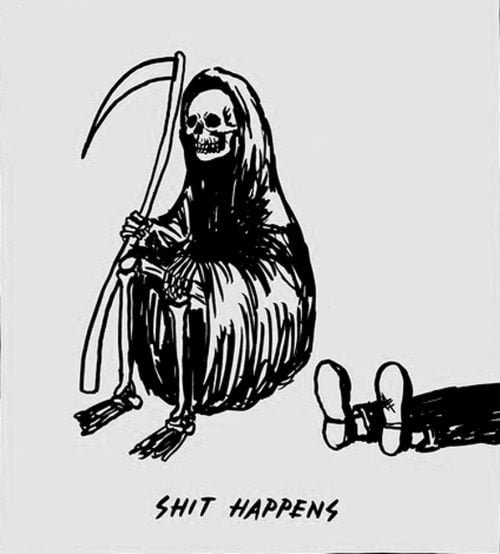 1971-1972 was an eventful period for me. I was saved at an Al Lacy revival meeting, baptized, and called to preach. My parents divorced and remarried. I missed almost a month of school due to coming down with mumps and chicken pox. What a year, right?
I also saw a doctor for unexplained pains in my joints, especially my toes and elbows. The pain was so bad I couldn't throw a baseball and THAT was a big deal to me at the time. The doctor said I was having "growing pains". I did grow a lot in 9th and 10th grade, over 7 inches, so growing pains, at the times, made sense. I now know that the doctor didn't know what was wrong with me and gave me a meaningless diagnosis.
If that wasn't enough, some of the neighbor boys and I decided to go swimming in one of the nearby ponds along I-75. The pond was dug out when they needed dirt for overpass construction.  I had fished this pond many times, and in the winter the neighbor boys would skate on the pond and play hockey.
A day or so after swimming in the pond, we all came down with mysterious blisters on our skin. My parents took me to the ER and one of the boys had to hospitalized. Doctors theorized that we are "exposed" to something in the water. We later found chemical barrels that had been dumped in the pond. I have often wondered what I was exposed to on that warm summer day in 1971?
And, I must not forget, 1971 was the year I was stung by a bee and had to be rushed to the ER because my air way was swelling shut and my eyes were swollen shut. Evidently, I was allergic to bees. (I am still allergic but less so since I had allergy shots years ago)
When I was 18, I started having swelling in my big toes. The Arizona doctor said I had gout. Other doctors, years later, said I didn't have gout. At the time of my original diagnosis I had high uric acid levels, the telltale sign for gout. Years later, my uric acid levels were normal. So, did I really have gout? I don't know.
As I got older, doctors treated me for chronic bronchitis and arthritis. One doctor told me the arthritis was the price I paid for playing contact sports. Years later, a different doctor told me the first doctor was full of crap. Yes, I now had arthritis in my shoulders, back, feet, and hands, but there was no way to KNOW if it was caused by contact sports. Dueling doctors, the bane of the chronically ill who are looking for answers.
In 1989, I came down with pneumonia. The doctor wanted to hospitalize me, but we didn't have insurance so he agreed to treat me at home as long as I came to see him every few days. Years later, I had another bout of pneumonia, along with several bouts of pleurisy.
In 1991, I began to feel tired. The doctor thought I had a virus of some sort. This went on for weeks and weeks until the doctor decided to do some tests. He found out I had mononucleosis. I was 34 years old and mono can cause serious problems for adults. It did for me.
The doctor put me on a herpes drug.  Mononucleosis is caused by the Epstein-Barr virus, and since herpes is caused by the same virus the doctor though the drug might help. It didn't and a week later Polly rushed me to the ER in Zanesville, Ohio where they immediately admitted me. I had a high fever and my spleen and liver were swollen. There was so much infection in my system that my tonsils and adenoids were white.
An internist came in to see me and told me that my immune system was crashing and that if it didn't pick up there was nothing they could do for me. This was the moment, THAT moment, when I realized, for the first time, that I was mortal. Prior to this moment, dying never crossed my mind. I had a family and church to take care of and I had thought of and no time for dying.
After my release from the hospital, I spent about a month in bed. I lost over 50 pounds. From this point forward, I became more susceptible to viruses. It seemed then and still does today that I catch any and every bug that is floating around.
The strangest thing to come out of the mono episode was my normal body temperature changed. My new normal is 97 degrees. This poses a problem any time I get a new nurse and have a fever. She will take my temperature and say, it's up a little, 99.8 degrees. I will then mention that my normal body temperature is 97 degrees, so 99.8 degrees for me is like 101.4 degrees for a normal person. Sadly, most nurses ignore me.
In 1996, I began to feel tired all the time. I mean really, really tired. And my muscles hurt. I went to one doctor who basically told me it was all in my head. I went to another doctor, the doctor who is still my primary care doctor, and over the next year he concluded I had Fibromyalgia. Since 1997, my primary diagnosis has been Fibromyalgia.
For about 10 years, my symptoms would come and go, always there but not always prominent. Being a work-a-holic with a Type A personality, having Fibromyalgia certainly cramped my ability to burn the candle at both ends, but I learned to manage my symptoms. Well, not really. I would work, work, work and then crash. I continue to repeat this cycle today. I have never been very good at taking it easy or resting. Of course, now it is different for me because I can no longer put mind over matter. My body has the upper hand and it controls many aspects of my life. I manage, but I no longer have the ability to ignore what my body is telling me.
In 2007, I began having neurological problems that my doctor doubted were Fibromyalgia related. I now had numbness in my face and thighs and I was losing muscle strength. A 15 minute walk in a store proved to be (and still does) a very painful and debilitating experience. By the time I am done walking, my thighs are numb, yet they are burning. The numbness and burning subside once I sit down in the car.
My primary care doctor sent me to Toledo to have a complete battery of tests, including a lumbar puncture.  He wondered if I had multiple sclerosis. The tests came back inconclusive, and two brain scans later I am no closer to knowing what is causing the neurological problems. Some day my tombstone will read, Died of Hell if I Know Disease.
Today, the pain and debility continue to render me a shell of the man I once was. While I am grateful for still having most of my mental faculties (outside of the short-term memory problems I have, I do miss Bruce Almighty, the man with a strong body and a strong grip, able to do whatever he put his mind to. Those days are long gone and all the wishing in the world won't bring them back. But, wishing is what old men do, especially those whose bodies are racked by the ravages of disease.
Age has added diabetes and high blood pressure to my plate. A slight bit of good news? My recent A1C level was 6.5. This means my diabetes is well controlled. Yea!
Recent months have brought new problems. I detailed those in a previous post. Tomorrow, I have an MRI and hopefully we will then know if it is something, maybe something, or nothing. After my recent CT scan, I spent significant time reading about pancreas and gallbladder problems. My doctor knows I will always educate myself. I want to be an informed patient.
I had an appointment with him a few hours ago. Refills, a new prescription for the horrible constipation I now have. I asked him what he thought about the CT scan results. He said he didn't want to speculate and wanted to wait for the MRI results. Hopefully, he will receive the results sometime late tomorrow and call me.
I asked my doctor if the MRI could definitively determine if I had pancreatic cancer or a pancreatic cyst. He said, yes. I told him I had done a fair bit of reading on the subject. I laughed a bit and said, my diagnosis ranges from watch and wait to it sucks to be you. The doctor smiled. He knows my diagnosis is correct. If it is pancreatic cancer, it does suck to be me. He hopes it is not. If it is, then it is likely I will have to have a biopsy done. He also thinks I will need to have my gallbladder removed.
I am detailing my story to hopefully give readers some sort of context for understanding the health problems I have. For me personally, I wonder how I got to where I am today? Did my current health problems find their root in 1971-72 and it has taken all these years to bear fruit? Perhaps mononucleosis altered my immune system? Was I exposed to a cancer causing chemical in pond water 40 plus years ago?
I don't think I will likely ever know. I do subscribe to the cumulative effect theory. Environmental exposure, eating habits, poverty, and genetics added together have brought me to where I am today. It's not one thing, it's everything, everything being life. We all have to die of something and my something has made itself known. (that is if I don't trip over the cat in the middle of the night and break my neck)
Recently, someone asked me if I was worried about the possibility of having cancer? (I have already had cancer, skin cancer) They said, answering for me, how could you not be worried, right? Just asking this question reveals they don't know me very well or haven't been paying attention. Worry is not part of who I am. I am stoic about life, perhaps even a bit fatalistic. If I have cancer I can't change that I have it. Worrying and fretting does me no good. In fact, it increases my pain levels. So, I try to channel my inner Buddha and relax. Life is what it is and all I can do is take what comes. Yes, if it is cancer, I will have decisions to make. If it is not cancer, I will still have decisions to make. Either way, I will educate myself and make informed decisions. Isn't that all any of us can do?