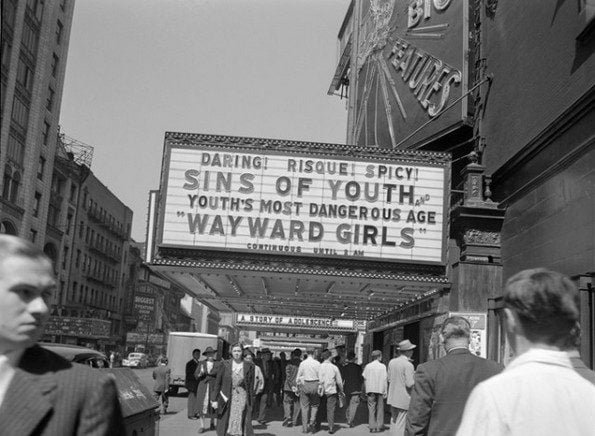 Today, The Christian Post published an article with the headline, What to Do with Teen Caught Texting Same-sex Partner. The article, written by Evangelical family guru's Marina and Gregory Slayton, purports to answer a question a reader asked about their rebellious 16-year-old daughter:
My wife just read to me an article you wrote providing advice to a parent of a 16 year old girl caught lying, with the discovery having been through reading her text messages. My wife and I are trying to work through a similar problem with our daughter. The issue is more complicated in that:

(A) our daughter was caught once before, about – months ago, conducting an inappropriate relationship by text message. Months earlier she had embarked on another inappropriate relationship by email.

(B) in both cases the inappropriate relationships were with other girls.

(C) the conversations were filled with fantastic lies about our home life. Everything in her descriptions were completely "over the top."

So far we've ended outside communication for her and restricted her freedom outside the house. Her learner's permit has been put on indefinite hold. Most importantly, my wife and I have had three significant, God-centered and scripture centered discussions with her. These have been wonderful opportunities to see her grow dramatically in faith.

We are working with a Christian counsellor and our Pastor to try to get through this. Our level of oversight and conversation have increased dramatically. And we are looking at issues like her appearance (between androgynous and masculine), and memberships in (name withheld).

By way of background, she was adopted from (info withheld) by me and my first wife. My daughter suffered emotional and physical abuse as a result of (info withheld). When my daughter was (info withheld) we separated and she and her brother lived with me full time. Over the course of the following four years, we divorced, my ex-wife was in and out of mental hospitals and ultimately committed suicide. I remarried – to a wonderful Christian woman (who helped bring me to the Lord!). My daughter and my wife get along very well, but there are still wounds that need healing. Your advice on our next steps would be greatly appreciated – but also our anonymity.

Thank you and bless you,

Parents of troubled daughter
Evidently, the parents took a look at their daughter's smartphone and found inappropriate text messages; inappropriate being exaggerations and lies about them and sexually oriented texts and emails between two fellow students of the same sex. The parents confronted their daughter and did the following:
Took away her phone and access to the outside world
Restricted her freedom outside of the house, also known as being grounded
Took her to a Christian counselor
Had their pastor talk to her
Took a look at their daughter's  appearance specifically her androgynous and masculine appearance
Took a look at what groups their daughter is a part of
Most important, the parents sat her down three times with Bible in hand and had "God-centered and scripture centered discussions" with her.
What is clear to me and I suspect is clear to you is that what we have here is a teenager who is either gay, bisexual, or questioning her sexuality and this is conflicting with the religious beliefs of the parents.  I think it is safe to assume that the parents are part of a heterosexual only Evangelical sect and that the thought of their daughter being gay is viewed as a horrible sin and an attack from Satan.
Marina Slayton, author of Be the Best Mom You Can Be: A Practical Guide to Raising Whole Children in a Broken Generation,  had this to say:
…We wholeheartedly support your efforts to seek outside counseling with your pastor and a professional Christian counselor. Hopefully both will bring wisdom, perspective and guidance. As it is written in the Scriptures, there is victory in the counsel of many.

Here are a few thoughts for you, humbly recognizing that in this limited venue I can only skim the surface:

Perhaps your daughter does not understand who she is or whose she is for a very good reason: rejection. Rejected by her birth parents, rejected from her country and then (effectively) rejected by the mother who adopted her. As a result she probably feels she is "different" and "unacceptable." She is not alone. In a generation that worships tolerance many modern teens are actually intolerant of each other because they themselves do not feel they belong. They cannot show love in a healthy manner because they don't feel loved. Teen suicide is at record levels in part because so many don't have a sense of belonging and they don't feel loved.

So remember: Love your daughter! Her spirit of rejection is most likely daring you to reject her. You and your wife have been chosen by God to be His minister of love to her. We realize this will not be easy given the circumstances. Years of feeling rejected and alone cannot be overcome in a few months. It will take years. And that is OK.

Ask our Heavenly Father to be working in her heart too. That is critical. He can help from the inside out: building vision and love and forgiveness in her heart…
Not one word about her sexuality. Not one word about what is likely the REAL issue driving their daughter's parent described rebellious behavior. Remember, rebellion in Evangelical circles is a catch-all for every teenage behavior the parents don't like or approve of. As some of the regular readers of this blog will testify, Evangelicals have sent their children off to Evangelical behavioral modification camps, AKA Christian group homes, for things as trivial as smoking, listening to rock music, or fooling around with their boyfriend.  What non-Evangelical parents would consider typical behavior from a 16-year-old is viewed as rebellion against not only parental authority and the church's beliefs, but also rebellion against God, the very God who said, for rebellion is as the sin of witchcraft, and stubbornness is as iniquity and idolatry.
At the end of the article, Gregory Slayton, a Harvard graduate and author of Be A Better Day Today , added:
Enlist close friends to join you in praying for her…
Fast for her as God leads. Jesus tells us that fasting is very powerful and He is right. I try to fast for my family once a week. A great Christian brother taught me a lot of fasting…and I'm still learning. But there is power there – God's power.
Most importantly, please know that our Heavenly Father loves your daughter very, very much. He has entrusted her to you and your wife. So you can expect (and should ask for) God's help in these challenges. The Holy Spirit is powerful. Super powerful. So ask God's Spirit to be at work in your daughter's heart for healing, repentance, and restoration…
Ah yes, pray, fast, know that God loves their daughter very, very, very much, and rely on the super-duper power of the Holy Spirit to change her life, which is Greek for deliver her the sin of homosexuality.
Like his wife, Gregory Slayton makes no mention of the rainbow-colored elephant in the room. And therein lies the biggest problem for this girl. The behaviors the parents are calling rebellion are likely a result of their daughter's blossoming sexuality. She feels and thinks one way and her parents, church, and pastor think another way. Not skilled in the art of hiding one's feelings, I suspect her honesty is being misinterpreted as rebellion. What the girl really needs is to see a counselor who is able to separate her sexuality from the guilt and anger generated by her parent's beliefs about homosexuality. Put yourself in her shoes. She thinks she is gay, but her parents, church, pastor, and church friends are telling her that her same-sex desire is evil and a sin against God and nature. How would you respond?