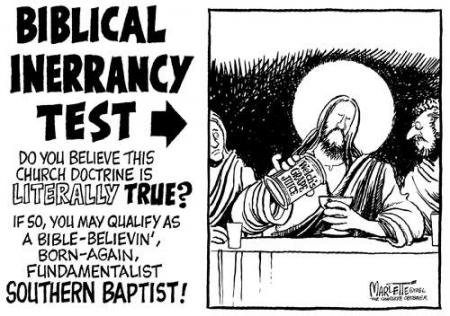 Evangelical Christians believe the Bible is the inspired (God breathed), inerrant Word of God.  They believe the text of the Christian Bible is without error and they are certain that every word in the Bible is the very words of God. (either spoken or inspired by God)
While many Evangelical pastors and professors don't really believe the Bible is inerrant, they continue to preach the inerrancy myth from the pulpit and in their college classrooms. These Evangelicals late at night get out a flashlight, pull the covers over their head, and secretly read one of Bart Ehrman's books. They will never tell anyone about this lest they lose their job. But, when it comes to the people in the First Baptist Church pew, I've never met an Evangelical Christian who didn't believe every word in the Bible is true. They are certain that the leather-bound Bible they carry to church every Sunday is the very words of God.
Evangelicals are told from their youth up that the Bible can be understood by anyone, even a child. Why then are there so many theology books if the Bible is so simple it can be understood by a child? The fact is, the Bible is anything BUT a simple book. It is a book that must be interpreted and this is where Evangelicals get themselves into trouble. They think, the Bible is God's Word, it is so simple a child can understand it, I have read it, and I understand it, thus my interpretation of the Bible is exactly what God said. This kind of thinking leads to arrogance. When a person is absolutely convinced they are absolutely right, they no longer have to consider competing ideas or interpretations. This is why most Evangelicals are closed minded about any God or belief but their own
All Evangelicals are theological Fundamentalists. (see Are Evangelicals Fundamentalists?)  The doctrine of inerrancy requires the Evangelical to have a fundamentalist view of the Bible. In most cases, Evangelicals are also social fundamentalists who take their inspired, inerrant Bible and strictly apply it to every aspect of their lives. They believe that everything in their lives is governed by what the Bible says. It is theological and social fundamentalism that is driving Evangelicals as they wage war against secularism, atheism, pluralism, abortion, same-sex marriage, and homosexuality.
Evangelicalism is a large tent, so it is impossible to point to one group and say, this is Evangelicalism. On one end of the spectrum you have the hip relational preachers found at nondescript megachurches and on the other end of the spectrum you find the fire and brimstone preachers of the Independent Fundamentalist Baptist (IFB) church movement.  Every Evangelical church falls in between these two extremes. Some are Calvinist, others are Arminian, but the one thing that binds them together is the belief that the Bible is the inspired, inerrant word of God.
In most Evangelical churches the pastor is considered a person uniquely called by God to preach and teach the Bible. Their words are given great weight and authority because God leads and directs them as they preach the unsearchable riches of Christ.  Some pastors are laid back, more of a teacher or a professor, while others are animated foot stomping, pulpit pounding preachers.  Regardless of their style or methodology, every Evangelical pastor believes they are speaking the words of God to the people of God and the people of God believe, through the preaching and the inward work of the Holy Spirit, that God is speaking to them.
In most Evangelical churches diversity of belief is discouraged, and in some churches it is forbidden. After all, if the Bible is inerrant then there can only be ONE correct interpretation of the Bible, right? While Evangelicals skirmish over peripheral doctrines and peculiar beliefs, there is a core set of doctrines every Evangelical must believe. Don't believe these things? Then you are not an Evangelical.
Currently, Evangelicalism is going through great upheaval over beliefs that were once were considered cardinal doctrines of the faith. Thanks to postmodernism, concrete doctrines like creationism, eternal punishment for unbelievers, God's omniscience, the exclusivity of the Evangelical gospel, and whether a homosexual can be a Christian are now being attacked and challenged.  Politically, an increasing number of Evangelicals are moving towards the left, rejecting the conservative, Republican values of yesteryear. While most Evangelicals are Republicans and support some or all of the tenets of the culture war, there are a small number of Evangelicals, mostly young adults, who are no longer willing to blindly accept the politics of their church, pastor, and parents.  The question for me is at what point in this postmodern, questioning move to the left does a church, pastor, and individual church member cease to be Evangelical?
During the George W Bush administration and the run up to the War in Iraq, we saw a good example of how fundamentalism works.  George Bush and his administration were certain their beliefs about Iraq, Saddam Hussein, and weapons of mass destruction were infallibly right.  Fourteen years and hundreds of thousands of deaths later, we now know that virtually every belief peddled by George Bush, Dick Cheney, and Donald Rumsfeld was wrong. Yet, to this day, none of the architects of the Iraq war are willing to admit that they were wrong. They are certain that their beliefs were/are correct, and in the case of George Bush, the Christian God was/is on their side.
If I took a political party survey at the average Evangelical church I'm sure I'd find that most church members are either Republican or Libertarian and come the first Tuesday in November 2016 they will vote for the Republican candidate for President. I am sure there are a few Evangelicals who are Democrats, but they, like gay or bisexual church members, are way in the back of the closet. While church members are told to vote their "conscience", everyone knows that voting your conscience means voting exactly the way God the pastor tells you to vote. To vote differently means going against the man of God, the Word of God, and God himself, and no one want to do that, right? Again, things are changing in the Evangelical church, but lets not mistake ripples on the pond for a tsunami.
Challenges to core beliefs is not permitted. Those who think for themselves or believe differently than the pastor are told they are not right with God or that they are backslidden; they are told their "discerner" is broke and that they need to listen to their pastor. Those who refuse to conform end up marginalized, disciplined, or asked to leave the church. Evangelical churches go through quite a bit of membership churn. There is a steady stream of people going out the back door as new people come in the front, with most new people coming from other churches.
The lifeblood that courses through the veins of Evangelical Christianity is the belief that the Bible is the inspired, inerrant word of God. To the Evangelical, the Bible is not just a collection of words, chapters, and books written by humans as they try to explain their understanding of God and the world. The Bible is God's words, a supernatural book given to fallible humans by a supernatural God. Every book, every sentence, and every word is truth. When an Evangelical reads the Bible they believe they are reading the very words of God. They can know exactly what God's truth is by reading and studying the Bible. In the Evangelical's mind, the Bible is THUS SAITH THE LORD!
Since most Evangelicals are, to some degree or the other, literalists, it becomes quite easy for them to develop rigid beliefs, and as their certainty grows the more likely they are to see themselves as right and everyone else wrong.  Is it any wonder that this kind of thinking turns people into haters?  Is it any wonder that people raised in this kind of environment lack the necessary skills to make sound, reasoned judgments about the world they live in? This is the kind of thinking that gives us Fred Phelps, Al Mohler, John MacArthur, Joyce Meyers, Rod Parsley, James Dobson, Franklin Graham, Ken Ham, Matt Chandler, Rick Warren, Joel Osteen, Richard Land, Andy Stanley, Charles Stanley, Tony Perkins, David Barton, TD Jakes, Brad Powell, Rick Furtick, Jack Hyles, Jack Schaap, and a plethora of parachurch groups dedicated to waging war on an unbelieving, sinful, and wicked culture.
According to a 2014 Gallup Poll, 28% of Americans believe the Bible is the actual Word of God and should be taken literally.  47% of Americans believe the Bible is the inspired Word of God, but not everything in it should be taken literally. This means that three out four American believe the Bible is the Word of God. (The good news is that 21% of Americans now believe the Bible is an "ancient book of fables,legends, history, and moral precepts recorded by man. The percentage of Americans who believed this in 1976 was 13%) According to a 2012 Gallup Poll, 46% of Americans believe God created humans in their present form (creationism) and 32% of Americans believe humans evolved with God guiding the process (theistic evolution). In other words, three out of four Americans believe God is the creator of everything.  Only 15% of American believe humans evolved, but God had no part in the process.
Depressing, isn't it? While secularism, humanism, and atheism are making inroads, the vast majority of Americans still believe the Bible is the Word of God, a unique book different from every other book ever written.  The only way to reach people like this is to attack their foundational belief that the Bible is the inspired, inerrant Word of God. If they can be brought to see that the Bible is not what they claim it is, there is hope for them. Sadly, most Evangelicals will die with their fingers clenched around a book they consider the words of God.  When you take a high road position like inerrancy it is hard to back up. To admit the Bible is not inerrant is to admit you are wrong and Evangelicals rarely admit they are wrong. Those who do do so on their way OUT the doors of the Evangelical church.
Since every Evangelical believes there is a hell to shun and a heaven to gain, believing and practicing the teachings of the Bible is essential. While Evangelicals will tell you that they preach a gospel of grace, what they really preach is a gospel of right belief. Believe THIS and thou shalt live in heaven forever with God; don't believe THIS and thou shalt live in hell forever with the Devil and his angels.  Evangelicals are taught that this present life is preparation for life beyond the grave. Believing the right things is important because that is what gets your ticket to heaven punched. Is it any wonder that most Evangelicals will leave this life firm in their belief that the Bible is the inspired, inerrant Word of God? Too much rests on believing this for them to ever question or doubt.