Every Evangelical-turned-atheist has had a Christian zealot pose to them the question, what if you are wrong? Over the past seven years I've been asked this question numerous times. Devoted followers of Jesus genuinely fear for my soul and don't want me to be tortured by their God in hell for eternity, so they hope by asking this question they can get me to reconsider my decision to give God, Jesus, and Christianity the heave-ho.
This question is often followed by some form of Pascal's Wager. Of course, those  asking the question don't realize the hypocrisy of their question. As a practicing Christian, shouldn't they be joining the Muslims, Buddhists, Mormons, and every other religion that says there is some sort of life after death? Shouldn't they make sure all their bases are covered?  Christians wants to hold me to a different standard from the one to which they hold themselves. They are certain the Christian God is the one and only true God, so they see no reason to ask of themselves, what if I am wrong? Even among Christians, there are uncounted Christianities, with differing beliefs and practices. Which Christianity is the true Christianity? Is recent commenter Susan-Anne White's Christianity true Christianity? Is Bible Believer's (blogger at the Galatians 4 website, who just so happened to have mentioned me again on his blog) Christianity true Christianity? The Baptists think their version of Christianity is true Christianity, and the Church of Christ, Catholicism, and Greek Orthodoxy do too.  Two thousand years in the making and Christians can't even agree on basic beliefs like salvation, baptism, and communion. Yet, rarely do any of them contemplate that they could be wrong.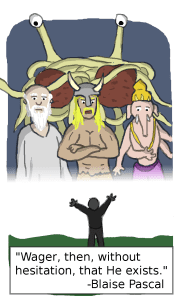 Could I be wrong about God, Jesus, Christianity, the Bible, and the plethora of other Gods humans have created since they were able to walk upright and reason? Sure, and I could say the same about many of the things I consider factual or true.  As one who values science and the scientific methods, my belief in God or lack thereof is based on evidence and probabilities. While I self-identify as an atheist, I am agnostic on the God question. It is possible that a God of some sort could reveal itself to one or more humans at some future point in history. Possible, but not likely. As things now stand, I see no evidence that would lead me to conclude that a God of some sort exists.  While science has not answered the first-cause question and may never do so, it has built an intellectually satisfactory explanation of the world we live in. While this explanation frequently changes thanks to new evidence, I see no reason to retreat into the pages of an outdated, contradictory book written by unknown authors thousands of years ago. Just because science doesn't have the answer to every question doesn't mean that God is the answer. Scientists are willing to say, I don't know, and then they go about trying to find out what they don't know. When's the last time a Christian theologian, Catholic Pope, Muslim cleric, or Evangelical preacher has done the same? Certainty breeds infallibility and ignorance, both of which lead to people accepting as fact the most outlandish of ideas. (i.e. virgin birth, resurrection from the dead, hell in the center of the earth, heaven in the sky, creationism, miracles, perfect religious texts)
When it comes to the Christian God, the Muslim God, the Jewish God,  or any of the other Gods that humans currently worship, I am quite confident that these Gods are no Gods at all. Is it possible that these gods exist? I suppose there is a minuscule chance, but the odds are so infinitesimal that it would be a waste of my time to even consider it. Life is too short to spend one moment of time considering the existence of Odin, Zeus, Lugh, Dagda, Haniyasu-hiko, Jesus, Kane, Pundjel, El Elyon, Shamayim, Guamansuri, Wakan-Tanka, Bochica, Lao-Tien-Yeh, Altjira, Loki, Atlas, Coyote, or any of the thousands of other Gods humans have at one time or another conjured up. (see God Checker: Your Guide to the Gods)
I live without fear of hell or fear of being judged by a God. The hell and judgment that I see on this earth comes from the hands of humans, not a God. If there is a God, he is definitely AWOL. Someday, I will die and I think that will be the end of it for me. What if I am wrong? What if there is a God waiting to settle the score with me after I draw my last breath?  I guess I will say, oops, my bad, and I hope she will look at my life and judge me accordingly. I hope she will judge me not by the things that I did or did not believe, but by how I lived my life.
Many Christians, especially those of the Evangelical persuasion, believe that salvation is secured by believing the right things. While they love to talk about love and grace, the true foundation of their faith is a commitment to certain beliefs and propositions derived from their understanding of the "infallible" Bible. Believe the wrong things and hell will be your eternal resting place. Virtually every Evangelical who stops at my blog to spar with me tries to get me to believe the "right" beliefs. Rarely, does any one of them say anything about how I live my life. BELIEVE THIS AND THOU SHALT LIVE, is their gospel.
If not believing Jesus is the virgin born, second person in the Trinity, who came to earth, lived a perfect life, worked miracles, died on the cross and resurrected from the dead, and ascended back to heaven, ends with my rendition to the Lake of Fire to be tortured day and night by the God who created me, so be it. I have no interest in such a religion, and I have no interest in such a God who is only interested in what I believed and not how I lived.
If, somewhere beyond my next breath, I keel over and die and I find myself in the presence of the Big Man of Upstairs, I hope he will judge my life by how I lived, and if he does so I am confident that everything will be just fine. And if not, if what I believed is what really mattered, then I guess I will burn in hell with a lot of other good people. Coming soon to a corner of hell near you, The Hitch and Bruce Almighty Show.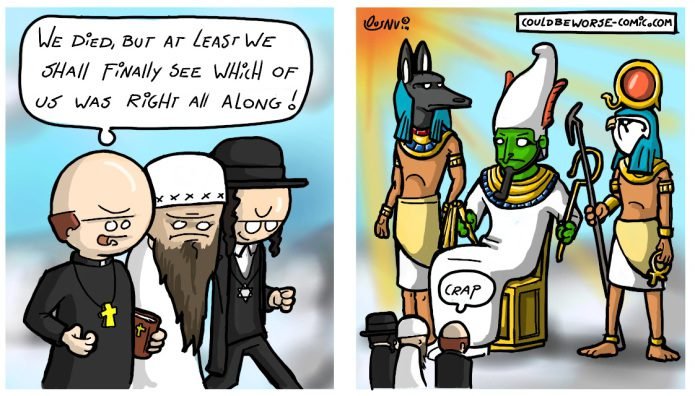 121615