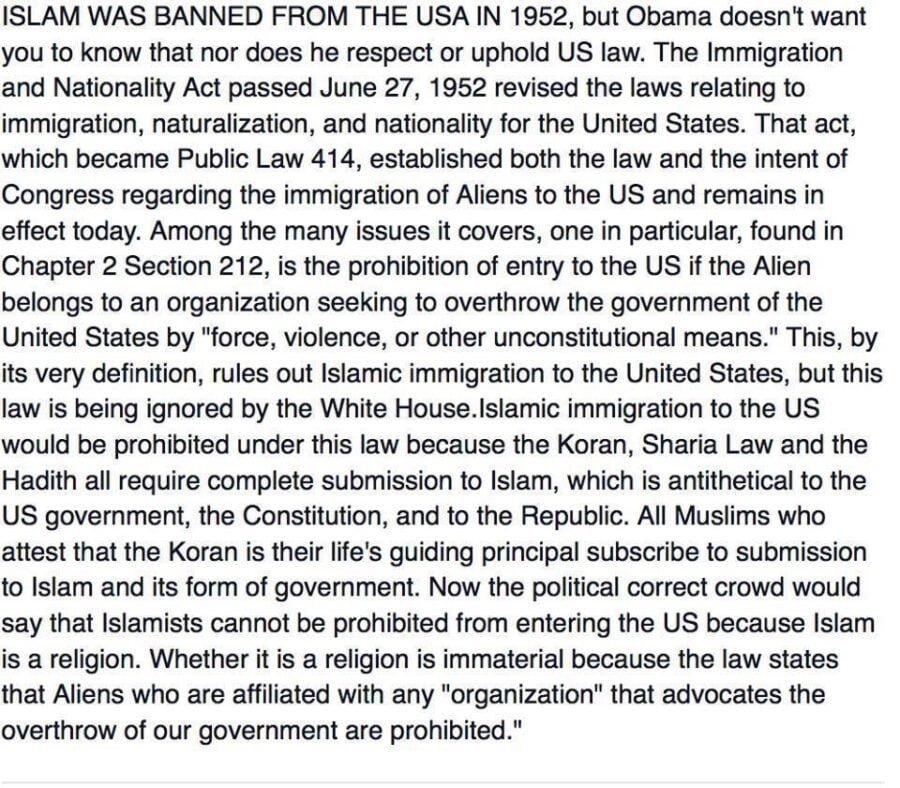 I've seen this graphic a handful of times recently on Facebook, always posted as a legal justification for Donald Trump-like bigotry towards Muslims. In every instance, this  meme was posted by someone claiming to be an Evangelical Christian. As Polly and I were watching last night's episode of The Trevor Noah Show, I mentioned that Donald Trump has exposed an ugly truth about the religious right; that bigotry and racism is flourishing among those who say they are followers Jesus, a man who had far more in common with Middle Eastern Muslims, Palestinians, and Jews than the white Americans who worship him today.
Last I knew, Evangelicals still consider lying a sin. Why then, do Christians continue to post falsities like those mentioned in this graphic? It took me all of 30 seconds to determine that this graphic is false. While this meme might express the wet-dream sentiment of white, redneck Evangelical bigots, there's no truth to it.
Here's what the venerable Snopes.com has to say on the matter:
The meme sharply escalated in popularity following an unprecedented statement from Republican presidential candidate Donald Trump, who on 7 December 2015 suggested that the United States should bar all Muslims from entering the country until such time as lawmakers could "figure out what [was] going on" in the wake of a mass shooting in San Bernardino that had occurred five days earlier.

….

Simply put, the rumor maintained that Muslims as a group were ineligible for admission to the United States based upon a law that prohibited entry to any alien who "belongs to an organization seeking to overthrow the government of the United States by 'force, violence, or other unconstitutional means.'" The meme didn't directly reference the Islamic State (ISIS) as the organization in question, instead suggesting that Islam itself (particularly because of Sharia law and adherence to it by devout Muslims) was a prohibited group.

The law referenced was the Immigration and Nationality Act of 1952, also known as the McCarran–Walter Act. Its text is available in full at the U.S. Citizenship and Naturalization Services (USCIS) web site, where a preface indicates that the law has "been amended many times over the years, but is still the basic body of immigration law." The meme cited "Chapter 2 Section 212" of the Act, which is subtitled "INA: ACT 212 – GENERAL CLASSES OF ALIENS INELIGIBLE TO RECEIVE VISAS AND INELIGIBLE FOR ADMISSION; WAIVERS OF [INADMISSIBILITY]." Subsection (A) of that section pertains to "Classes of Aliens Ineligible for Visas or Admission," subdivision (3) of which is titled "Security and related grounds." Paragraph (a), subsection (iii) excludes as ineligible for admission the following persons:

In general any alien who a consular officer or the Attorney General knows, or has reasonable ground to believe, seeks to enter the United States to engage solely, principally, or incidentally in any activity a purpose of which is the opposition to, or the control or overthrow of, the Government of the United States by force, violence, or other unlawful means.

The Immigration and Nationality Act of 1952 was not without critics, among them President Harry S. Truman, who vetoed the bill on 25 June 1952. In a letter titled "Veto of Bill to Revise the Laws Relating to Immigration, Naturalization, and Nationality" and addressed to the House of Representatives, President Truman described the bill's provisions as both antithetical to American values and discriminatory:

The greatest vice of the present quota system, however, is that it discriminates, deliberately and intentionally, against many of the peoples of the world … The desired effect [of selective admission of immigrants] was obtained … People from such countries as Greece, or Spain, or Latvia were virtually deprived of any opportunity to come here at all, simply because Greeks or Spaniards or Latvians had not come here before 1920 in any substantial numbers.

The idea behind this discriminatory policy was, to put it baldly, that Americans with English or Irish names were better people and better citizens than Americans with Italian or Greek or Polish names. It was thought that people of West European origin made better citizens than Rumanians or Yugoslavs or Ukrainians or Hungarians or Baits or Austrians. Such a concept is utterly unworthy of our traditions and our ideals. It violates the great political doctrine of the Declaration of Independence that "all men are created equal." It denies the humanitarian creed inscribed beneath the Statue of Liberty proclaiming to all nations, "Give me your tired, your poor, your huddled masses yearning to breathe free."

It repudiates our basic religious concepts, our belief in the brotherhood of man, and in the words of St. Paul that "there is neither Jew nor Greek, there is neither bond nor free …. for ye are all one in Christ Jesus."

….

The "ISLAM WAS BANNED FROM THE USA IN 1952" meme proved popular following a period of increasing rhetoric similar to that which Truman decried as discriminatory and outdated in 1952. The meme's basic claim hinged on the tautological assertion that adherence to Islam alone constitutes participation in an "organization seeking to overthrow the government of the United States by 'force, violence, or other unconstitutional means.'" Most major religions involve basic, agreed-upon sets of tenets by which their faithful live, and no widely-accepted understanding of Islam encompasses a prohibition on following the laws of any country or advocates the overthrow of government.

….

The meme "ISLAM WAS BANNED FROM THE USA IN 1952" claimed that adherence to Islam and/or Sharia law constituted definitive membership within an "organization seeking to overthrow the government of the United States by 'force, violence, or other unconstitutional means.'" Multiple non-factual statements or implications were presented in the meme, including the notions that all Muslims strictly adhere to Sharia law, that Sharia law is a cohesive faith-based form of governance, that adherence to Sharia law is mutually exclusive with adherence to the laws of the United States, that Islam in some way demands the eventual overthrow of the United States government, or that any "organization" to which Muslims purportedly belong by merit of their faith somehow places them under the provisions of section 212 of the Immigration and Nationality Act of 1952. Not one of those assertions or implications is supported by extant law, precedent, or any accepted interpretation of Islam, United States immigration policy, or the act in question.