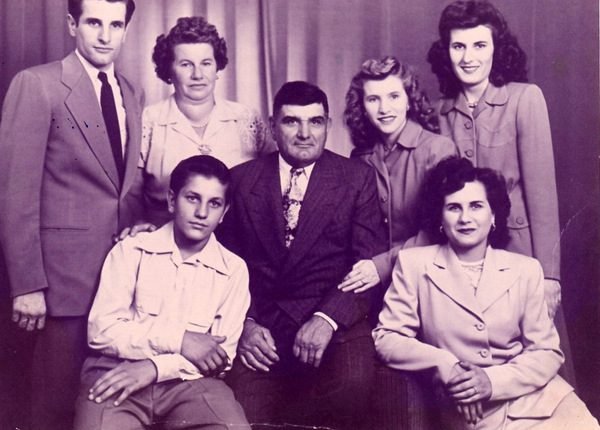 Bryan, Ohio is a small, rural community in the far northwest Ohio county of Williams. Bryan is the place of my birth, which occurred at Cameron Hospital (recently torn down) in June of 1957. My mother moved to the Bryan area in the 1950s. My father was a Williams County native. Dad's parents, Paul and Mary Gerencser, were Hungarian immigrants who came to America in the 1920s. Arriving at Ellis Island, they made their way to Cleveland, and from there moved to Defiance County, Ohio. Grandpa and Grandma Gerencser later moved to Williams County Ohio after purchasing a 100-acre farm on the Williams/Defiance County line. (please see My Hungarian Grandparents: Paul and Mary Gerencser)
Bryan, the seat of Williams County, has, according to the 2010 census, a population of 8,545. The population in 1950 was 6,365. Racially, Bryan is 96% white. I was 7 years old before I had my first encounter with a black person – a porter at the train station in Chicago. There were no blacks living Bryan during my teenage years. Only a handful of blacks live in Bryan today.  Hispanics make up about 4% of the population.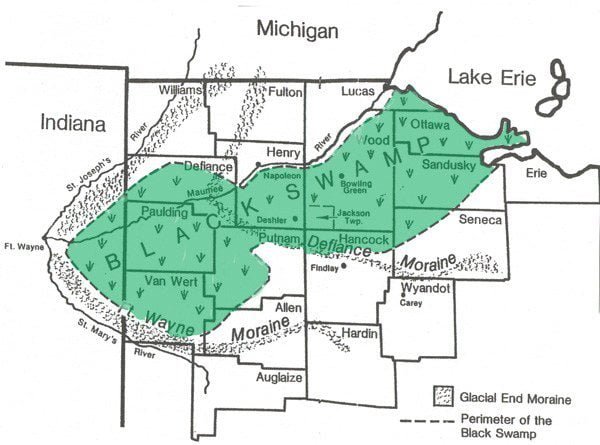 Much of northwest Ohio was a part of a glacially fed wetland called The Great Black Swamp. According to Wikipedia, The Great Black Swamp:
…existed from the end of the Wisconsin glaciation until the late 19th century. Comprising extensive swamps and marshes, with some higher, drier ground interspersed, it occupied what was formerly the southwestern part of proglacial Lake Maumee, a holocene precursor to Lake Erie. The area was about 25 miles (40 km) wide (north to south) and 100 miles (160 km) long, covering an estimated 1,500 square miles (4,000 km2). Gradually drained and settled in the second half of the 19th century, it is now highly productive farm land. During the second half of the 20th century, efforts were undertaken to preserve and restore portions of the swamp to its pre-settlement state.

….

The land once covered by the swamp lies primarily within the Maumee River and Portage River watersheds in northwest Ohio and northeast Indiana. The boundary was determined primarily by ancient sandy beach ridges formed on the shores of Lakes Maumee and Whittlesey, after glacial retreat several thousand years ago. It stretched roughly from Fort Wayne, Indiana in the west, eastward to the Ottawa National Wildlife Refuge near Port Clinton along the Lake Erie shore, and from (roughly) US 6 south to near Lima and Findlay. Near its southern edge at the southwestern corner of present-day Auglaize County, the swamp was so impervious to travel that wheeled transportation was impossible during most of the year, and local residents thought the rigors of travel to be unsuitable for anyone except adult men.

Although much of the area to the east, south, and north was settled in the early 19th century, the dense habitat and difficulty of travel through the swamp delayed its development by several decades. A corduroy road (from modern-day Fremont to Perrysburg) was constructed through the Maumee Road Lands in 1825 and paved with gravel in 1838, but travel in the wet season could still take days or even weeks. The impassibility of the swamp was an obstacle during the so-called Toledo War (1835–36); unable to get through the swamp, the Michigan and Ohio militias never came to battle. Settlement of the region was also inhibited by endemic malaria. The disease was a chronic problem for residents of the region until the area was drained and former mosquito-breeding grounds were dried up.

In the 1850s the states began an organized attempt to drain the swamp for agricultural use and ease of travel. Various projects were undertaken over a 40-year period. Local resident James B. Hill, living in Bowling Green, Ohio, in the mid-19th century, made the quick drainage of the Black Swamp possible with his invention of the Buckeye Traction Ditcher. Hill's ditching machine laid drainage tiles at a record pace. The area was largely settled over the next three decades. The development of railroads and a local drainage tile industry are thought to have contributed greatly to drainage and settlement.
(Astoundingly, Wikipedia fails to mention the Indian (primarily the Ottawa Indian tribe)  population that inhabited parts of the Great Black Swamp in the eighteenth and nineteenth centuries.)
Bryan sits just north of what once was the Great Black Swamp. The land of northwest Ohio is flat. Jokingly, local residents say that road overpasses are our mountains. In Williams County, the roads are laid out in a grid: the east-west roads designated A,B,C and the  north-south roads 1,2,3. Most of the roads are a mile or so apart from one another, and it is impossible to get lost in Williams County unless one is drunk.
While Bryan is a rural community surrounded by fertile farmland, it is also an industrial community. Sadly, in recent decades, Bryan has watched its industrial base decline due to factory closings and job outsourcing.
Ohio Art, the maker of the Etch-a-Sketch, still calls Bryan home, but most of its products are now made outside of the United States. ARO, another home-grown major corporation once employing over a thousand people, closed its doors a few years ago. The same could be said for factories such as  Hayes-Albion and Challenge-Cook, both thriving manufacturing facilities until their demise in the 1980s and 1990s.
Northwest Ohio has been hit hard by factory closings and the outsourcing of manufacturing jobs. There was a time when a person could make a good living at many of the local factories, but those days are long gone. Wages are stagnant or in decline, and there is little prospect of any sort of economic improvement. While northwest Ohio counties now have some of the lowest unemployment rates in the state, wages remain depressed.
I worked for a number of Bryan businesses during my teen and young adult years. Places  such as:
Bryan Nursing Home (closed)
Everhart's Restaurant (changed hands)
Bob's Dairy Freeze (closed)
Myer's Marathon (closed)
Foodland (closed)
Holabird Manufacturing (closed)
Bard Manufacturing (manufacturer of furnaces)
General Tire (changed hands)
ARO (closed, now owned by Ingersoll-Rand, but manufacturing is no longer done in Bryan)
I also baled hay during several summers, and one summer I participated in a youth work program for teenagers whose families were on welfare. My  job placement was at the local elementary school and the Bryan Sewer plant.
I have moved in and out of Bryan many times over the years:
Born in Bryan 1957
Lived in or near Bryan from 1957 to 1962 (moved to California)
Lived in or near Bryan from 1965 to 1966 (moved to Lima, Ohio)
Lived in or near Bryan from 1967 to 1969 (moved to Deshler, Ohio and then to Findlay, Ohio)
Lived in Bryan in 1973 (moved to Findlay, Ohio)
Lived in Bryan in 1974 (dropped out of high school and later moved to Arizona)
Lived in Bryan 1975-1976 (moved to Michigan to attend college, came home during the summer)
Lived in or near Bryan in 1979 ( oldest son was born in Bryan, moved to Newark, Ohio)
Lived near Bryan from 1995 to 2003 (moved to Michigan)
Lived near Bryan from 2003 to 2004 (moved to Arizona)
Lived in or near Bryan from 2005 to 2007 (moved to Ney, Ohio where we currently live)
Even now, I live five miles away from Bryan, just across the Defiance/Williams County line.
For many years, I had a love-hate relationship with Bryan and northwest Ohio. In my youth, I couldn't wait to get away from boring, flat, Bryan, Ohio, yet, despite my resolve never to  return to northwest  Ohio again, here I am, living, once again, in northwest Ohio.
These days, I have made my peace with Bryan. My six children and ten grandchildren live within 20 minutes of here. This is their home, and wherever they are, that is where I want to be. The land may be flat and b-o-r-i-n-g,  but there is something about this place I call home, something familiar and secure.
Now that I have laid a bit of groundwork, in future posts I plan to write about my experiences growing up in Bryan.
Notes
The Great Black Swamp-1987 Ohio Historical Society article by Carolyn Platt
Ohio's Great Black Swamp-Undated Ohio Inside Story article
History of the Great Black Swamp-2011 The Black Swamp Journal article