Yesterday, Polly and I took a road trip to northeast Indiana. We drove to North Webster, Indiana, made a circuitous route south of Fort Wayne, and into Ohio, landing in Defiance to buy groceries. All told, we were away from home nine hours. We had a great time, even though today my body is screaming its objections. Along the various roads we traveled, I kept my eyes open for "signs" that showed me God's true church was nearby.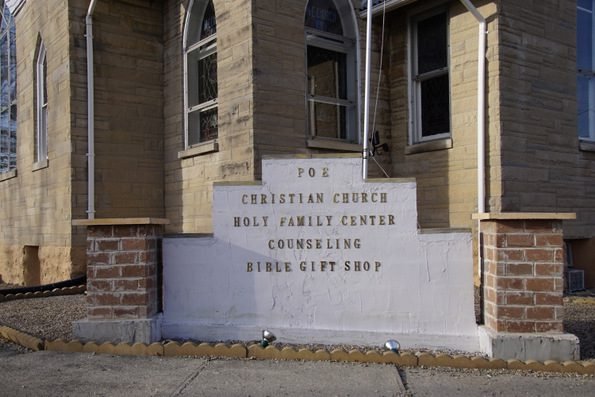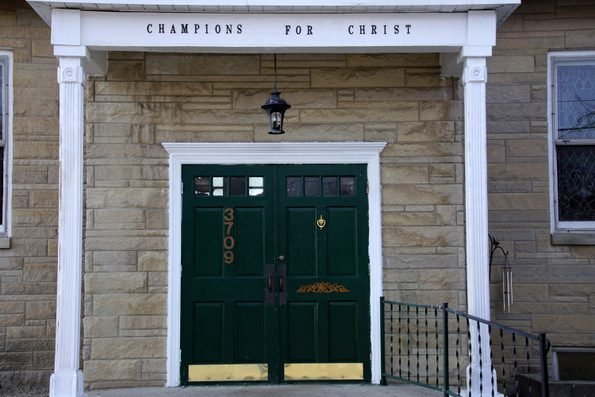 Poe Christian Church and Holy Family Center, Poe, Indiana. Poe Christian does not have a website. Based on their Facebook page, I have concluded that they are an Evangelical church.
Evidently, this is the church attended by Champions in Christ, whatever that means.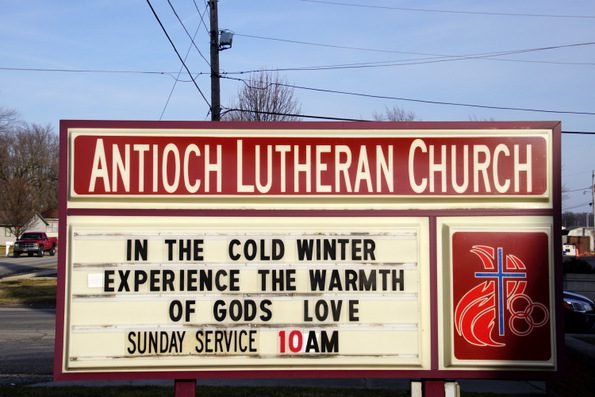 Antioch Lutheran Church, Hoagland, Indiana. Founded in 1855, Antioch Lutheran is affiliated with the North American Lutheran Church (NALC) denomination. The NALC denomination, based on a cursory search of their website, is conservative, opposed to same-sex marriage and abortion.
After reading this sign, I turned to Polly and said, In the cold winter, skip church, pour a hot cup of tea, grab a book, and wrap yourself in a blanket. Much better than a dry, crusty sermon from a Lutheran pastor.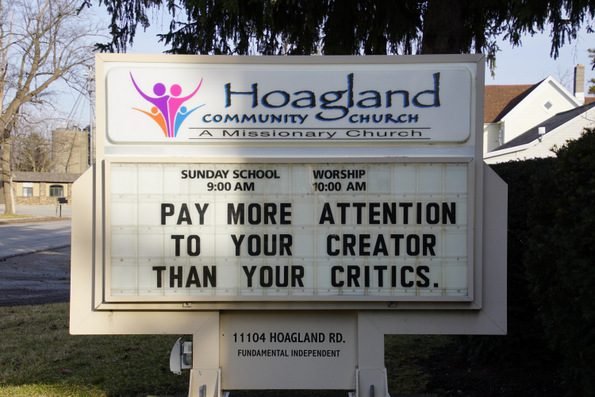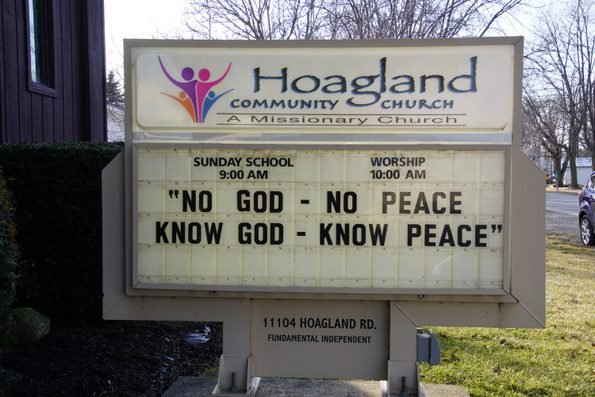 Hoagland Community Church, Hoagland, Indiana. Hoagland Community does not have a website. Based on their sign, the church is Fundamental and Independent (Evangelical).
I hate to break it to the folks at Hoagland Community, countless atheists will go to bed tonight with a peace that passeth all understanding (Philippians 4:7). Unlike Christians, atheists find comfort and peace in their embrace of reality. We do not need promises of heaven, threats of hell, or never-fulfilled reservations at God's Ramada-in-the Sky. In fact, for many atheists, believing in the Evangelical God was anything but peaceful. How can Christians truly have peace when they can never know for sure if they have offended the God who sees, hears, and knows everything? For atheists, peace comes through knowing on a given day we have lived a good life, doing what we can for the people they love.
And as far as paying attention to the "creator"? Evangelicals-turned-atheists did pay attention to the creator and that is one of the reasons they no longer believe. They looked in vain for signs pointing to the existence of this benevolent, kind, loving God.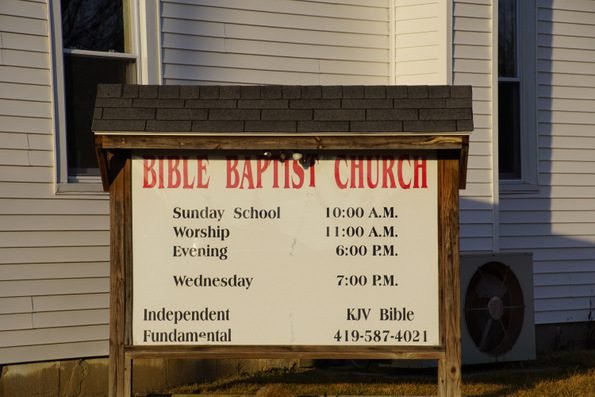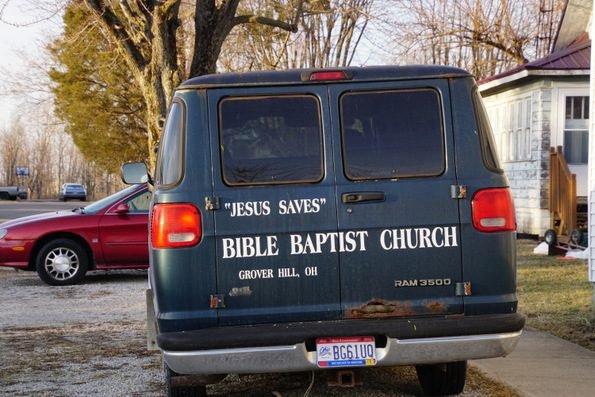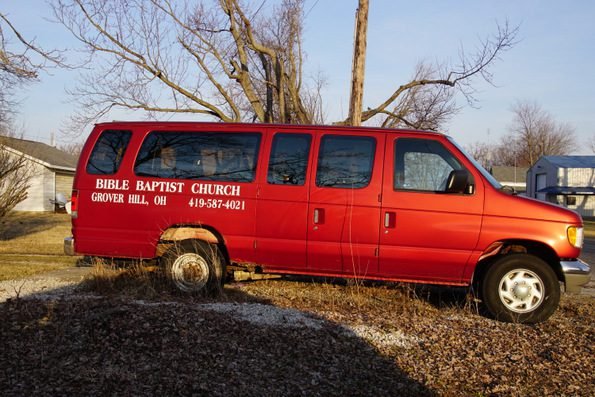 Bible Baptist Church, Grover Hill, Ohio. Bible Baptist does not have a website. (What's up with these churches not having websites?) Unlike Hoagland Community Church, which is Fundamentalist-light, Bible Baptist is an old-fashioned fire-breathing, King-James-only Independent Fundamentalist Baptist (IFB) church. According to several directories listing King-James-only churches, Bible Baptist was/is pastored by Patrick Holt, a follower of the late Jack Hyles.
Bible Baptist evidently has some sort of van ministry. Such ministries were roundly criticized by IFB luminaries in the 1970s. Vans were proof of small thinking. THINK BIG, these preachers would say, and buy a bus. Fill it, and then buy another, and another, and another. The red van pictured above must be unusable. It is filled with junk, and weeds are starting to grow around it. In IFB circles this is a sure sign of "sin" or evidence that God has withheld his blessing from the church.