Polly and I took a road trip today to Hardin County, Ohio. We finally got a decent day weather-wise (except for 30 mile-per-hour wind), so I was itching to load up my camera equipment and hit the road. Our destination was a sizable rural Amish community between Kenton and Mt Victory, Ohio. While the Amish proved to be elusive, we did stumble upon several interesting churches as we traveled to and from Hardin County.
Mt Zion Old Regular Baptist Church of Jesus Christ.  According to an Old Regular Baptist forum, Mt. Zion is part of the Sovereign Grace Association. The church meets once a month for worship. Their beliefs are as follows:
SOVEREIGN GRACE ASSOCIATION OF OLD REGULAR BAPTIST CHURCHES OF JESUS CHRIST.

This appears at present to be one of the smallest Old Regular Baptist Associations. They are however one of the strongest representatives of the original doctrine, faith and practice of the Old Regular Baptist in modern times. The churches of this association stress the Godhead, Inflability (sic) of the Old and New Testament, Election by Grace, Original Sin, Justification by the Imputed Righteousness of Jesus Christ, sinners being called to Repentance, Eternal Secruity (sic), a properly ordained ministry. Their ministers preach a Travail from Nature to Grace, (there must be a begotting (sic) before there can be a birth.)They believe in a Last Day in which there will be a resurection (sic) of the dead the just and the unjust, the joys of the righteous and the punishment of the wicked will be eternal. They baptize by immersion, take the Lord's Supper with wine and unleavened bread which is followed by feet washing. Old Regular Baptist are non-instrumental prefering (sic) to line their songs in different meters. The members of this association practice modesty of dress. Sisters belonging to these churches do not cut their hair, brothers do not let their hair grow long. They have no secret orders among their membership. Sovereign Grace Association doesn't however infringe on any of it's (sic) Corresponding Associations and leaves them to settle their own matters. Like all Orthodox Old School Baptist they deny Freewillism, Arminism (sic),Gospel Regeneration, Works for Eternal Salvation, Pre and Postmillenalism. While there are young people attending their churches, there is no Sunday Schools, Missionary Societies, ETC.. Sovereign Grace Old Regulars believe the church of today has no right to place something in the church that Christ and the Apostles did not establish; that to do such would be adding to the Word of God. You will find these churches are very open to newcomers/outsiders. Visiting one of these churches is like taking a trip back in time, you will often hear shouting and praising the KING OF KINGS AND THE LORD OF LORDS, old time singing and love being manifested throughout the service, if you long for simple New Testament Worship vist (sic) one of these Old Regular Baptist Churches.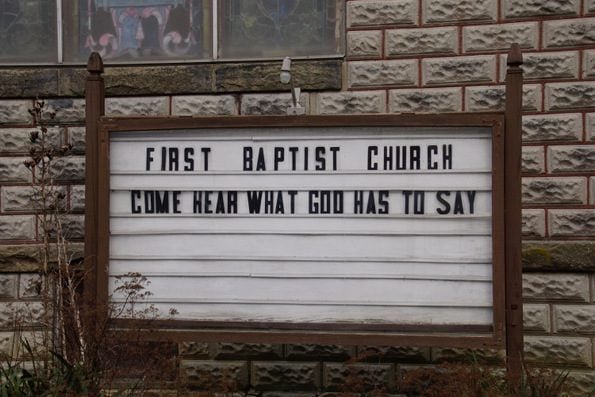 First Baptist Church, Forest, Ohio. The church is an Independent Fundamentalist Baptist (IFB) church. If you are looking for an opportunity to talk to God, he lives at this church. Stop by and listen to what he has to say. On July 1, 2003, Evangelist Don Hardman was holding a revival meeting at First Baptist when God sent the church a message. According to Hardman's wife Laura:
About halfway into the message, we could hear the thunder and see the lightning through the stained glass windows, During his preaching, when a loud crack of thunder rang out, Don would say, "Yes, Lord, we are listening." He made reference to the verse God's voice was like thunder. (Psalms 77:18)

All of a sudden, a lightning bolt hit the church and burnt out the sound system, blowing the light bulbs out of their sockets behind the pulpit. We could smell the burning wires but still did not know we had taken a direct hit. Not once did we lose our electricity, so Don kept preaching on Solomon's prayer of repentance. About 20 minutes later, a women came running into the church and said, "the church is on fire."
Evidently, this message from God did not make much of an impression on the church's pastor. Not long after the lightning incident, the pastor of the church was removed due to sexual misconduct.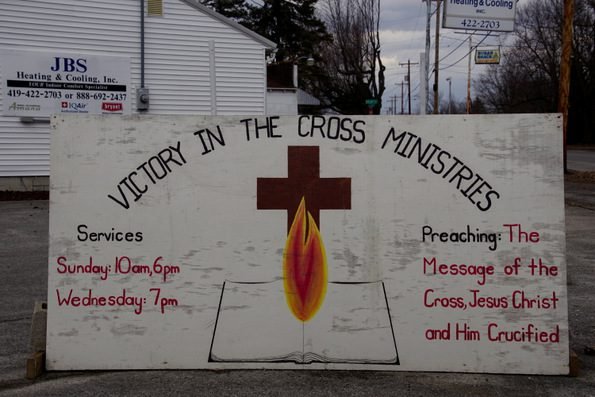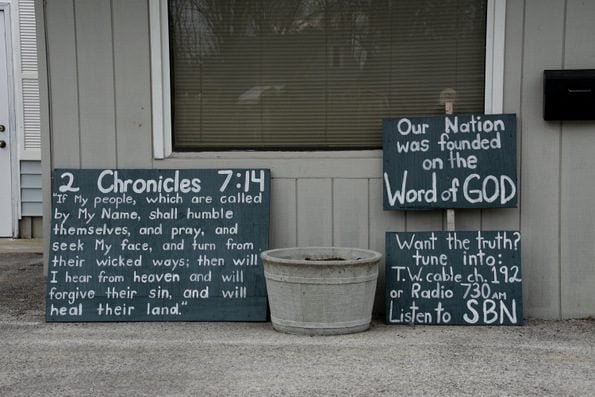 Victory in the Cross Ministries, Blanchard Avenue, Findlay, Ohio. Regular readers of this blog might remember that I attended Findlay City Schools from eighth through eleventh grades. According to one of the signs in front of the church, the United States was founded on the Word of God. Victory in the Cross is pastored by George H. Jarrell. Here is what the church's website has to say about Harrell:
 In 1990, I fully rededicated my life to the Lord. Then in 1996 God called me to be a Youth Pastor for the Full Gospel Tabernacle in Lima Ohio, which is Pastor (sic) by my eldest brother.

The Lord opened a door for me in the year of 2000 to be the Pastor for the Gilboa Pentecostal Church of God in Gilboa Ohio. During this time I began to learn the Message of the Cross as taught by Evangelist Jimmy Swaggart. As I tuned into Sonlife Broadcasting Network (SBN) I grew in the the (sic) Message of the Cross and God opened up His Word to me as never before.

In the beginning of 2011, through some problems and disagreements I prayfully (sic) left the PCG. With the Leading and Guiding of the Lord I ventured out and began an independant (sic), non-denominational church. We strongly believe in the Pentecostal experience, which is the Baptism of the Holy Spirit as Jesus promised the people that they would recieve (sic) Acts 1:8; and the speaking in other tongues as the Spirit gives the utterance as in Acts 2:4.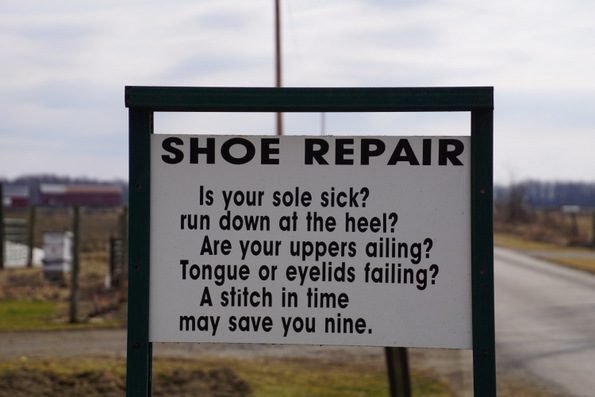 This sign is in front of an Amish home outside of Kenton, Ohio. Not a church sign, but interesting nonetheless.