Creationist believe the earth is 6,020 years old. Based on a literal interpretation of God's divine science textbook — the Bible — creationists believe God, 4,000 or so years ago, sent a worldwide flood that killed all life on earth except Noah and his family and the animals on the Ark. Many creationists believe that the world after the flood was very different from the one before. Those of us who came of age in the Fundamentalists churches of the 1960s and 1970s  likely remember preachers and conference speakers waxing eloquently about the "science" of the book of Genesis. Forced to stick to a literalistic interpretation of the Bible, these promoters of the creationist myth said that prior to Noah's flood the earth was protected by a water canopy that kept the earth in an Edenic state. This perfectly controlled environment kept plants living without rain and allowed some people to have lifespans exceeding 900 years. (See Genesis 1:6-8, Genesis 2:6, Genesis 7:11)
Yesterday, my friend James McGrath posted a graphic that perfectly illustrates the vapor/water canopy theory.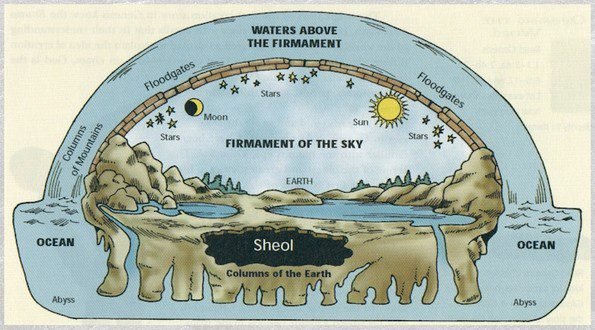 Enlightened creationists — an oxymoron — will scream foul, reminding me that most creationists no longer embrace the canopy theory. Fine, but I suspect that many older creationists still embrace the theory.  This theory is hardly "ancient" history. I heard preaching on it in the late 1980s. Every Evangelical preacher I knew owned copies of  Henry Morris' and John Whitcomb's 1960 book, The Genesis Flood: The Biblical Record and Its Scientific Implication and Morris' 1976 book, The Genesis Record, A scientific and devotional commentary on the book of beginnings. These two books, along with a King James Bible, were all Evangelical preachers needed to explain the universe.  What have creation "scientists" discovered that would cause creationists to now abandon the canopy theory? Or is the real issue that believing it makes them look like illiterate hillbillies? Craving acceptance by the larger religious community or desiring validation from the science community, creationists have abandoned a theory that was central to interpreting Genesis for much of the 20th century. Creationists are front and center in the attack on gay Christians who reinterpret the Bible to support their belief that God/Bible does not condemn homosexuality. How is abandoning the canopy theory any different? Did the inspired, infallible, inerrant Word of God change? How dare creationists abandon their interpretation of the Bible just because it makes them look illiterate!