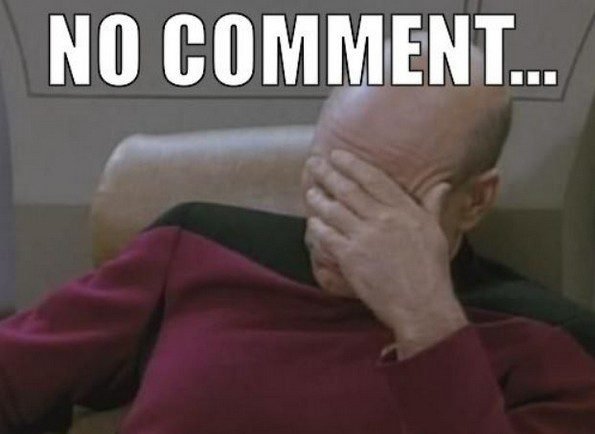 "Dr." David Tee, a Fundamentalist Christian who supposedly has degrees in theology, church history, and archeology, says that when science and the Bible conflict, the Bible is ALWAYS right. Tee writes:
Those who side with God on our origins, are not telling God anything. They are merely repeating what he told us about his creative act in the beginning. God never said he used science thus it is those who advocate for a scientific origins that are trying to tell God how he should have made the universe and life on this planet.

Whenever I read comments from those who have rejected Genesis 1 & 2 in favor of secular science, I see the same common theme. They are the ones doing exactly as they accuse those who believe God and who reject secular science's alternatives. This never fails no matter what the topic or issue, those who reject God and his revelations, are always guilty of committing those errors.

….

The problem with this is, 'solid science' may not be telling the truth. Some one forgot to tell Pope Leo that there was a thing called right and wrong, true and false teaching and those biblical teachings apply to science as well.

The church is not opposed to solid science, it is opposed to the lies that secular science produces. Yes, science lies when it says that God and the bible is in error.

….

But if you using religion to do science, a field that says your religion is in error, then what good is your religion? It seems that the person who adopts this attitude has a faulty religious belief for it allows the holder to be taken away from that religious belief.Science is NOT God's authoritative representative. The Bible is and when science says that authoritative work is not authoritative or correct, then there is something wrong with the science, not the Bible.

….

When it comes to the contents of the Bible, you either believe God or you don't. There is no middle ground here. You get to choose Genesis and God's revelation or secular science and its alternatives. Those who hold to a God driven evolutionary method are trying to have it both ways and they do not realize it but they are saying that they do not believe God or take him at his word.

God does not lie so why would he have his authors write something that did not take place if he used a different method?
I could find no online reference to Tee's degrees. I assume he earned or bought them from some sort of Evangelical institution. Read "Dr." David Tee for more information. When confronted over his use of "Dr." this is how Tee responded: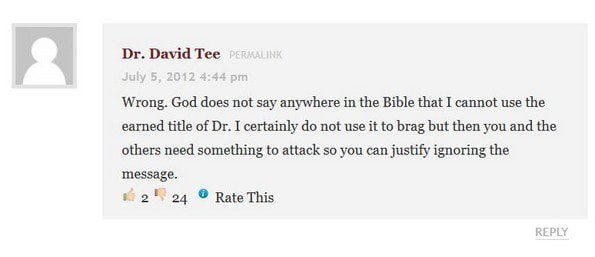 In the comment section below, Tee denies making these comments.
Tee operates TheologyArcheology: A Site for the Glory of God.