As Polly and I travel the roads of Northwest Ohio and Southeast Indiana, we are always on the lookout for God's True Church®. Here are a few of the churches we stumbled upon in recent months.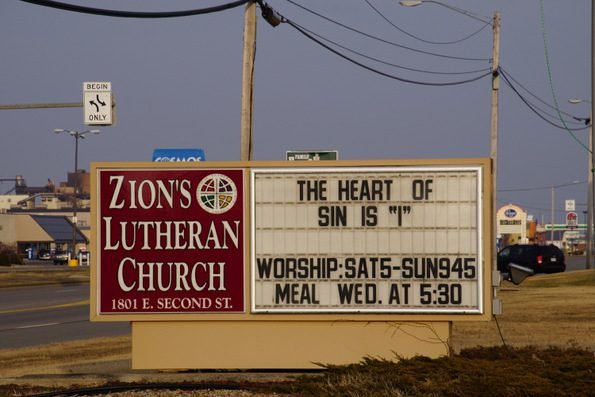 Zion's Lutheran Church, Defiance, Ohio, Timothy Reynolds, pastor. Zion's Lutheran is affiliated with the Evangelical Lutheran Church in America. Tim is a friend of mine, so I won't be too snarky about his church's sign. While the message certainly reflects orthodox Christian belief concerning sin, my first impression was to say, no the heart of sin is RELIGION. Remove religion — specifically Christianity — from the human experience and the notion of original sin and the need for redemption go away. Mankind is no longer viewed as broken and in need of fixing. While the concepts of evil and bad behavior would remain, I suspect our "sin" lists would become much smaller.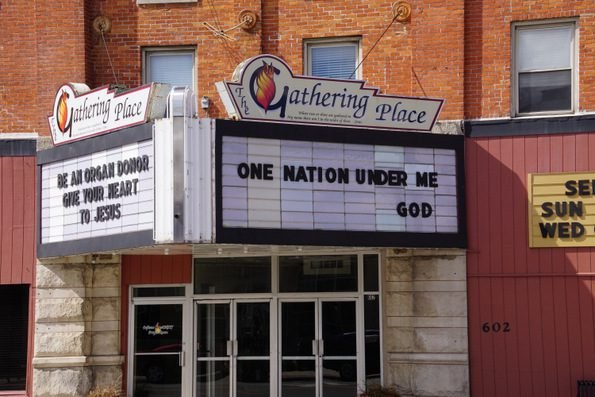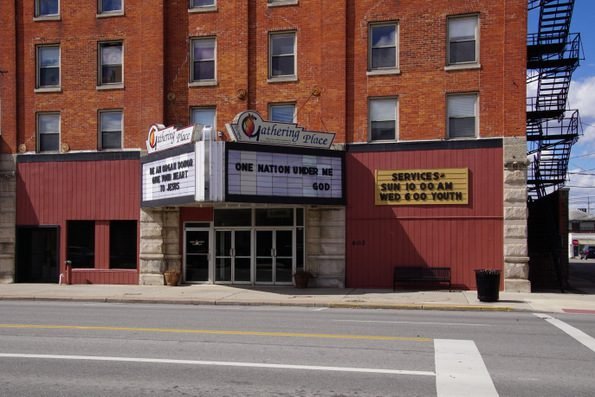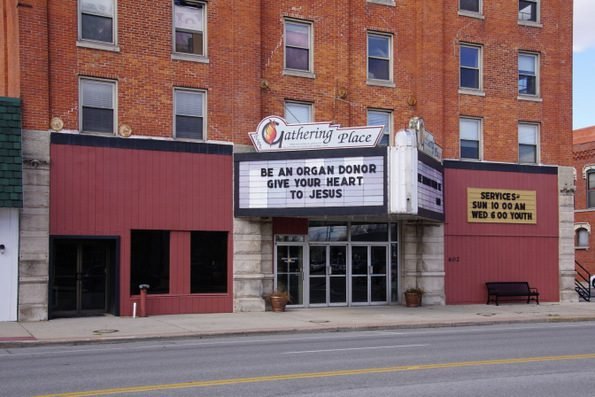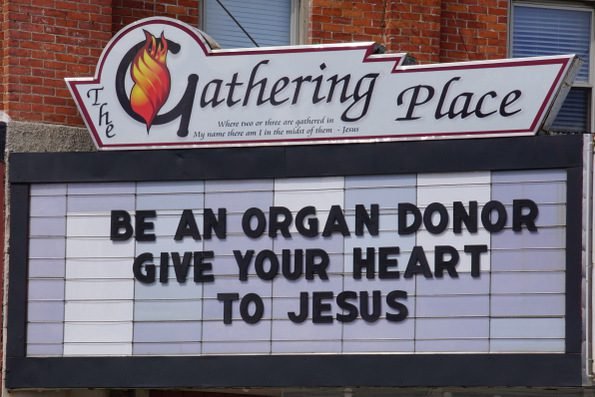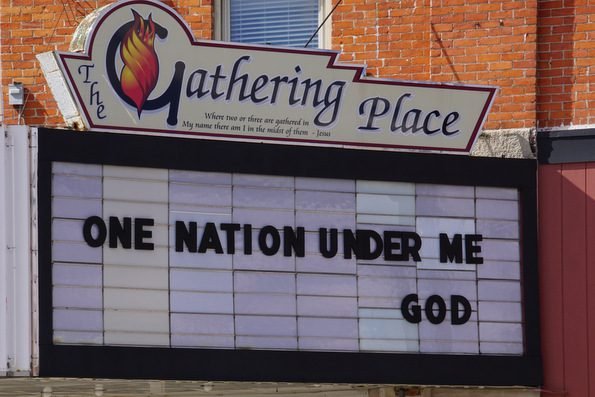 The Gathering Place, Defiance, Ohio, Richard Buttermore, pastor. The Gathering Place is a nondenominational church. According to its website, The Gathering place is:
a place for Christian believers to who want to experience the presence of God and mature in their faith and relationship with the creator. What is taught here are promises God has given to us and the walk of life required to reap these promises. We are not here to pass judgement on others about what they have done in the past but to help one another progress towards a better life through Jesus. Everyone is on a different page in their walk with Christ and here we gather to have fellowship amongst other believers where we can come for healing in the physical and the mental aspects of our lives. It is through the power of Jesus who spoke it from the beginning in which we are capable of doing these things so come check out what God is doing here in Defiance.
It is is only March, but I was tempted to give The Gathering Place the Stupidest Church Sign of the Year Award®. I decided to wait. We plan to go a lot of traveling this year, so we could yet stumble upon church signs that would knock The Gathering Place off the Stupid Church Sign Leaderboard.
One side of The Gathering Place's marquee says, Be an Organ Donor, Give Your Heart to God. So, according to the sign, when people become Christians they give their the blood pumping organ in the upper left side of their chests to God. If we take this literally, how is the Christian God any different from the God of South American tribes centuries ago? Tribal priests would cut the hearts out of people and offer them to their God.  If people literally give their hearts to the Christian God, doesn't that mean they will  be d-e-a-d after doing so? Perhaps The Gathering Place means for the sign message to be taken in a Biblical or metaphorical sense. But even here, the sign distorts what the Bible actually says about the heart. The Biblical heart is not the blood pumping organ that is central to our existence. A careful study of the word heart reveals that the word means mind or the seat of human will. Proverbs 23:7 says, For as he thinketh in his heart, so is he: Eat and drink, saith he to thee; but his heart is not with thee.
There are Christians who will dig their literalist heels in on this matter and refuse to accept that the word heart does not mean the organ. I have one question for them. If a Christian has a heart transplant, does that mean he loses his salvation and has to get saved all over again?
The other side of The Gathering Place marquee says, One Nation Under Me, God. Meant to be a statement affirming Christian nationalism, my dirty, carnal, atheistic mind thought, so…God likes to be in top?