As Polly and I travel the roads of Northwest Ohio and Southeast Indiana, we are always on the lookout for God's True Church®. Here are a few of the churches we stumbled upon in recent months.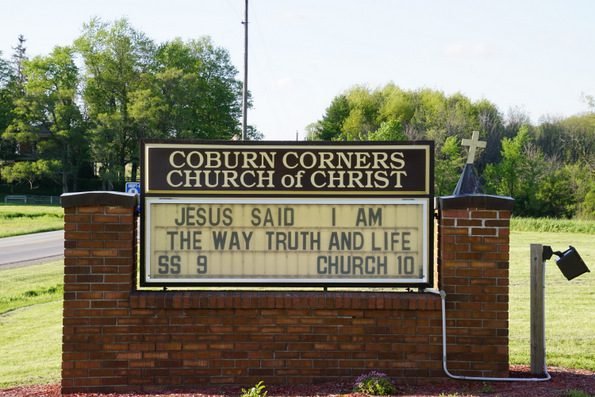 Coburn Corners Church of Christ, St. Joe, Indiana. Hey you, yes you, Lose Jesus? I don't have Jesus, but good luck finding him.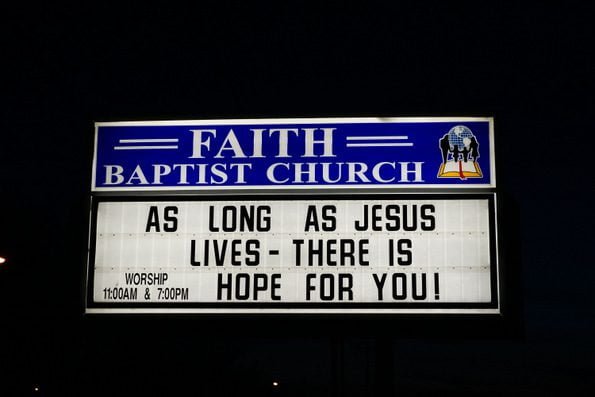 Faith Baptist Church, Ottawa, Ohio. Damn, since Jesus is dead, this means there is no hope for anyone.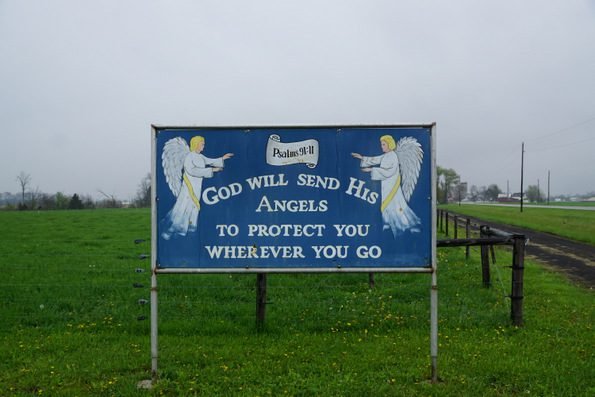 St. Peter Lutheran Church, Ridgeville Corners, Ohio. St. Peter Lutheran is associated with the Evangelical Lutheran Churches in America (ELCA). This sign is on U.S. Hwy 6. Nearby, travelers will find roadside shrines erect to memorialize people killed in accidents. Evidently God forgot to send his angels to protect these people.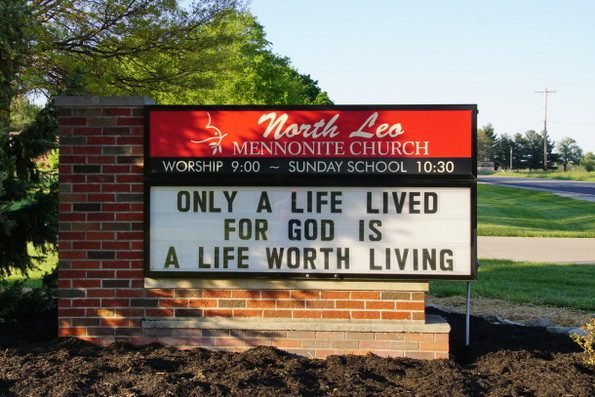 North Leo Mennonite Church, Leo, Indiana. North Leo Mennonite describes itself this way:
North Leo is a mixed crowd. Some grew up in this church or in other Mennonite churches, some come to North Leo from other faith traditions, some come to North Leo from no faith background at all – but have discovered the grace of God and found a loving community where they can grow. Diversity is a healthy thing. God created us to be in community and God also created each of us as unique individuals. North Leo Mennonite Church is a family where your experiences, perspectives, and ideas are welcome and valued.

Most people don't really know what a Mennonite is. There are a lot of ideas. The simplest way to describe the Mennonite Faith is to say that we are Christ-Centered. We take all of Scripture seriously, but we look to Jesus' life and teaching as our clearest example of what God is like and how God invites us to live. We believe that God created the world and said it is good. We believe that sin creates brokeness in our relationship with God, in our relationships with each other, sin creates brokeness in us, and in our world. We believe that Jesus offers reconciliation and restoration from all our brokeness. We believe God is still at work in the world. We believe in eternal life through Jesus that begins here and now. We believe that Jesus is coming back again. Until that day comes we are called to share with others the love, grace, mercy and forgiveness that God has given us – because God is all about putting broken things back together again and we get to be a part of it.
If this sign is true, most of the seven billion people on earth live worthless lives.
Frontier Baptist Church, Frontier, Michigan, Terry Farwell, pastor. Frontier Baptist is associated with the Southern Baptist Convention (SBC).  I prayed my last prayer in November 2008. Since then, I have never had a day where I felt the need to pray. I have found that my time is better spent doing things that actually make a difference.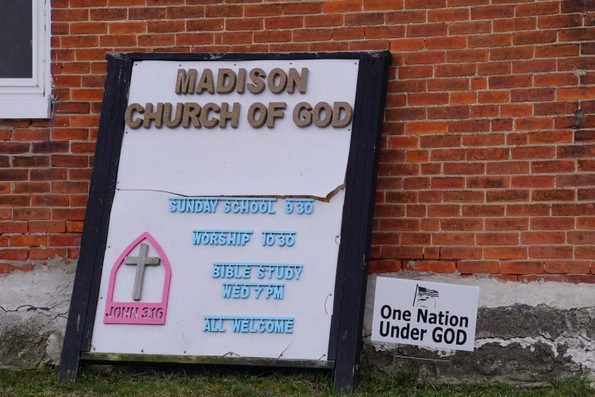 Madison Church of God, somewhere in Northwest Ohio.