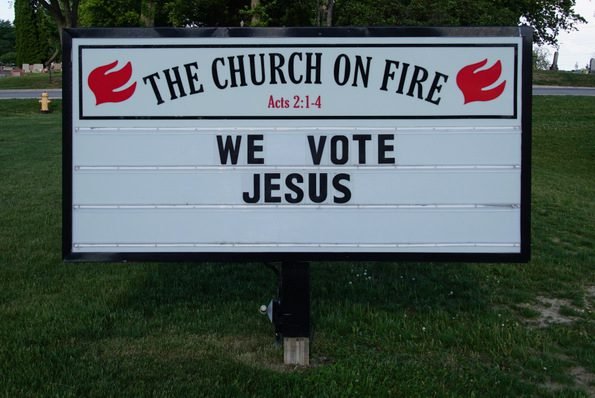 Earlier this year I started a new series titled "On the Road Looking for God's True Church." This series features photographs of church signs from houses of worship in northwest Ohio, northeast Indiana, and southeast Michigan. I am disabled, often home-bound days on end, so to get me out of the house, Polly takes me on short road trips an hour or two from our home in Ney, Ohio. While out and about with Polly, Bethany (our daughter with Down Syndrome) and a back seat filled with camera equipment, I look for photography opportunities. Once such opportunity is church signs.
From time to time I get emails from Christians offended by this series. They don't like the fact that I am making fun of their church, or of Christianity in general. Often I am told that I must be bitter, angry, or have an axe to grind. I am also told that I need to "get a life." Well, photography is part of my life, and if Christians don't like me making fun of their churches perhaps they should change their "message."
Recently, a local pastor emailed me about this series and I responded, giving him five reasons why I love doing the On the Road Looking for God's True Church series:
It exposes how rampant bad theology is
It exposes how churches and pastors view outsiders
It exposes what it is that churches and pastors think is important
It exposes the fact that the people putting up the messages really should use a dictionary
It exposes the fact that Evangelicalism rules the roost in northwest Ohio, northeast Indiana, and southeast Michigan
I then added:
On a slightly humorous note, by featuring these church signs on a heavily trafficked site such as this one, my blog appears in search listings near the top of searches for  ________ church. Sometimes my site is listed above the church's listing. And, for those churches who seem to think it is still 1979 and have no website? Well, my blog comes up first when people search for these churches.
In general, I hate church signs. I think churches hurt their message and image by using them. Now churches are "blessing" local communities with bright, always-on LED signs.
Now you know, as Paul Harvey used to say, the rest of the story.