As Polly and I travel the roads of Northwest Ohio and Southeast Indiana, we are always on the lookout for God's True Church®. Here are a few of the churches we stumbled upon in recent weeks.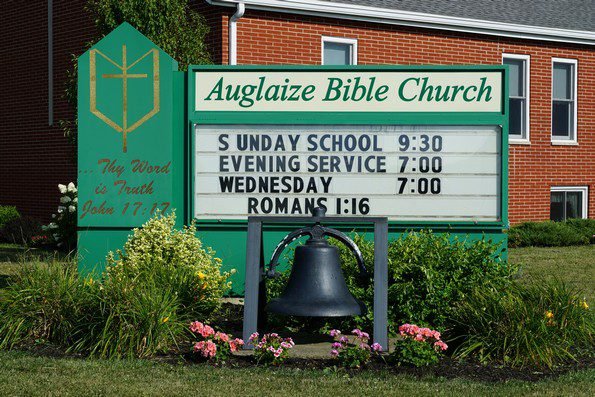 Auglaize Bible Church, Harrod, Ohio, Ben Buzhardt, Pastor. Buzhardt is a graduate of Bob Jones University, so I assume Auglaize Bible is a Fundamentalist church. The church does not have a website, but it does have a Facebook page. I did find another website that had this to say about Auglaize Bible Church:
Auglaize Bible Church exists to glorify God in Harrod, Ohio. The men and women of this fellowship desire to encourage each other to grow in each person's relationship with Jesus. We exist to show the gospel in word and in deed to people in West Central Ohio.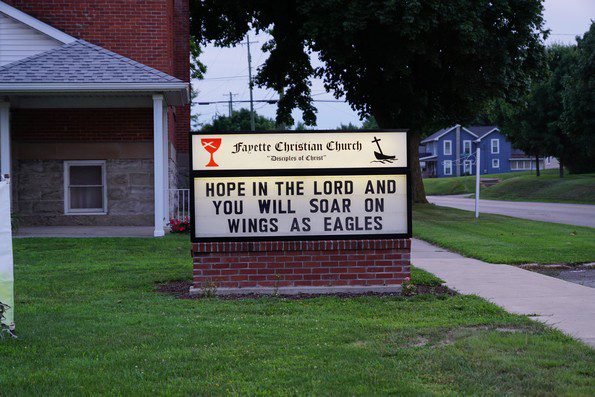 Fayette Christian Church — Disciples of Christ, Fayette, Ohio. Fayette Christian does not have a web presence.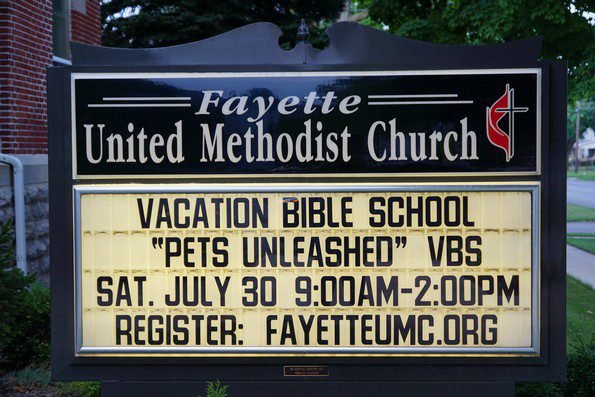 Fayette United Methodist Church, Fayette, Ohio, Andrea Cheeseman, Pastor. According to the church's website, "Fayette UMC is a Break Through Prayer Church. We believe in praying bold prayers to our awesome God." So, there are other churches that do not "break through" with their prayers? Fayette United Methodist's website explains "break through prayer" this way:
Break Through prayer is prayer that believes God is capable of making big bold changes in our lives, in the lives of our friends and family, and in life of our community. Since October, 2015 Fayette UMC has been a part of the West Ohio Annual Conference Break Through Prayer Lab. A training event for pastors and lay people, that teaches new prayer disciplines like prayer walking, praying circles, and specific prayer.

As a part of this prayer lab our Break Through Prayer Team developed our 9:11 prayer card. Our church has been praying for God's break through since October and we have seen many answers. God is at work in our church, healing brokenness, bringing new life, and renewing our spirits.
What is this "pets unleashed" Vacation Bible School? So many one liners are going though my head right now!  Did the pets turn into atheists and now they are unleashed and free to roam? Inquiring minds want to know.  You can read Fayette United Methodist's latest newsletter here.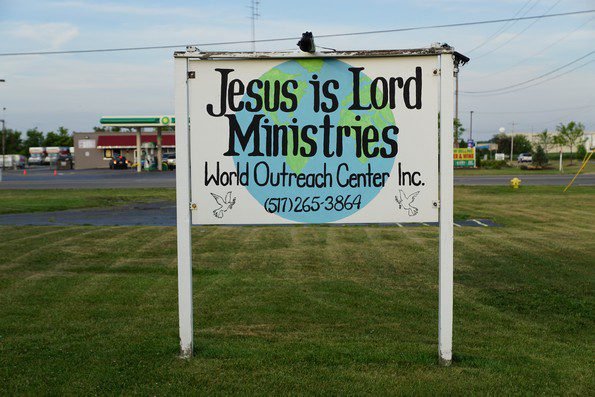 Jesus is Lord Ministries World Outreach Center Inc., Adrian, Michigan, Pedro and Shirley Valdez, Pastors. Shirley Valdez is also a Prophetess and her husband is an Apostle. According to the church's website, Jesus is Lord Ministries is a place where:
the unlovable are loved, the bound are set free, and no one is judged. Come as you are. Come to find out what it is that you have been missing in your life. Our church is here for you. It's where God is worshiped in Spirit and Truth. Come worship with us and find what you have been looking for!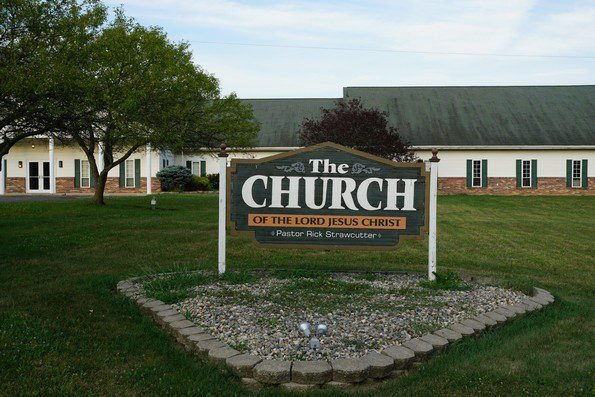 The Church of the Lord Jesus Christ (The Church on Bent Oak, Adrian, Michigan, Rick Strawcutter, Pastor. According to a comment on the church's unofficial Facebook page, The Church of the Lord is "the one and only true Church of the Lord Jesus Christ. The best fellowship I've ever experienced. Come and join us, you'll keep coming back for more!"  I am always amused when a congregation uses a definite article — which is THE in the English language — to describe itself. Seems quite arrogant, don't you think, for a church to consider itself THE Church of the Lord Jesus Christ?
According to the church's website, certain people will find themselves right at home at The Church of the Lord Jesus Christ:
People who are tired of establishment approved, politically correct, dry dead and often silly approaches to churchianity. People who have the mental and spiritual wherewithal to handle the truth and know it when they hear it.  People who know in their hearts that there is more to Christ and a relationship with him that mere ritual and mental ascent.  Over the years many have  said, they were looking for "truth and not tradition", and found it at the Church on Bent Oak.

A old wise farmer was once quoted as saying,  "The problem is not that we know too much. The problem is that so much of what we know, ain't so."

In the opinion of Pastor Strawcutter, nothing could more clearly describe the dilemma of the typical church goer today.   Tradition and at times outright shear ignorance blocks the free flow of truth and understanding of the Bible.  Too many churches and ministers today are more dedicated to the perpetuation of their past and traditions than they are to walking in true vision, interpretation and enlightenment.

One area that ministries afflicted with stunted spiritual growth balk at is the area of science.   Because they find certain scientific holdings to be inconsistent with their ridged and sacrosanct beliefs they arrogantly denounce and dismiss out of hand many things that if viewed in a more correct Biblical light would actually make perfect sense.

The following are a few of the primary areas that have historically stunted biblical understanding and have actually caused many to become committed unbelievers instead of believers.  Would it surprise you to know that among other things, the Bible  teaches that:

The Creative days in Genesis are eras of time and not literal 24 hr. days?
Adam was not the first man created on earth?
The Serpent was symbolic and not a literal slithering snake?
Noah's flood was one of many such upheavals and was local and not global?
The word rapture appears no where in scripture, nor does the word trinity?
Rick Strawcutter has been the pastor of The Church of the Lord Jesus Christ for forty years. His bio page describes him this way:
His talents and experience is varied and extensive. Pastor Strawcutter has a broad based educational backround including a Naturopathic degree and pilot's license.  He is  the author of several books including "Bankers Lawyers and Judges – the Unholy Trinity",  "Without Controversy "  and  "Ten Minute Bible Study."
Here's a link to an older article about Strawcutter and his controversial beliefs and practices. In 1979, Strawcutter held a controversial book burning. You can read about it here. In 2014, Strawcutter stirred up controversy over a public sculpture he considered erotic. You can read about it here.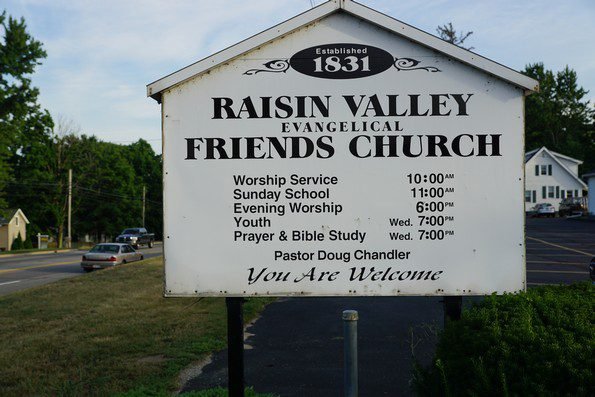 Raisin Valley Evangelical Friends Church, Adrian, Michigan, Doug Chandler, Pastor. On its website,  Raisin Valley describes itself this way:
Powerful and familiar hymns alongside many of the best new worship songs and choruses sung in a traditional worship style
Bible-based preaching and teaching with a focus on impacting our daily lives
A welcoming atmosphere where strong friendships are nurtured
Many opportunities to serve in the church and the community
A heart for sharing God's message and love, both locally and worldwide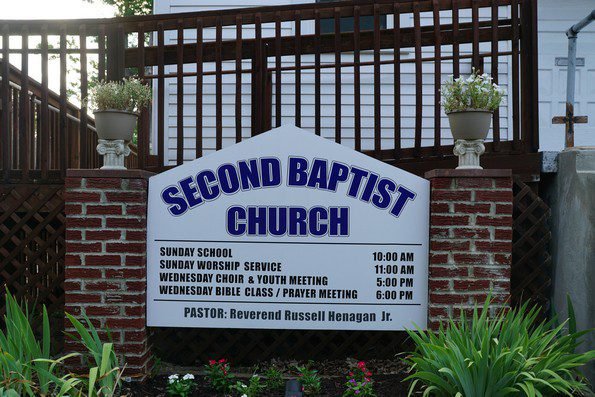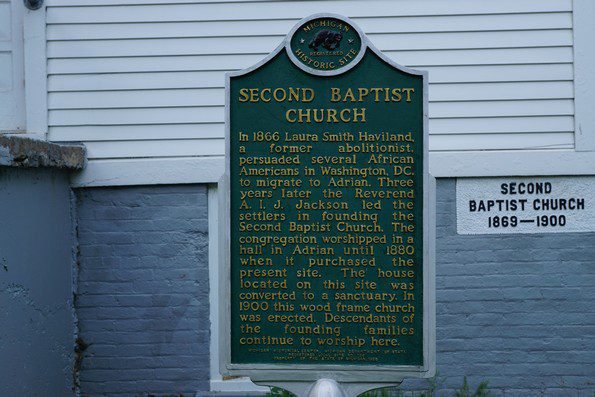 Second Baptist Church, Adrian, Michigan, Russell Henagan,Pastor. Second Baptist has no web presence.