As Polly and I travel the roads of Northwest Ohio and Southeast Indiana, we are always on the lookout for God's True Church®. Here are a few of the churches we stumbled upon in recent weeks.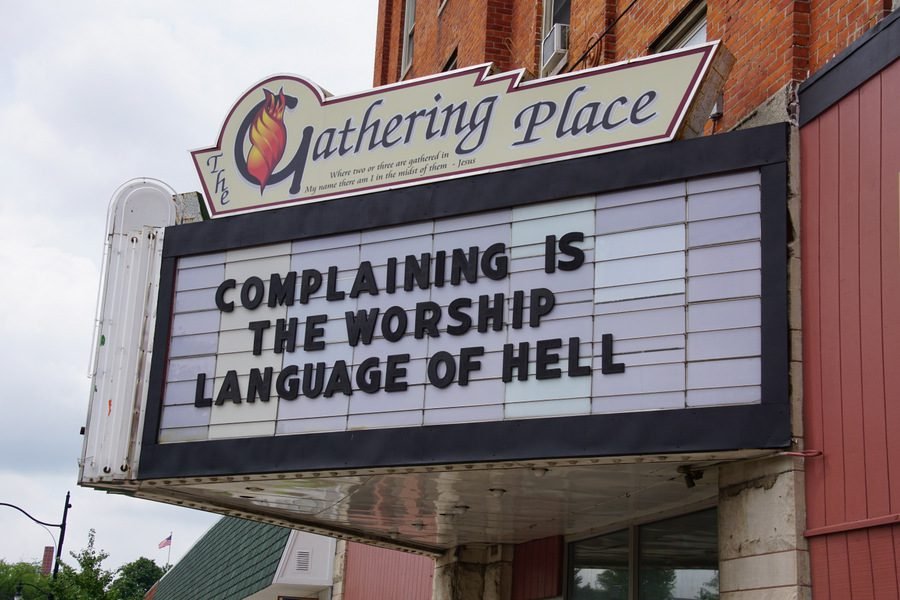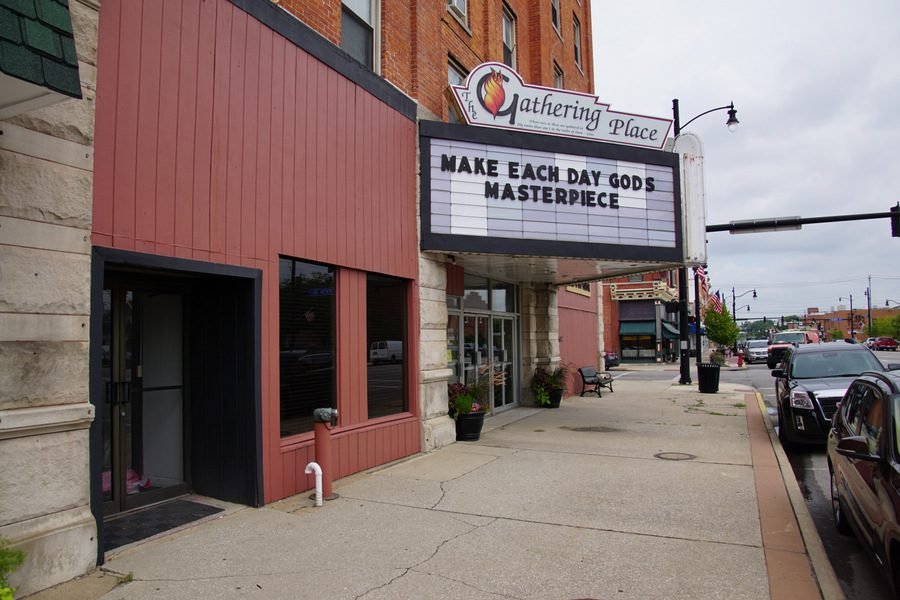 The Gathering Place, Defiance, Ohio, Richard Buttermore, pastor. The Gathering Place is a nondenominational church. According to its website, The Gathering place is:
a place for Christian believers to who want to experience the presence of God and mature in their faith and relationship with the creator. What is taught here are promises God has given to us and the walk of life required to reap these promises. We are not here to pass judgement on others about what they have done in the past but to help one another progress towards a better life through Jesus. Everyone is on a different page in their walk with Christ and here we gather to have fellowship amongst other believers where we can come for healing in the physical and the mental aspects of our lives. It is through the power of Jesus who spoke it from the beginning in which we are capable of doing these things so come check out what God is doing here in Defiance.
The Gathering Place wants passersby to know that complaining is some sort of Satanic worship language. I have no idea what they mean by this. Years ago, when I was a student at Midwestern Baptist College, there was a rule that prohibited griping (complaining). Students were expected to keep their mouths shut at all times. Those who dared to complain quickly found themselves in front of the dean explaining exactly why they dared to gripe about the college, its teachers, or any other aspect of student life. Perhaps the message on The Gathering Place sign is meant for church members, not passersby.
The Gathering Place also wants passersby to know that it is up to them to make each day God's masterpiece. This bit of prose is wrong on so many levels that I don't know where to begin. First, how can unsaved sinners make any day God's masterpiece? Are they not the enemies of God, at war with him and headed for hell if they don't repent? How, then, could their days ever be a masterpiece? Second, I thought God was perfect in all his ways? If it is up to mere mortals to make each day God's masterpiece, doesn't that mean that God has created an inferior product? If Christians have the power to improve on God's handiwork, what does that say about God, his power, and his sovereignty?
Trinity United Methodist Church, Defiance, Ohio. According to the church's website, "Trinity is all about making disciples of Jesus Christ for the transformation of the world. We hope to accomplish this through three simple steps: Connect, Grow, Serve."
God's Not Dead 2  is a Christian movie that details the "persecution" American Christians (Evangelicals) face on a daily basis. Its subject matter is every bit as mythical as the miracles found in the Bible. Here is what a few movie critics had to say about God's Not Dead 2:
Bill Zwecker of the Chicago Sun-Times felt that the underlying issues presented in the film are relevant in today's world, but criticized its lack of subtlety, saying, "the entire film simply comes off as a two-hour, jazzed-up movie version of a sermon."
Frank Scheck of The Hollywood Reporter criticized the film's "straw man" argument and its perceived victimizing of Christians: "Pounding its agenda with all the subtlety of a sledgehammer, God's Not Dead 2 will no doubt please its target audience. Everyone else will be left wondering why its fans seem to be suffering from such a persecution complex."
Jordan Hoffman at The Guardian deemed it "a much better movie than God's Not Dead, but that's a bit like saying a glass of milk left on the table hasn't curdled and is merely sour" and stated that "it is unfortunately just professional enough that there are only brief instances of transcendent badness, rather than drawn-out sequences."
Most people think that mainline churches are progressive or liberal, but as my photographs of local church signs show, mainline churches can be every bit as Evangelical/Fundamentalist as the Baptists.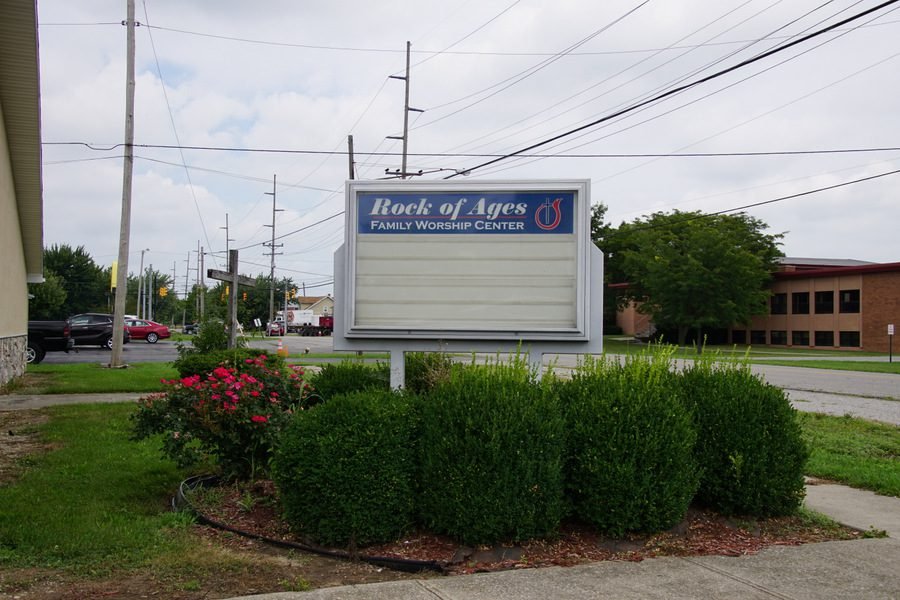 Rock of Ages Family Worship Center, Defiance, Ohio. Rock of Ages has no web presence. I do, however, love the message on their sign. I wish more churches would put this same message on their signs.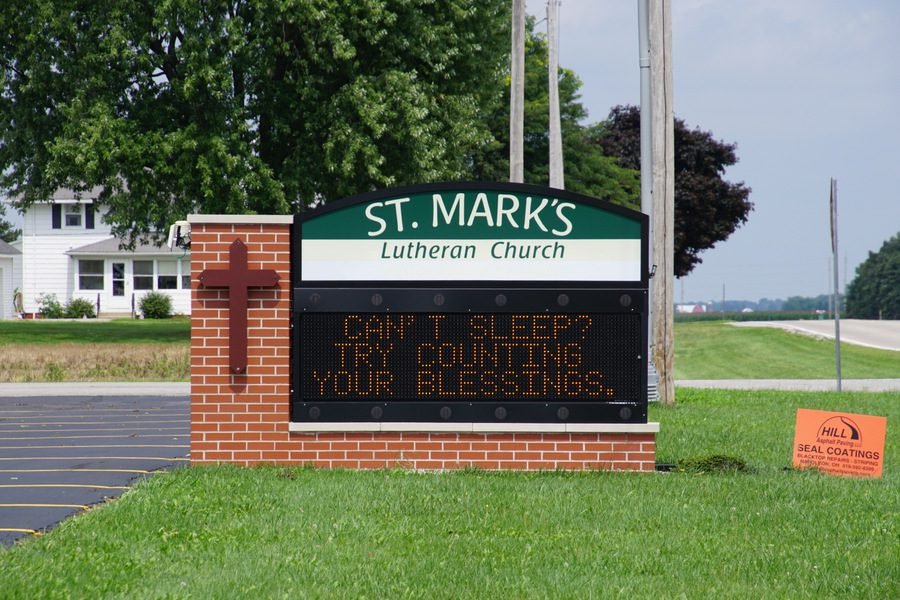 St. Mark's Lutheran Church, Defiance, Ohio. St Mark's has no web presence. The church is affiliated with the Evangelical Lutheran Church in America (ELCA). While I indeed have many blessings I could count when I can't sleep, I prefer 30mg of Temazepam (Restoril).