As Polly and I travel the roads of Northwest Ohio and Southeast Indiana, we are always on the lookout for God's True Church®. Here are a few of the churches we stumbled upon in recent weeks.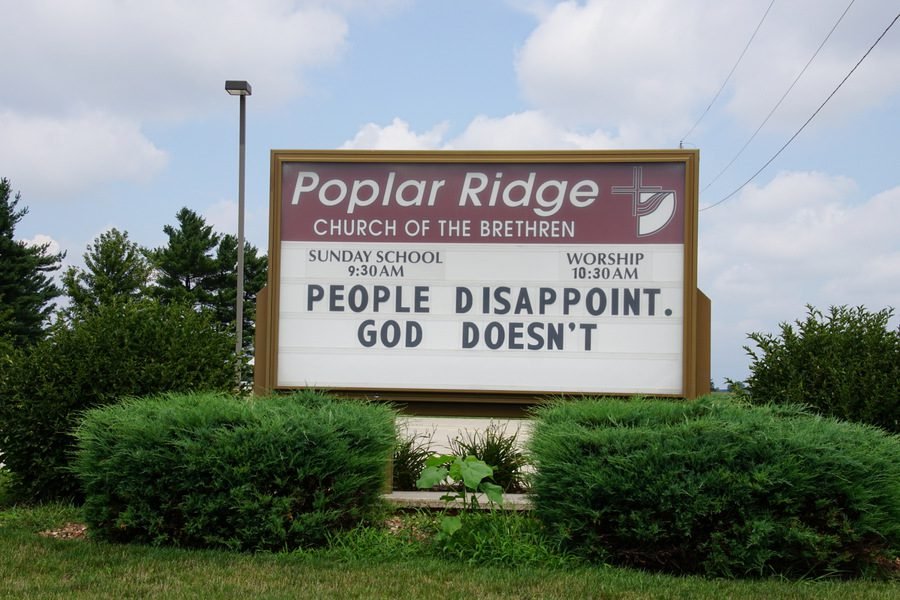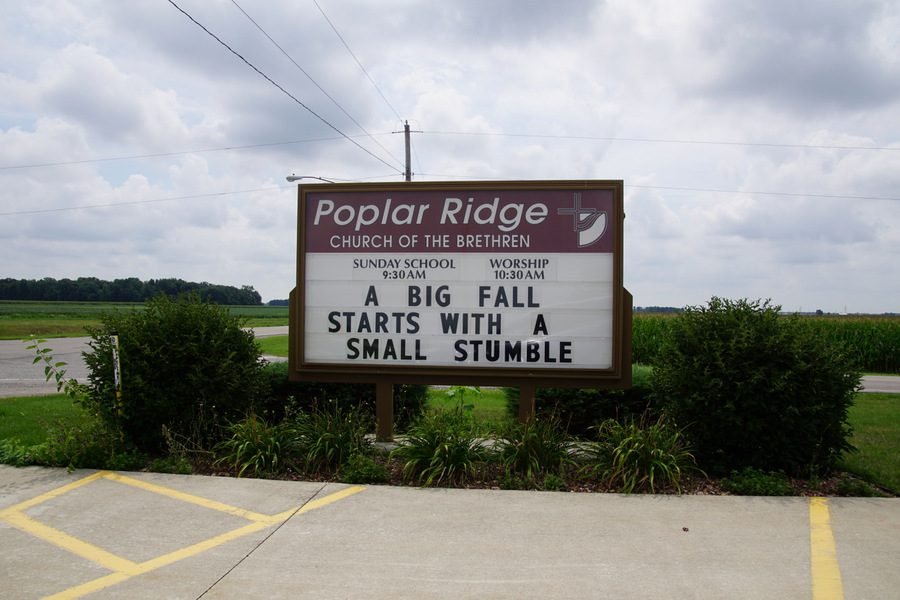 Poplar Ridge Church of the Brethren, Defiance, Ohio. Poplar Ridge has no web presence.
Poplar Ridge wants passersby to know that the Christian God will never disappoints them. Really? Since God is a spirit (according to the Bible), all we have to judge him on are the works of his visible presence — the church. And I can tell you this much, there is a heaven of a lot of people who are disappointed with American Christianity, including those who attend church regularly. Perhaps the folks at Poplar Ridge should do a community survey, asking locals whether God, Christianity, and area churches are disappointing. Having pastored Evangelical churches for twenty-five years, I can tell you that church pews are filled with discouraged, disappointed people.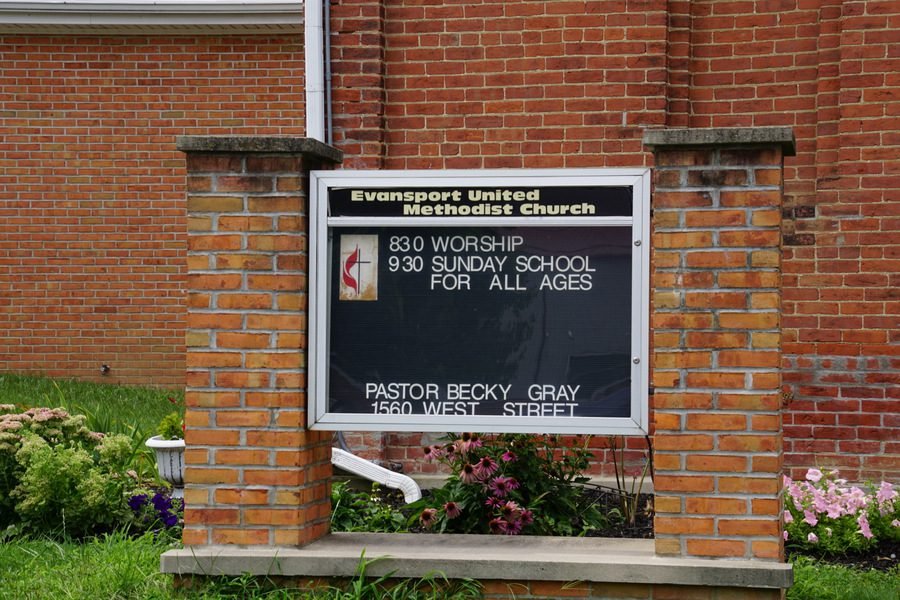 Evansport United Methodist Church, Evansport, Ohio, Becky Gray, Pastor. The church has no web presence.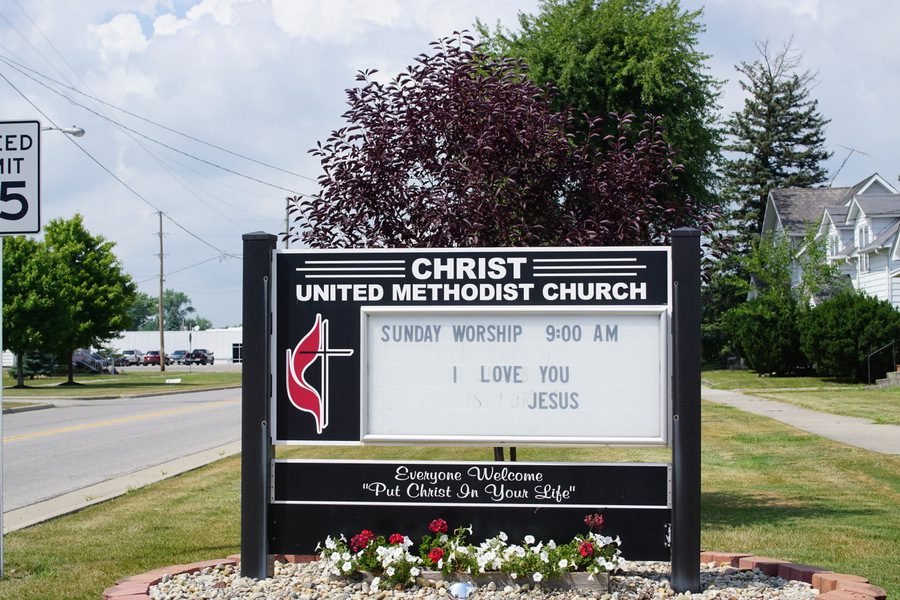 Christ United Methodist Church, Continental, Ohio, Charles Schmunk, Pastor. The church has no web presence.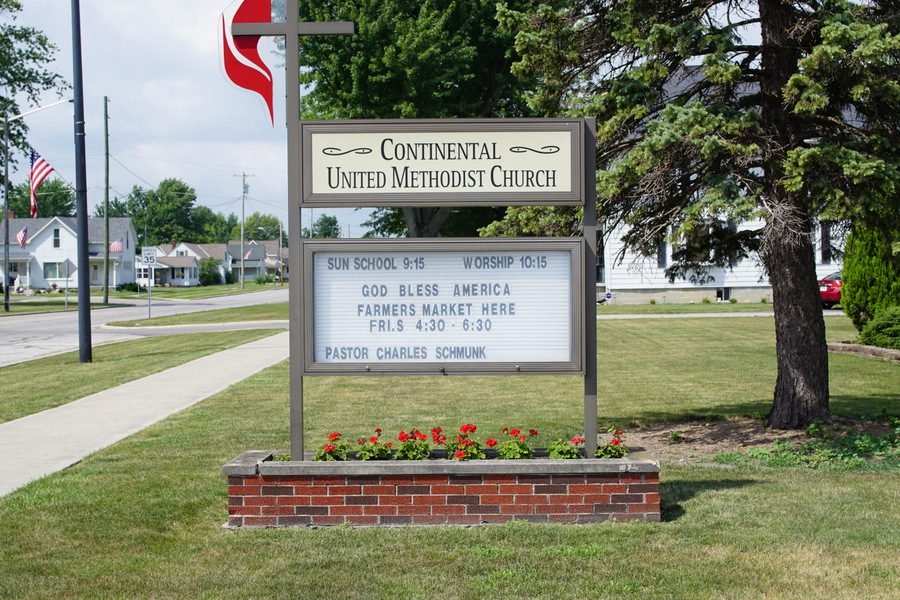 Continental United Methodist Church, Continental, Ohio, Charles Schmunk, Pastor. The church has no web presence. Why are there two Methodist churches in Continental — population 1,123? Surely the community would be better served if the two smaller churches merged and became one moderate size church. Ah, but that would require compromise and one church giving up its building. Can't have that.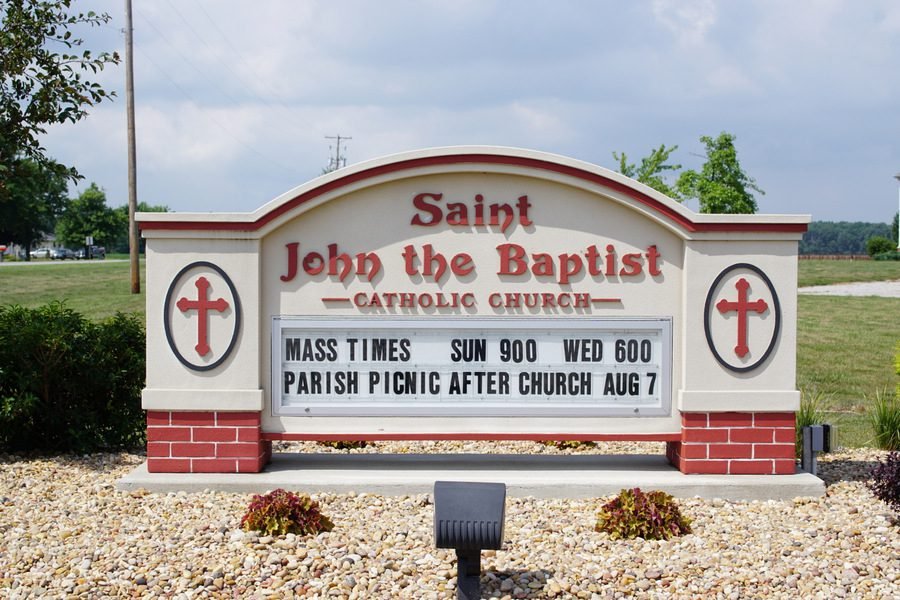 Saint John the Baptist Catholic Church, Continental, Ohio, Mark Hoying, Pastor. The church has no web presence. I bet local Baptists hate seeing a Catholic church with their patron saint's name.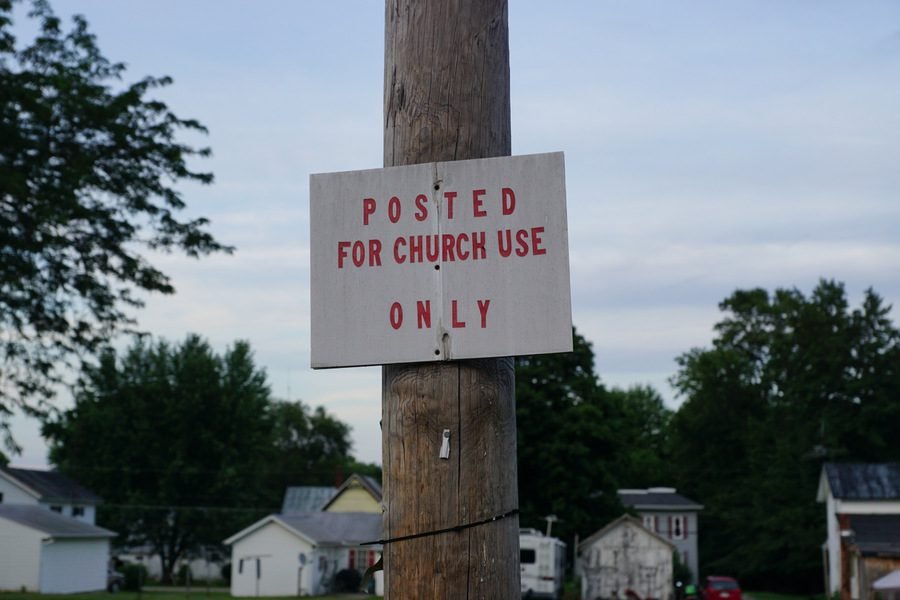 New Beginnings Ministries, Fayette, Ohio, Karen Joy King, Pastor. (Facebook page)  King has a "doctorate" from Christian Leadership University. While searching for information about this church and its pastor, I stumbled upon King's testimony. Here's an excerpt:
As a child, I was fortunate that my family attended church on a regular basis. Hearing the Bible stories and singing the little Sunday School choruses, made me hungry to know and to serve God. I gave my life to Christ by the age of 13. However, the church didn't teach true Christian living, and I desired to know much more.

Eventually, God led me to a holiness church, in which I developed a very close walk with God and enjoyed having a very anointed ministry. After awhile, a Jezebel spirit came into the church. Through this, many lives and marriages were ruined, mine included.

Due to years of church and marital abuse and erroneous Biblical teachings, I suffered a complete break down in 1982. I was so sick, the team of doctors working with me, couldn't figure out how I still managed to live (but God knew!). After the break, I slept 3 1/2 months almost around the clock. I was confined to bed for about 4 years due to the extreme illness and weakness.

During the years that followed, I could hardly do anything but was slowly gaining some strength. Due to being so ill for so many years, I no longer enjoyed the prayer life I previously had, nor was I able to meditate on God's word and have it become Rhema like it constantly did before the break, nor I was I able to attend church. After the break, everything became dark, and I entered into, what I call, my 20 year tunnel.

My pastor/Christian Day School husband gave me no help or encouragement but instead constantly berated me. Eventually, he had an affair with another "Christian" woman in the church we pastored and divorced me. I became very angry, bitter, and experienced the gamet of satanic emotions, even though I didn't want to be like this. It seemed that no matter how I prayed, was prayed for, fasted, and or tried to meditate on the Word, I couldn't break out of the tunnel. Once in a while, I would see a little light in that tunnel, only to have it extinguished time and again.

Finally, after 20 years of struggling to regain a close, victorious relationship with God once again, but without success, I threw my hands into the air one night and told God that if He wanted me to be a Christian, He was going to have to take over and do it through me, for I couldn't do this any more. I was tired of trying! I was done! What a blessed place at which to finally arrive! Now God could take over and lead me to victory since I was out of the way.

Shortly after that, a friend suggested that I go back to school and earn a Master's degree in Counseling. God, through her, planted a seed. After praying about this for a couple of months, I felt this was something God wanted me to do. So, every day, all day long, while constantly praying, I searched the internet for the right university. None of the hundreds of universities I researched interested me.

After the two weeks of searching, I prayed once again, "Father, if You want me to do this, show me now the right school." (I was tired of looking and was beginning to wonder if I should do this after all.) I went back on line. Immediately, Christian Leadership University came up. I hadn't seen it before and it caught my attention. When I read the CLU catalogue, I knew beyond a shadow of a doubt, this was the one.

By faith (since I had been too ill for so many years to work a steady, decent job, my income was very low), I signed up for a Masters in Christian Counseling (I knew that I needed help before I could help others). This program promised to minister to me, which I was craving.

Mark Virkler called to welcome me as a CLU student. Before the conversation ended, not only was I signed up for a Masters but also a Ph.D. in Christian Counseling at a price I could afford! I was soaring, rejoicing, and praising the Lord!
You can read more about Christian Leadership University's doctoral level counseling program here. Be prepared to severely underwhelmed by the program's requirements. Total cost? Less than $6,000.
The last picture is of a sign posted at the entrance of New Beginning's parking lot. What I want to know is WHAT exactly is FOR CHURCH USE ONLY? The parking lot? The pole?  The church building?