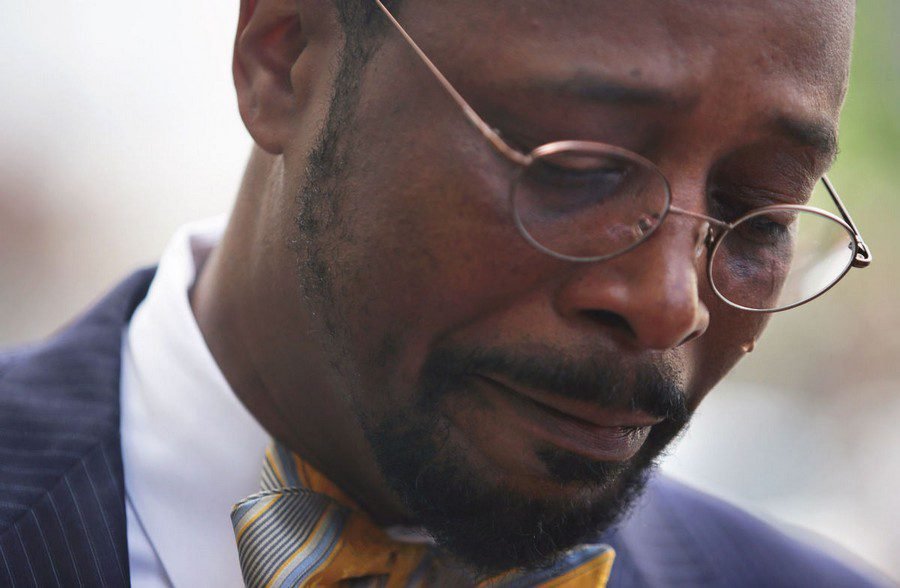 Yesterday, a Federal Court judge sentenced Norfolk, Virginia city treasurer Anthony Burfoot — an Evangelical Christian —  to six years in prison for public corruption and perjury. Burfoot attended Mount Gilead Baptist Church, pastored by Shelton Murphy.  The Virginian-Pilot reports:
The reckoning for Anthony Burfoot came on the day after Easter, which was also the seventh day of Passover.

Given the season, perhaps it should have been no surprise to hear Norfolk's convicted city treasurer compared to Jesus – and, by implication at least, a federal judge compared to Pontius Pilate.

The religious references were hardly subtle as Burfoot sat in a packed federal courtroom Monday to be sentenced for his public corruption and perjury convictions.

Among a half-dozen character witnesses was Burfoot's pastor, Shelton Murphy, who said he believes in his congregant's innocence and compared him to wrongly convicted biblical figures.

"Many of the saints in the Scriptures, they have been found guilty even when they weren't," said Murphy, pastor of Norfolk's Mount Gilead Missionary Baptist Church.

He added that he found it ironic the sentencing came the day after Easter, which celebrates the resurrection of Jesus on the third day after his crucifixion.

"Jesus was found guilty, and he was not guilty," Murphy said from the witness stand.

U.S. District Judge Henry Morgan, the apparent Pilate of this metaphor, did not reply.

An hour or so later, after more witnesses and legal arguments, Burfoot's lawyer, Andrew Sacks, closed his remarks with more religious imagery.

Sacks said he couldn't remember praying as much for a client in 36 years as an attorney.

He noted the symbolism of the week's religious holidays – Passover, which celebrates the Israelites' liberation from Egypt, and Easter with its message of rebirth – and implored the judge to give Burfoot a chance at a rebirth.

In his remarks, Morgan didn't respond to the religious entreaties. But whatever the motivation, he did heed the call for mercy.

The judge rejected prosecutors' request for a 15½-year prison sentence, saying Burfoot's life would be all but over after such a term. Instead he imposed six years and said he hopes Burfoot will be able to contribute to society when he's free.
Federal prosecutors said the city treasurer accepted money and other forms of compensation from developers while he served on Norfolk City Council. They maintained Burfoot used his influence as a councilman to benefit those developers.

The judge said the bribery scheme in which Burfoot was involved lasted six years, so that was how long Burfoot's sentence should be. Burfoot also has to forfeit $250,000 to the federal government.

The U.S Attorney's Office for the Eastern District of Virginia asked the judge to sentence Burfoot to 17-and-a-half years in prison.

Burfoot's lawyer, who hoped, ideally, to have the conviction overturned, submitted paperwork asking that the sentence be no more than 24 months.

"When elected officials engage in corruption it erodes public confidence in our democratic system of government," said Dana J. Boente, U.S. Attorney for the Eastern District of Virginia.  "Burfoot's well-publicized criminal exploits have eroded public confidence in how their tax dollars are used and managed, and his selfish actions feed the worst perceptions about public employees, of whom the vast majority perform their duties selflessly and admirably. I want to thank the Assistant United States Attorneys and the FBI for their diligence and dedication in pursing this important case."

Prosecutors said from 2005 through the middle of February 2011, Burfoot solicited items of value including money, car payments, and home appliances from people who had matters before city council. In exchange, Burfoot promised to perform specific official acts as well as other actions on an as-needed basis on their behalf.

The U.S Attorney's Office said Burfoot had "illicit relationships" with the managers of Tivest Development company as well as developer and local restaurant owner Thomas Arney. Court records showed the managers of Tivest paid hundreds of thousands of dollars to Burfoot and, in exchange, Burfoot voted in favor of city ordinances that provided city-owned land to Tivest for a nominal cost and additional city funds for infrastructure improvements.

At Burfoot's request, Arney paid $25,000 to the mother of two of Burfoot's children after Burfoot promised to obtain the necessary votes for Arney to open a gentlemen's club on Granby Street in Norfolk.

Burfoot also committed perjury by claiming during a federal trial that he never accepted or solicited a thing of value in exchange for performing an official act.

Court records and evidence presented at trial showed that developer and local restaurant owner Ronnie Boone, Sr. provided money, gifts, free access to a beach house, and other items of value to Burfoot. The then councilman performed specific official actions and promised to engage in future official actions to benefit Boone and his business interests.