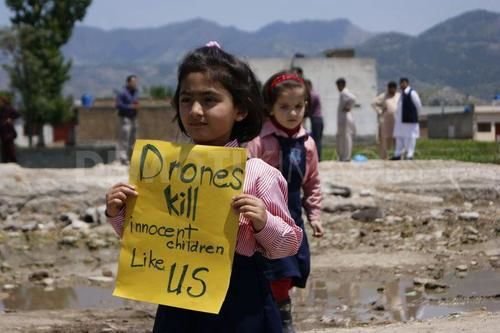 Americans love to think of themselves as morally virtuous, a people who are, at heart, decent and kind. Yet our history paints a vastly different picture, one of a violent people prone to bloodshed, often at the slightest provocation.
Our forefathers, not long after they landed on America's shores, turned to violence to rid the land of natives who stood in the way of "progress." For the two next centuries, American soldiers systematically hunted those we call Indians, indiscriminately killing men, women, and children. Our political leaders rightly point out the genocidal horrors in other places, all the while ignoring our own dark, shameful history.
Today, the United States government dropped the mother of all bombs on Afghanistan, hoping to destroy ISIS tunnels. Steps were taken to limit "collateral damage," we are told. I wish government spin doctors would be honest. Saying "collateral damage" hides the truth of American military actions. "Collateral damage" really means women, children, and aged men. What's the limit when it comes to dead children? How many dead children does it take before the American government changes their death and hell from the skies bombardments?
We Americans are insulated from the cost of war because we fight them over there so we don't have to fight them here. American children and their mothers don't have to worry about lethal drone strikes, missiles, bombs, or machine gun fire, but children and their parents in places such as Syria, Afghanistan, Pakistan, Iraq, Israel, and the West Bank spend their days worrying about being marked for destruction. While American children gleefully play in their yards, children in the Middle East carefully watch the skies, worried that a nameless drone pilot in America has decided that it is their day to die.
In June, I turn sixty years old. The United States has been at war my entire life. My grandparents and parents lived through the World Wars and the Korean Conflict. Millions of civilian men, women, and children were slaughtered by America's military machine. From the firebombing of Dresden to dropping incendiary and atomic bombs on Japan, the United States showed it was willing to kill anyone anywhere to achieve its political and economic objective.
Vietnam was my generation's war. Upwards of two million people died in North and South Vietnam, Laos, and Cambodia as the United States unleashed its mighty arsenal of killing machines on peasants and soldiers alike. And who can forget — we dare not — America's use of napalm on the Vietnamese people. Scores of children were roasted alive and those who survived were left wishing they hadn't.
Since Vietnam, the United States government has embroiled itself in numerous military conflicts, including ongoing wars in Iraq, Afghanistan, Yemen, Syria, and many points in between. And now President My-Dick-is-Bigger-Than-Your-Dick is threatening increased military action in Syria, along with armed conflict against North Korea.
The media would have Americans believe that President Trump popped a boner and sent sixty Tomahawk missiles screaming towards a Syrian air base because he saw the picture of a Syrian father holding two dead babies who were supposedly killed in a Syrian President Assad-approved gas attack — a claim for which the Trump administration has provided zero evidence.
Does anyone seriously think that Donald Trump or any of the sycophants supporting him give a rat's ass about the smallest of "collateral damage" — children?  Of course not. The U.S. military sees civilian deaths, including children as a necessary cost of war. I wonder if these hawks would deem the cost too high if it was their children and grandchildren who were being killed. As long as the children being killed are brown or black, and live in a far away land, their deaths are considered necessary sacrifices for the spread of capitalistic democracy.
Flag-waving, war mongering patriots want blood, any blood, as long as it isn't American. These God-loving killers lament the death of brown and black skinned children, and perhaps even shed a tear, but when American exceptionalism and national pride is at stake, what's the murdering of a few Middle-Eastern children, right?  What makes matters worse is that justification for the mayhem unleashed from the skies on unsuspecting civilians is found in the pages of the Christian Bible. America, according to Evangelicals, is a chosen people, a city set on hill, a people with a manifest destiny given to us by God. God is on America's side because American Christians say he is. Proof for these calls for bloodshed can found in the Bible. Look at how violent, maniacal, and genocidal the Christian God was, as any honest reading of the Old Testament will reveal.
The American government doesn't care one whit about children in far-away lands. The darker their skin the less politicians care. While American leaders might shed an opportunistic tear, their goal is the advancement of America's domination of the world, and if that means killing children, so be it.
Think of the children, the pictures tell us, but don't think too hard about who it is that is killing children and why they are doing so. Hurry, new photos to view. Dammit, can't we stop just for a moment and think about the lunacy of war; that war always ends up killing children and innocent civilians; that no war has ever brought peace.
Let that last line sink in — no war has EVER brought peace.
Cessation of hostilities, yes, but never peace.
Americans need to ask themselves: what has all this violence, bloodshed, and massive expenditures gotten us? Until we are willing to honestly account for the true costs of war, we will continue to think that killing children and innocent civilians is just the cost of doing business. For Assad, or whomever gassed Syrian children, the death of innocents was a necessary evil, and the same is said for the hundreds of civilian deaths caused in recent weeks by the best means of killing that American taxpayer money can buy.
We say it is about the children, but it's not.
Let's quit kidding ourselves.
If it really is about the children, be they Syrian, Pakistani, or American, we would stop with the violence and bloodshed and find a way to world peace. As long as the United States has sufficient weapons to kill everyone on the face of the earth and make it uninhabitable for thousands of years, no one will take seriously our calls for peace and disarmament. We are a people who say to the world do as I say, not as I do.  Surely I am not alone in thinking it hypocritical that the only nation to ever use nuclear weapons (on primarily civilian targets) is demanding other nation states get rid of the nuclear weapons while America hangs on to theirs.
Perhaps someday it will be about the children, but for now they are just props in deadly games being played by power-hungry men who are desperately determined to show the world who has the biggest cock. And once we find out, it will be too late – our world will cease to exist. The means of war which powerful men have at their disposal are such that, unless demands for disarmament and peace are heard and obeyed, we run the risk of not having to worry about global warming because we all will be dead from radiation and economic collapse.
Cynical?
Dystopian?
Perhaps, but what other conclusion can we come to as we watch the United States and North Korea and the United States and Russia play dangerous games of chicken that could result in the destruction of every living thing on Earth.