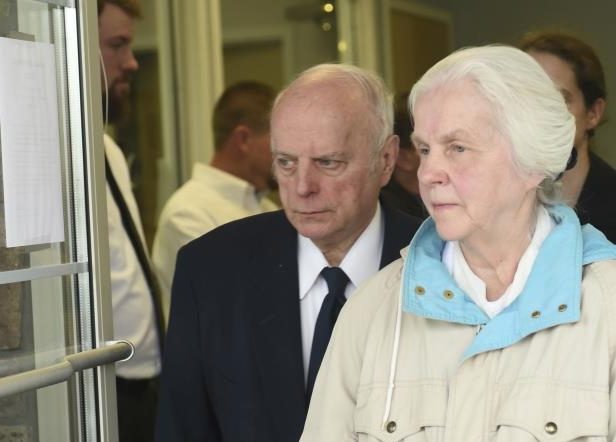 Rowland Foster is the pastor of Faith Tabernacle Congregation in Mechanicsburg, Pennsylvania. Believing that God alone heals the sick, Foster teaches congregants to pray and seek God's divine intervention in their medical maladies. This belief has led to several deaths, including the pastor's two-year-old granddaughter. Foster was charged in the death of his granddaughter, but last month the charges against him were dismissed. (Please see previous post on Rowland Foster.) Last Friday, prosecutors refiled charges against Foster.
The Reading Eagle reports:
Less than two weeks after a district judge dismissed the counts, Berks County prosecutors have refiled the charges against a pastor accused of failing to report neglect of his 2-year-old granddaughter who died of a treatable bacterial pneumonia.

The refiling was done Friday in District Judge Andrea Book's office in Jefferson Township, but District Attorney John T. Adams said Monday that Book won't hear the case against Rowland Foster. Adams said Book has agreed to step aside so another judge can hear the prosecution's case.

Foster, 72, remains free pending his hearing, which has not yet been scheduled, Adams said.

Foster is charged with failure to refer child abuse to authorities in his role as pastor, which makes him a mandatory reporter under the child protective services law.

Foster is pastor for the Faith Tabernacle Harrisburg District, Mechanicsburg, Cumberland County. The nondenominational church eschews the use of medicine.

On Nov. 8 about 1 p.m., troopers, tipped off by a funeral director, said they responded to the Tulpehocken Township home and found Ella Grace Foster dead on the sofa, with her family in the same room.

At the April 19 hearing, which was packed with supporters of the pastor, Dr. Neil A. Hoffman, a forensic pathologist who performed the autopsy, testified the child died of bacteria pneumonia and tracheitis, infections that almost certainly would have been cured with penicillin or a similar antibiotic. He said the need for medical intervention would have been obvious to any reasonable person at least a day or two before her death, and medicine administered even within hours of her death may have saved her.

Rowland's attorney, Christopher A. Ferro of York, said investigators made that argument in hindsight with the benefit of the autopsy report, not on actual observations.

Furthermore, he said, there was no evidence to show "willful" failure to report neglect on Rowland Foster's part.

Jonathan H. Kurland, chief deputy district attorney, argued that despite Rowland Foster's religious beliefs, he is obligated under the state's child abuse reporting law to report neglect or any other form of child abuse to ChildLine.
Updated
A December 18, 2017 Penn Live report states that the charge against Rowland Foster has been dropped.