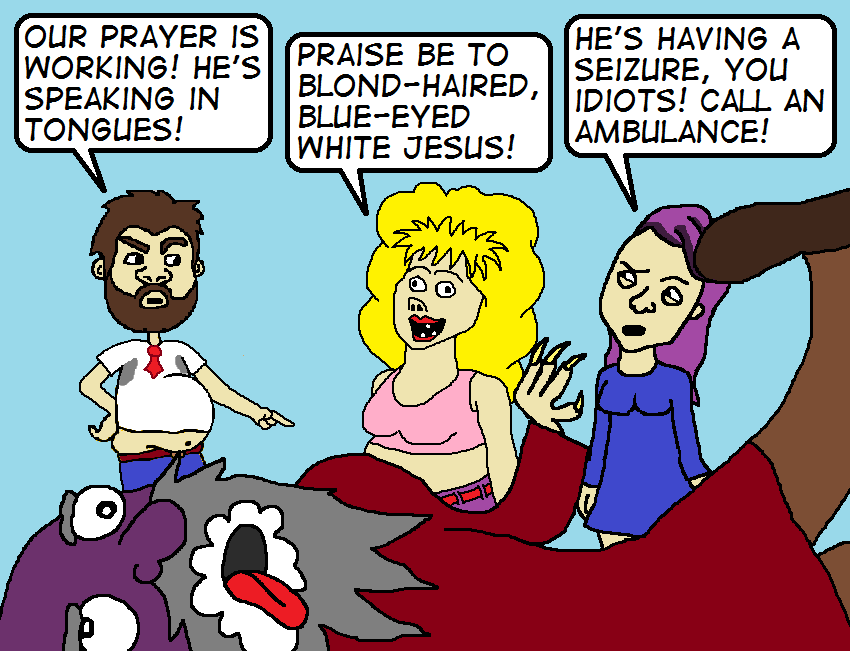 Graphic from A Beer for the Shower
There is no such thing as "Christianity" — as in a singular group encompassing all Christians. The Bible says that there is ONE Lord, ONE faith, and ONE baptism, yet Christians have spent the last two thousand years trying to prove that their peculiar beliefs are the one, the only one, the one TRUE CHRISTIANITY®. Every Evangelical sect, every Evangelical pastor, every Evangelical church member thinks their beliefs are right. This kind of thinking is fueled by the belief that the Bible is an inspired, inerrant, infallible book, written through human instrumentality by God himself. It should come as no surprise that many Evangelicals, believing that they hold in their hands the very words of God, are cock-sure that what they believe is exactly what God meant when he had holy men of old write the this or that passage of Scripture. Armed with certainty, Evangelicals have no place for doubt. Doubt is of the devil! preachers say. I'm standing on the promises of God, praise Jesus! Just remember, it was SATAN who said to Adam and Eve, yea hath God said (yes, he spoke in King James English). God has spoken, end of story.
If, as Evangelicals says, God has inerrantly and infallibly spoken, why is it, then, that Evangelicals have such varied and contradictory beliefs? If, two thousand years after the purported resurrection of Jesus from the dead, all Christians had the same theological beliefs, I might at least pause to consider whether the claims of Christianity are true. Instead, there are countless Christianities, each with its own beliefs. Worse yet, there are countless Jesuses, with every Christian molding and shaping a Jesus in his or her own image. (Please read Does the Bible Contain Multiple Plans of Salvation? and Is There Only One Plan of Salvation?) Christians can't even agree on the basics: salvation, baptism, and communion. If Christians can't come to a consensus about what constitutes the one truth faith, why should anyone pay attention to them?
Let me illustrate this by answering the quandary Why Pentecostals speak in tongues, and Baptists don't.
First, the Baptists.I grew up in the Baptist church so I am quite familiar with how Baptists view tongues-speaking. TONGUES-SPEAKING IS SATANIC, STRAIGHT FROM THE PIT OF HELL! There, end of discussion. I was taught, and later taught others, that speaking in tongues was a temporary sign gift given to Jesus' disciples so they could spread the good news of the gospel to the ends of the earth. Once the canon of Scripture was completed, the need for tongues went away. Evidently, once Christians of the fourth century had for their reading pleasure all sixty-six books of the King James Bible, God no longer used tongues to speak to people.
The Pentecostals, on the other hand, believe that speaking in tongues is very much for today; that it is normative for spirit-filled Christians to speak in unknown languages. Several sects go even so far as to say that one of the evidences of salvation is speaking in tongues. Don't speak in tongues? You aren't saved! One Pentecostal man told me, upon hearing I was a Baptist preacher, Baptists wouldn't know the Holy Spirit if he met them in the middle of the road. In other words, Baptists were blind to work and power of the H-o-l-y Ghost.
Years ago, I got into a heated discussion with a Pentecostal preacher over speaking in tongues. I gave him all the standard Baptist arguments and he gave me all the classic Pentecostal arguments. Back and forth we went, neither of us winning the day. I am sure we parted company each believing that he had been victorious. Ha! I showed him!
Such conflicts as the one mentioned above are quite common. Why do Pentecostals believe in speaking in tongues, but Baptists don't? Both sides use the Bible as proof for their beliefs. GOD HATH SPOKEN, both sides say. If God has indeed spoken, why the contradictory beliefs? God seems quite schizophrenic, telling the Baptists one thing and the Pentecostals something different. Surely, if God and the Bible are as Evangelicals claim they are, there would only be one truth, not many.
The only way to adequately answer this question is to carefully examine the matter from an environmental and sociological perspective. (Please read Why Most Americans are Christian.) Look at the religious environments people grow up in and you will have a good idea why they believe as they do. Look at their tribal and social influences, and it becomes clear that Pentecostals speak in tongues and Baptists don't because these were the beliefs they were exposed to. They believe what they do because they couldn't believe otherwise.  While not a hard and fast rule, most often Baptists beget Baptists and Pentecostals beget Pentecostals. While Evangelical adults certainly can and do change churches, most often then look for churches of "like" faith. When people change churches, they most often seek that which is familiar to them. Not always, of course. Sometimes, Baptists do become Pentecostal tongues-speakers and Pentecostals become starched, English-only Baptists. These, however, are exceptions to the rule.
Perhaps Christians will one day figure out exactly what is the one true faith. I doubt it, but as someone who believes in probabilities, it is possible, say .0001 percent, that God's chosen ones will finally figure out exactly what it takes to be a member of their club. Until then, buy some popcorn, pull up a seat, and enjoy the show.