---
As Polly and I travel the roads of Northwest Ohio, Southern Michigan, and Southeast Indiana, we are always on the lookout for God's True Church®. Here are a few of the churches we stumbled upon during our travels.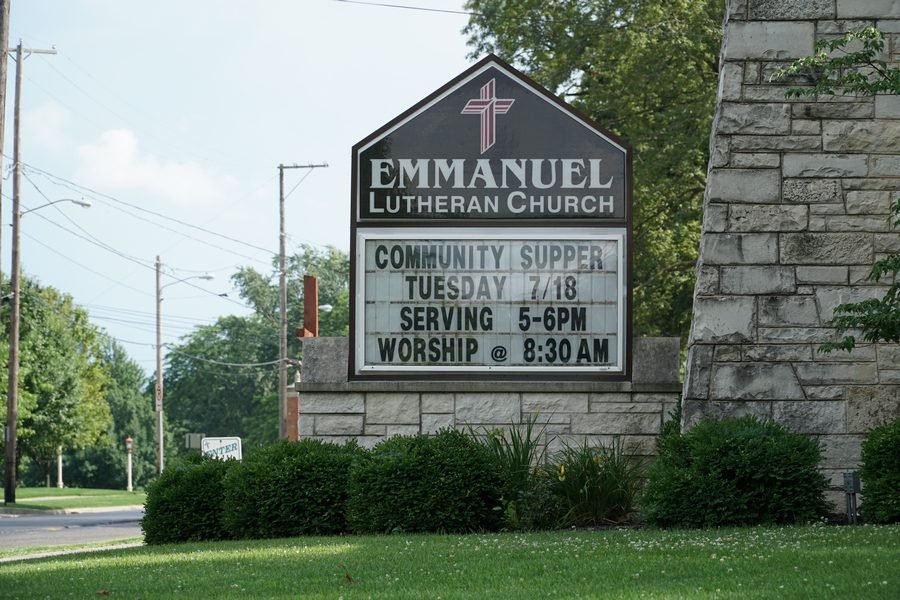 Emmanuel Lutheran Church, Van Wert, Ohio, Kurt Kingbeil, pastor. Emmanuel is affiliated with the Missouri Synod, the Fundamentalist wing of the Lutheran church. (church has no web presence)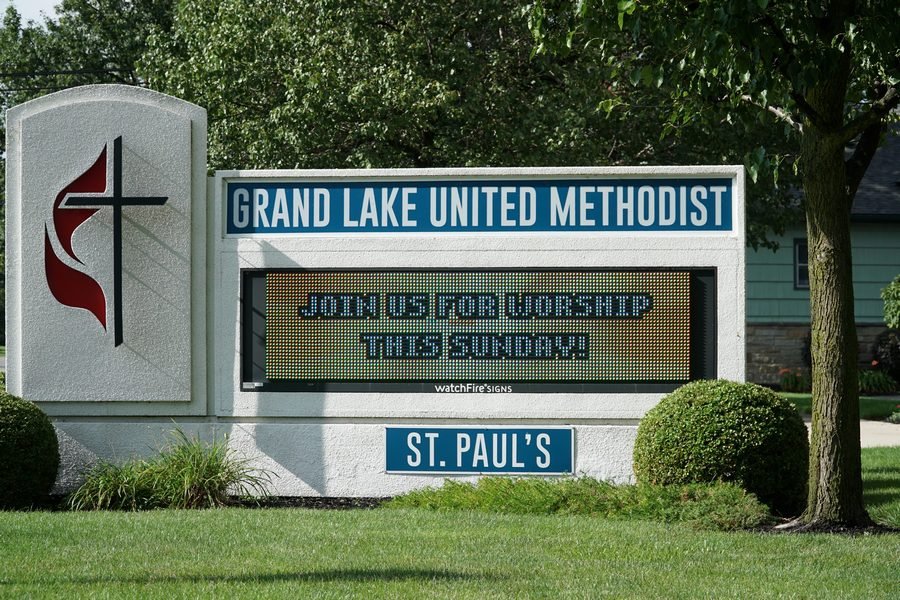 Grand Lake United Methodist Church, Celina, Ohio, Mick Whistler, pastor. Grand Lake Methodist was established in 2016, the result of a merger between two congregations. Grand Lake's ministry strategy is as follows:
REACH – Reaching people of all ages right where they are in order to help them discover the life-changing love of Jesus Christ.

CONNECT – Connecting people to a loving faith community where they can develop a relationship with God and others.

GROW – Helping people intentionally grow to be more like Jesus.

SERVE – Sending people to be the hands and feet of Jesus in our community and world.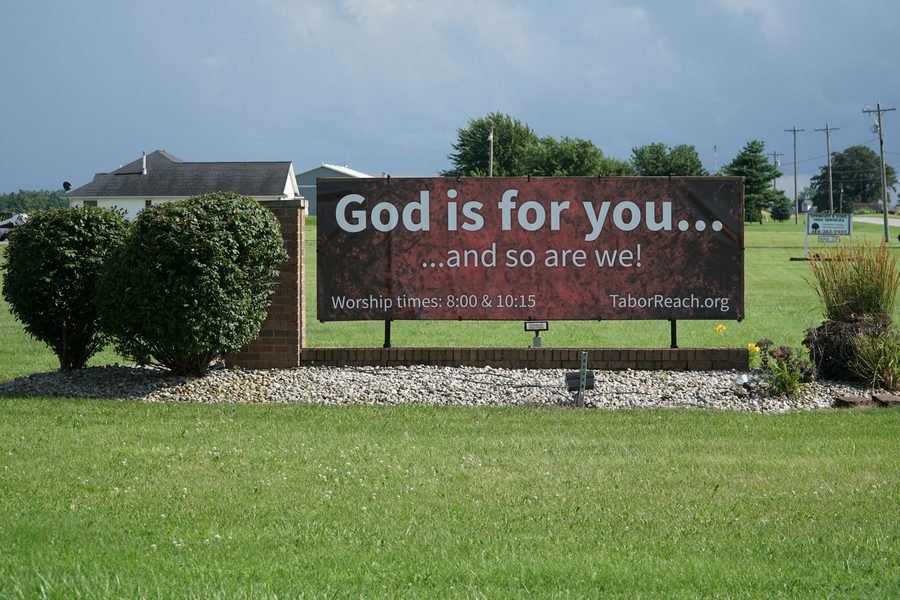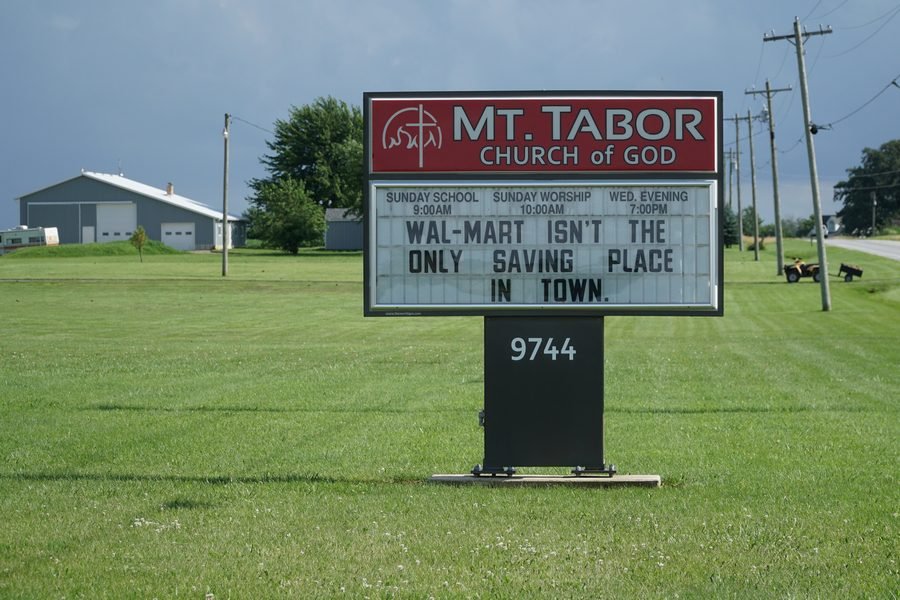 Mt. Tabor Church of God, Celina, Ohio, Darwin Dunten, pastor. The core values of Mt. Tabor are as follows:
We VALUE obedience to Jesus Christ in all situations.
We VALUE each individual as one who matters to God.
We VALUE dependence on and confidence in God's ability to do more than we can ask or imagine. Therefore, we are willing to take risks and expect that God will surprise us.
We VALUE Christ honoring; culturally relevant worship.
We VALUE evangelistic outreach ministry to those who do not yet belong to Christ and the church.
We VALUE each believer growing in Christ likeness and serving in ministry based on their spiritual gifts.
We VALUE vital reproducing congregations.
We VALUE trained, committed, and competent leaders (pastors and lay persons).
We VALUE Christian unity within a diverse body of faith.
We VALUE accountability among believers and congregations.
Mt. Tabor wants passersby to know that "God is for You, and so are We!" What does this advertising slogan mean? In what ways is God "for" me? Let's say I am a one-legged, transgender, pro-abortion, socialist, wine-loving, sexually promiscuous Mexican. Is God and the folks are Mt. Tabor for me? Is the church willing to accept me as I am, allowing me to be a member and teach the fifth grade Sunday school class?
On its What Can I Expect? page, the church wants people to know:
Prepare to hear the Word of God in ways you may have never heard it before!

It is vital that every person, no matter their spiritual background, clearly understands the Word of God as it is presented in the Bible. The teaching is relevant, creative, not boring, applicable, not confusing, challenging, and not condemning. So we dare you to come in with an open heart and mind…. and expect God to do something great in your life… you might not ever be the same!
Why, based on the above verbiage, Pastor Dunten must be the greatest preacher in America. His sermons are "relevant, creative, not boring, applicable, not confusing, challenging, and not condemning."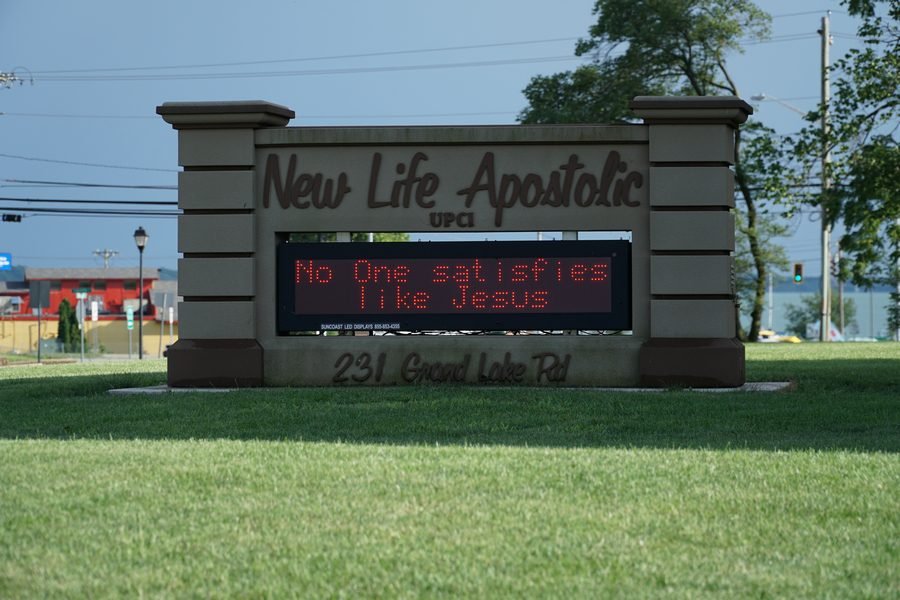 New Life Apostolic Church, Celina, Ohio, Simon Young, pastor. According to New Life Apostolic's Facebook page:
We cordially welcome you to New Life Apostolic Church, a dynamic and growing revival church that desires to be a blessing to you and your family.

In these turbulent and unstable times it is often hard to find true peace and joy within. Strife and confusion fill our land as we see evidenced with every newspaper headline. People are looking for answers to life's perplexities and cannot find them.

Suicide, Alcoholism, Drug Addiction, Abortion-On-Demand, and Broken Lives are just some of the tell-tale signs of a world in desperate trouble. But Jesus Said, "I am come that they might have life and have that more abundantly."

At New Life Apostolic Church, we have a life changing message for you. A message that you can truly experience.
New Life is affiliated with United Pentecostal Church International.
As far as the message on their sign? That's not what she said. Memo to churches: ALWAYS run advertising slogans and cliches through sexual innuendo filter. Or not, and continue to provide laughs to passersby.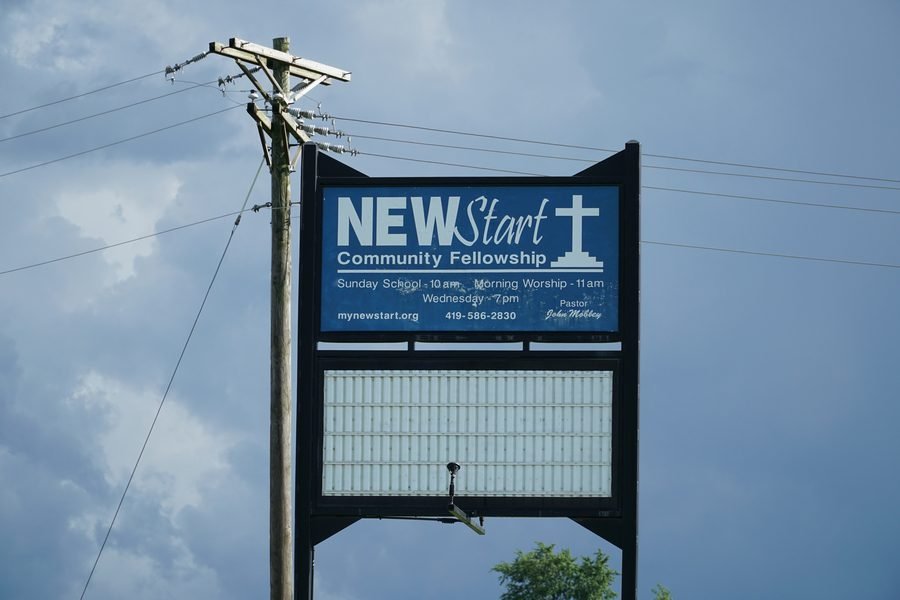 New Start Community Fellowship, Celina, Ohio, John Mobley, pastor. (Church website)