As Polly and I travel the roads of Northwest Ohio, Southern Michigan, and Southeast Indiana, we are always on the lookout for God's True Church®. Here are a few of the churches we stumbled upon during our travels.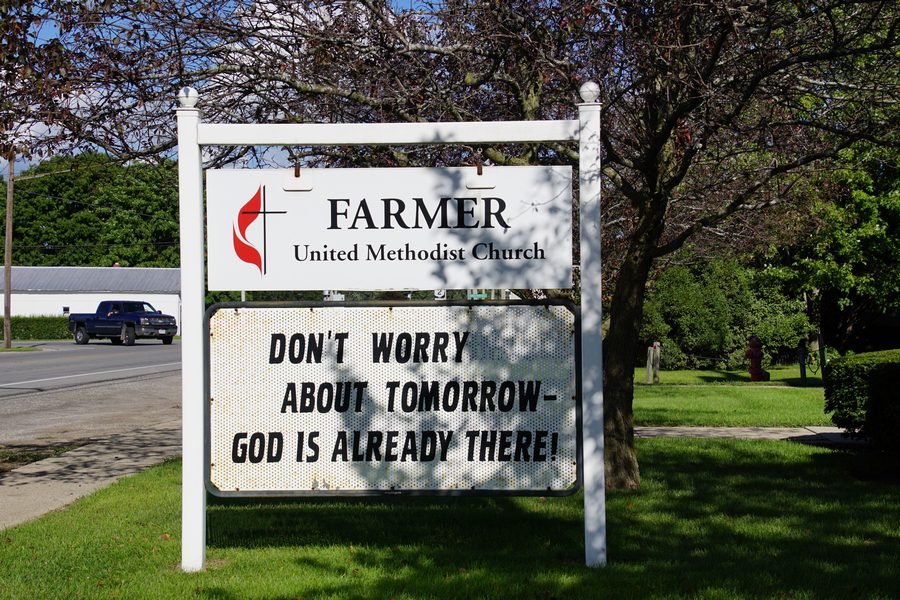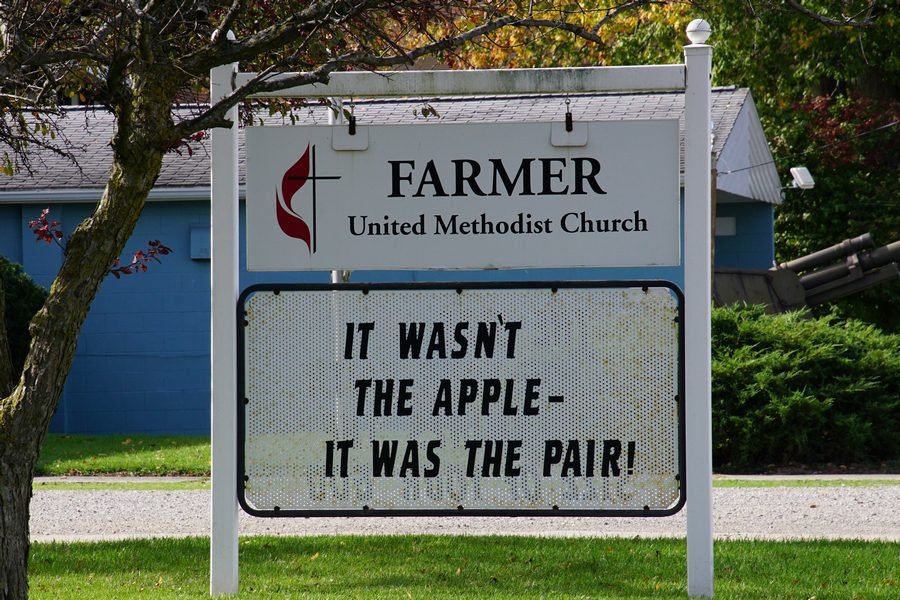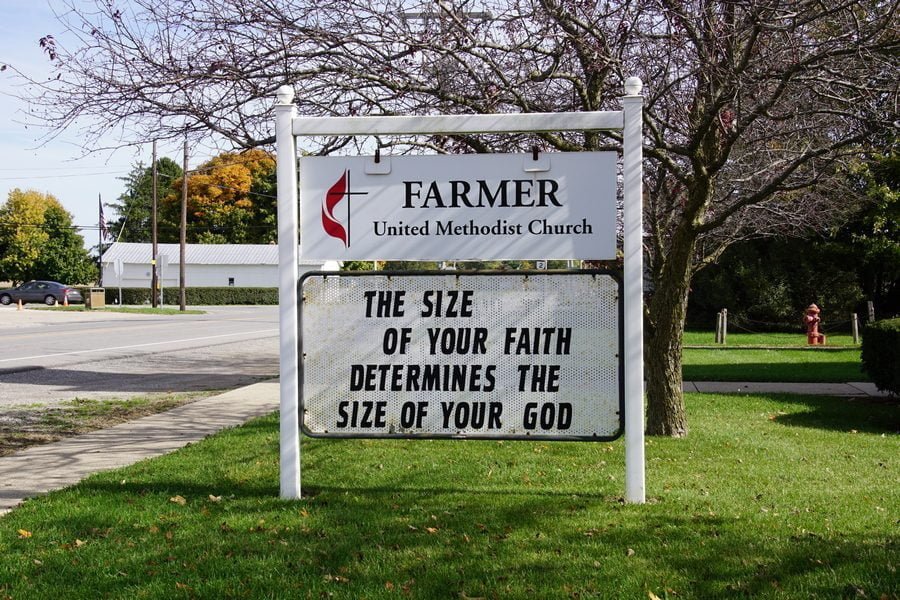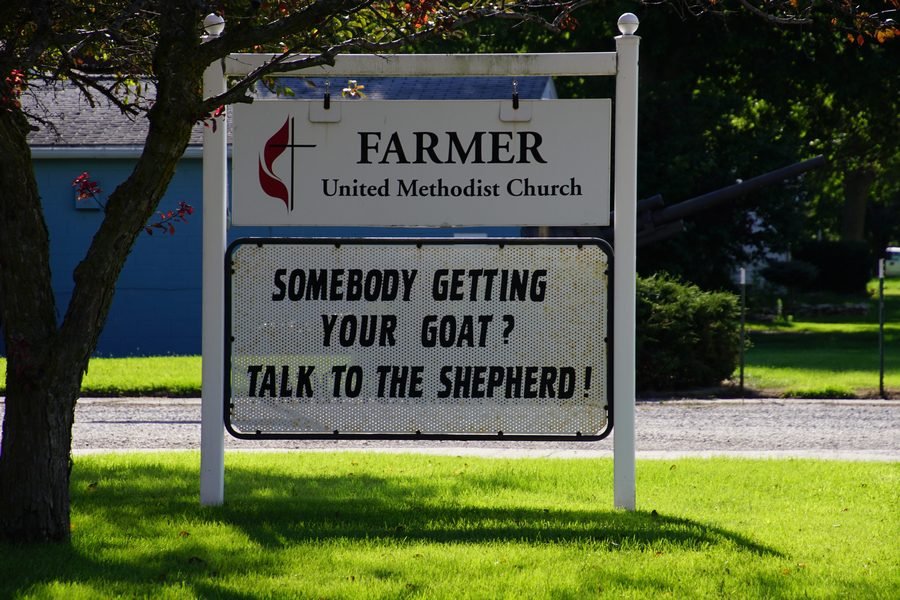 Farmer United Methodist Church, Farmer, Ohio, pastor Dwight Bowers. Farmer United Methodist is part of a two church charge with Ney United Methodist Church.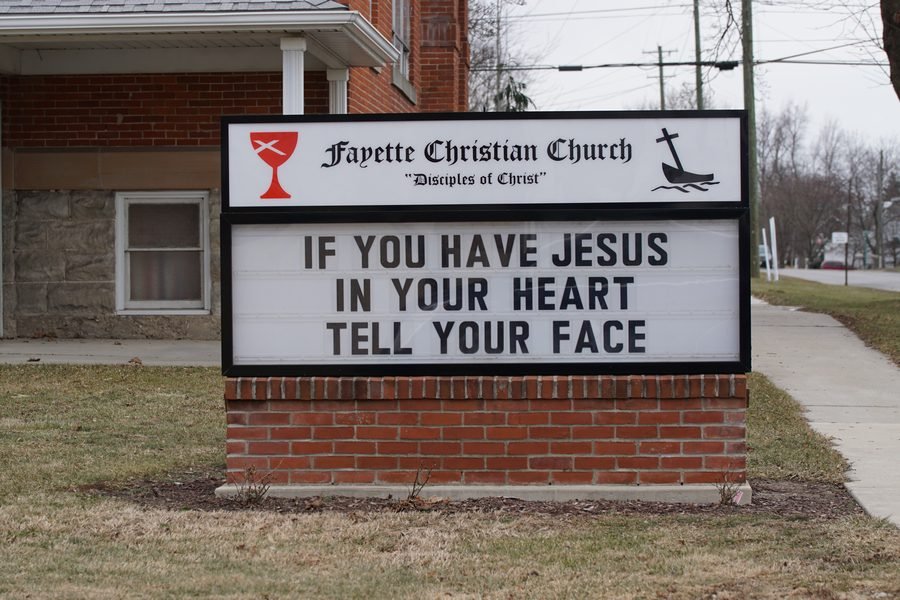 Fayette Christian Church — Disciple of Christ, Fayette,Ohio Maybe Jesus is the problem. I am smiling now, and I know for certain that Jesus is not in my "heart." This proves, then, that smiling/happiness/joy does not require religion/God/Jesus. Come fall, when football season begins, I will smile every Sunday morning, knowing that I no longer have to give God his due by attending church before worshiping at the altar of the one true American God — the National Football League. Go Bengals!
Eastland Baptist Church, Bryan, Ohio, pastor Jeff Sheldon. The church's mission statement states:
EBC models itself after three purpose statements: …Sharing HIS LOVE …Teaching HIS WORD …Strengthening HIS FAMILY. In all of our ministries, we aim to achieve one of these three purposes.

Our Worship is a blended type which includes the modern contemporary choruses with electric guitars and drums as well as the wonderful hymns that under gird our faith.

Our preaching is Bible-centered expository style that speaks to relevant needs of today in an applicable manner. We offer a warm, friendly atmosphere that we hope you will find appealing.
The church asks, is God in my plans this year? If the message was meant for passersby, it should have said, is God in YOUR plans this year? Then I could answer, nope. How could anyone at Eastland Baptist know if I was in God's plan? Best that I can tell from the Bible, the only plan God has for reprobate Evangelical preachers-turned-atheists is hell. If people leave all the planning to God, well, not much will get done. In fact, nothing will get done. It is humans who do God's work — real or not.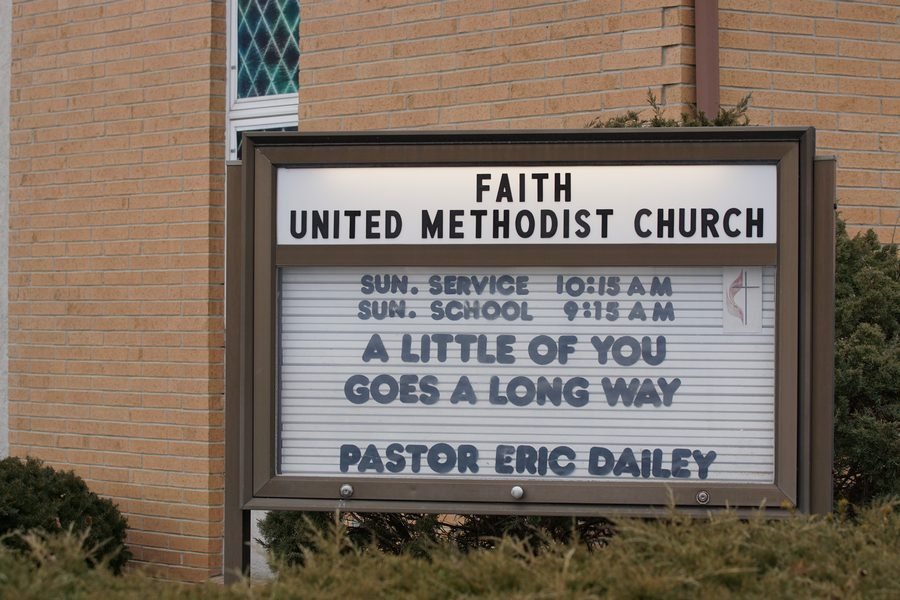 Faith United Methodist Church, Bryan, Ohio, pastor Eric Dailey. That's what my wife says, you know what I mean?  According to the church's Facebook page:
We are a very welcoming church showing God's love and grace here on earth.

We look forward to seeing you Sunday morning!