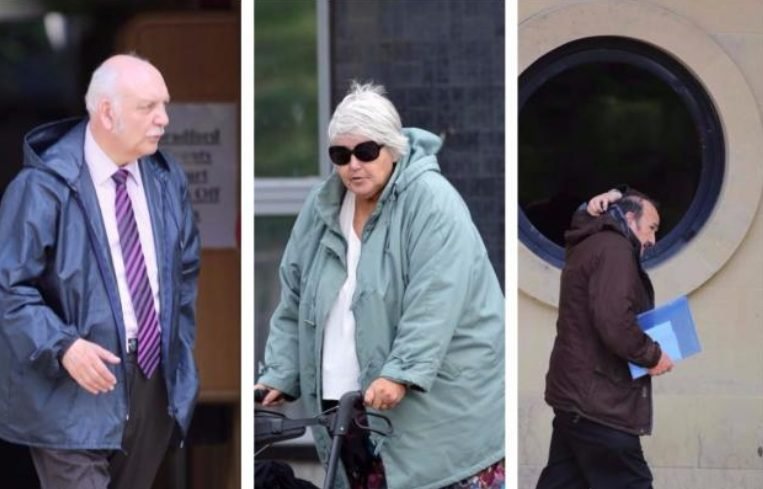 John Wilson and Laurence Peterson, pastors of Liberty Pentecostal Church in Keighley, Bradford, England, along with Wilson's wife, were recently convicted of multiple sex crimes.
Last year, Keighley Online reported:
A clergyman and his wife have been charged with sex crimes against worshippers at a Keighley church.

Rev John Wilson, 69, his wife Mary, 78, and assistant pastor Laurence Peterson, 58, are accused of a string of historic offences at the Liberty Pentecostal Church, in Sunderland Street.

Rev Wilson and Peterson had previously appeared in court for alleged sexual attacks on females

But, today both men, and Mrs Wilson, appeared together at Bradford Magistrates' Court after two more women made complaints to the police following earlier publicity.
Mrs Wilson, who lives with her husband in Shann Avenue, is accused of sexual assault on a female between January 1985 and January 1986, in that she aided and abetted , counselled or procured John Wilson to indecent assault.

Rev Wilson is accused of five counts of indecent assault against the same complainant between 1985 and 1990. He also faces two fresh charges of rape and three counts of indecent assault against another woman between 1990 and 1998.

Peterson, of Eric Street, is accused of indecently assaulting one of those alleged victims four times between 1986 and 1990. Rev Wilson and Peterson had previously appeared in court for alleged sexual attacks on three females.

….

Silver-haired Wilson is charged with sexually assaulting a woman at the Liberty Pentecostal Church between January and December 2010.
He is also charged with three counts of indecent assault on a schoolgirl between October 1985 and October 1987 when she was under 16 years old.
Wilson is charged with continuing the abuse against her for a further eight years after she turned 16. He faces eight counts of indecent assault on the same parishioner between 1987 and 1995.

Wilson and Peterson are charged with five counts of conspiring to rape the same victim between 1985 and 1995. Both men are also charged with conspiring to rape another under aged female member of the congregation between July 1980 and July 1984. Wilson is also charged with two offences of indecently assaulting the same child at a location in Kensington Street, between July 1980 and July 1982.

The alleged crimes span 30 years from 1980 to 2010.

….
In June 2017, the defendants pleaded not guilty. The court set a July 24, 2017 trial date.
In August 2017, John and Mary Wilson and Laurence Peterson were found guilty of sexually assaulting and abusing numerous women. The Yorkshire Post reported:
A church minister who sexually abused six vulnerable women has been warned by a judge he faces "a very substantial" prison sentence.

Pastor John Wilson, 70, carried out a series of indecent assaults under the pretext of being commanded by God to rid the complainants of evil spirits. The sexual abuse took place over more than two decades while Wilson served at the Liberty Pentecostal Church in Keighley.

Following a trial lasting more than a month Wilson, of Shann Avenue, Keighley, was today found guilty on more than a dozen charges of indecent assault and further allegations of sexual assault and conspiracy to commit indecent assault after the jury deliberated for about 15 hours.

The abuse was said to have taken place between the mid-1980s and 2010 with victims, who cannot be identified, being assaulted during one-to-one "deliverance sessions".

At the start of the trial in July prosecutor David McGonigal told the jury that the case involved sexual abuse "in the name of religion". "John Wilson was purporting to rid the women of evil spirits by sexually touching them," he said. "It is the prosecution's argument that he was doing for his own sexual gratification.

"They were taken under the wing of Mr Wilson and he would blame the abuse on evil spirits inside of them. These were vulnerable women." Wilson's wife Mary, 79, was also convicted on two charges of aiding and abetting him to commit indecent assault while his assistant Laurence Peterson, 59, of Eric Street, Keighley, was found guilty on similar aid and abet charges and further allegations of conspiring with Wilson to commit indecent assault.

….
John Wilson was sentenced to 21 years in prison. His wife Mary was sentenced to 22 months imprisonment, suspended for two years. Laurence Peterson has not yet been sentenced.