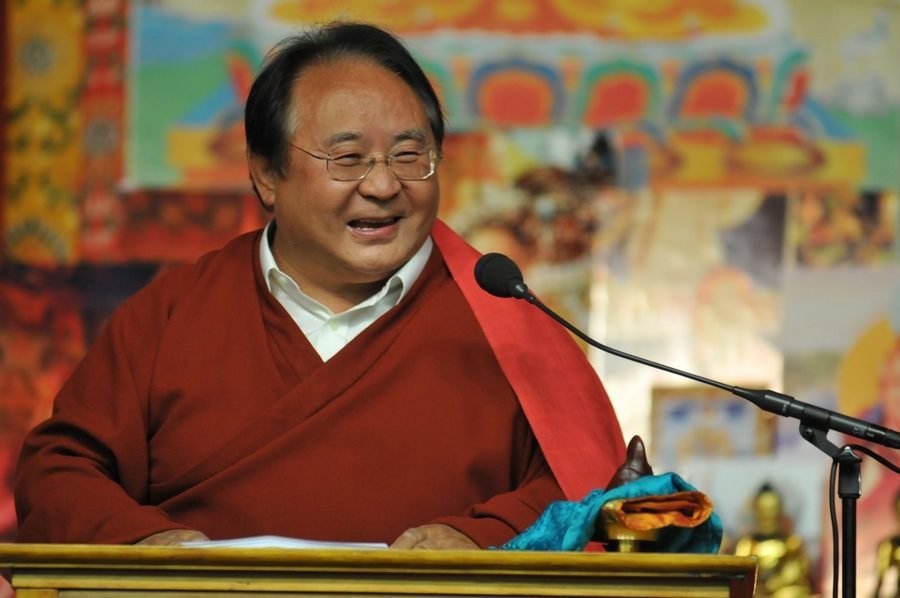 The Black Collar Crime Series relies on public news stories and publicly available information for its content. If any incorrect information is found, please contact Bruce Gerencser. Nothing in this post should be construed as an accusation of guilt. Those accused of crimes are innocent until proven guilty.
Sogyal Rinpoche, a renowned Tibetan Buddhist teacher, stands accused of psychologically and sexually abusing numerous students and devotees.
David Leser, a reporter for The Sydney Morning Herald writes:
On a late September evening this year, a group of leading Australian business figures gathered in a Sydney boardroom to discuss a series of allegations that had scandalised the Buddhist world, and shaken their own to the core. The meeting was called by David White, chairman of business strategy advisers Port Jackson and Partners; Ian Buchanan, former lead partner with management consultants Booz Allen Hamilton; Diane Grady, non-executive director of Macquarie Bank and chair of Ascham School; and Gordon Cairns, chairman of Origin Energy and Woolworths.

What these four had in common was a long-standing involvement in Practical Wisdom, a series of business retreats held in Sydney over the past 15 years with Sogyal Rinpoche, the Tibetan Buddhist teacher and author of the 1992 international bestseller The Tibetan Book of Living and Dying.

These retreats were now up for review, as Rinpoche stood accused by eight of his former senior students of decades of physical, psychological and sexual abuse.

"There is such a deep sadness over what has happened," Buchanan tells Good Weekend. "Whatever the facts turn out to be post investigation, this will inevitably be a tragedy. That this should come from an organisation that has done so much good, and from an individual who has done so much good, is very sad."

….

But on July 14 this year, Rinpoche's world came crashing down, and soon thereafter the faith of thousands of his devotees and admirers. That was the day he received a 12-page letter from the eight former senior students accusing him of years of violent and abusive behaviour.

"This letter is our request to you to stop your unethical and immoral behaviour," they wrote. "Your public face is one of wisdom, kindness, humour, warmth and compassion, but your private behaviour, the way you conduct yourself behind the scenes, is deeply disturbing and unsettling."

The letter then laid out in spectacular and shocking detail the nature of the Tibetan master's alleged abuse: "We have received directly from you, and witnessed others receiving, many different forms of physical abuse. You have punched and kicked us, pulled hair, torn ears, as well as hit us and others with various objects such as your back-scratcher, wooden hangers, phones, cups and many other objects that happened to be close at hand."

"Your physical abuse – which constitutes a crime under the laws of the lands where you have done these acts – have left monks, nuns and lay students of yours with bloody injuries and permanent scars. This is not second-hand information; we have experienced and witnessed your behaviour for years."

Among the letter's co-authors: his Australian IT expert Ngawang Sangye, and his personal assistant, an Australian artist turned Buddhist nun known as Drolma, who fled Rigpa – the organisation Rinpoche founded – in 2010 after what she claims was nearly eight years of abuse.

"His behaviour was often wildly unpredictable and irrational," Drolma tells Good Weekend in a Skype interview from London, where she now lives. "If anything went wrong and his anxiety got the better of him, he would take it out on me. One of those times he grabbed me by the ear and it was torn all the way along the back. There was blood pouring down my neck."

According to his accusers, the mistreatment went far beyond the physical. "Your emotional and psychological abuse has been perhaps more damaging than the physical scars you have left on us," they wrote. "You have threatened us and others, saying if we do not follow you absolutely, we will die 'spitting up blood'. You have told us that our loved ones are at risk of ill-health, or have died, because we displeased you in some way."

Then came a range of alleged eye-popping sexual misdeeds. "You use your role as a teacher to gain access to young women, and to coerce, intimidate and manipulate them into giving you sexual favours."

"Some of us have been subjected to sexual harassment in the form of being told to strip, to show you our genitals (both men and women), to give you oral sex, being groped, asked to give you photos of our genitals, to have sex in your bed with our partners, and to describe to you our sexual relations with our partners."

"You have for decades, and continue to have, sexual relationships with a number of your student attendants, some who are married. You have told us to lie on your behalf, to hide your sexual relationships from your other girlfriends. Publicly you claim that your relationships are ordinary, consensual and proper because you are not a monk. You deny any wrongdoing and have claimed on occasion that you were seduced."

….

In Sogyal Rinpoche's case, the "channels in his body" were less than subtle, according to British journalist Mary Finnigan, who was to spend nearly two decades trying to expose him. "I'm one of the people who launched Sogyal on his career as a teacher in London in 1973, when he was very young and very inexperienced," she told a Canadian documentary team in 2011. "There was just this continuous stream of seductions. He didn't even hide it in those days. He was absolutely flagrantly promiscuous. He would pick girls up – usually vulnerable, needy – and entertain them for a short while and then dump them."

One of those young women, American Victoria Barlow, first met Rinpoche in New York in 1976 after grappling for years with her own childhood sexual abuse. Rinpoche was visiting Chogyam Trungpa Rinpoche, the pioneer of Tibetan Buddhism in the US, and Barlow wanted Sogyal Rinpoche's advice on the dharma, or Buddhist teachings.

"He opened the apartment door without a shirt, holding a bottle of beer," Barlow recalls now in a written response to Good Weekend. "I [had] just turned 22 and I arrived in an almost floor-length dark brown tent dress that I had made a few months before in Calcutta.

"I thanked him for taking the time to see me and was in the process of asking him my question when he reached over and touched my cheek. He said, 'I think we have a special connection.'"

"My face flushed. I had just been touched by a lama. This was such a blessing … but as I spoke, he reached toward me and literally mashed my face with his face. He was literally slobbering all over me.

"He roughly put his hand up my long dress, groped my privates, unzipped himself and lay on top of me, literally grunting for the minute or two until he released. Immediately, he got up, said he had things to do, that he was getting ready to travel across America."

Barlow was mortified, but still willing to believe that – in the spirit of "Crazy Wisdom" – Rinpoche had just transmitted a powerful "source of enlightenment".

In the following months, she received several calls from him, including one from Trungpa's spiritual centre in Boulder, Colorado, where Rinpoche "spoke with amazement about how Trungpa had girls lined up outside his door like a rock star and that he wanted that, too. I thought he was joking and only later realised that was his actual aspiration, to have a conveyor belt of groupies."

Despite growing doubts, Barlow allowed her spiritual mentor to convince her to fly to Berkeley, California to receive teachings from another Buddhist master. She was invited to stay with an American couple, both Tibetan Buddhist students who showed her a room with two beds. "They said, 'That's Sogyal's bed next to yours. He told [us] to put you in here.' I felt a combination of shock, shame, humiliation, defeat and anger."

"Within a minute of his arriving in the room, Sogyal said he'd had a fight with his girlfriend in London. He made it apparent that he wanted sex with me, so that made me just some lay he'd arranged to use in Berkeley." Barlow concluded then that Rinpoche was a "charlatan"; that she needed to get away as soon as possible. "Eight weeks later," she says, "I miscarried his child."

….

Over the 15 years that Buchanan and Cairns helped convene the "Practical Wisdom" retreats, there was nothing in Rinpoche's behaviour to suggest scandal. Yes, there had often been questions about his inner circle of beautiful young women, and how it was that a teacher of loving-kindness could so often publicly humiliate his senior students. But never a hint of physical or sexual abuse.
You can read the entire long-form story here.