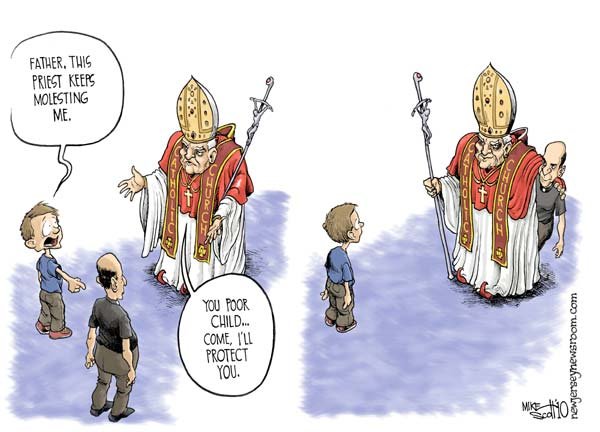 The Black Collar Crime Series relies on public news stories and publicly available information for its content. If any incorrect information is found, please contact Bruce Gerencser. Nothing in this post should be construed as an accusation of guilt. Those accused of crimes are innocent until proven guilty.
A group of Catholic sex abuse victims and their survivors are suing the bankrupt Diocese of Great Falls-Billings in Montana for $70 million.
Representatives of sex abuse victims and their survivors are suing a bankrupt Roman Catholic diocese in Montana in an effort to ensure more than $70 million in assets are available for those abused by church officials.

The Diocese of Great Falls-Billings entered bankruptcy protection in March as part of settlements involving more than 400 people in sex abuse lawsuits. Church officials said at the time the diocese and its insurers would contribute to a fund to compensate victims and set aside additional money for those who had yet to come forward.

….

A committee of unsecured creditors representing eight sex abuse survivors sued the diocese in U.S. Bankruptcy Court this week, aiming to reach a negotiated settlement. California attorney James Stang, who represents the committee, said the complaint was "part of the process," the Billings Gazette reported.

U.S. Catholic leaders have been grappling with a clergy sexual abuse crisis that exploded in 2002 following reporting by The Boston Globe. Nationwide, the church has paid several billion dollars in settlements since 1950. More than 6,500 clergy members have been accused of abuse and hundreds have been removed from church work.

In the Montana bankruptcy case, the church says the disputed assets are held in trust for its parishes and therefore unavailable for creditors. The creditors argue the property is part of the church's estate and should be available for victims.

Stang has represented unsecured creditors in 11 other Catholic church bankruptcies since 2004, including the Diocese of Helena's bankruptcy. He said every case has resulted in a negotiated resolution.

Bishop Michael Warfel said in a statement that the creditors' lawsuit was an "unfortunate and unnecessary distraction" to the church's efforts to resolve victims' claims.

Two sexual abuse lawsuits were filed against the Diocese of Great Falls-Billings, including one in which a woman in her 60s said she was molested and raped by the Rev. Emmett Hoffman while she was a student at the St. Labre Parish and School between 1955 and 1962. Hoffman died in 2013.

….

The Diocese of Helena filed for bankruptcy in early 2014 to settle about 360 claims of abuse and sexual abuse by priests, nuns and lay workers who served in the diocese.

That settlement, negotiated before the bankruptcy filing, created a $21 million fund for victims named in the lawsuit and any others that might come forward.
The Diocese of Great Falls-Billings has a comprehensive Child Protection Policy. I found it to be interesting reading. One can only hope that this policy is strictly enforced.