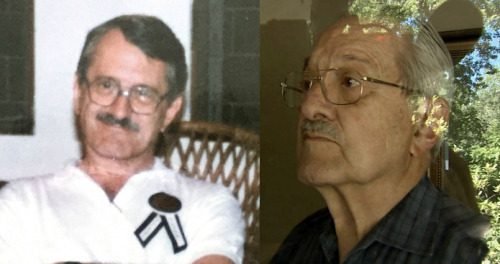 The Black Collar Crime Series relies on public news stories and publicly available information for its content. If any incorrect information is found, please contact Bruce Gerencser. Nothing in this post should be construed as an accusation of guilt. Those accused of crimes are innocent until proven guilty.
What follows is an excerpt from a feature story by my friend Kathryn Joyce detailing the decades-long criminal sexual behavior by Evangelical missionary Donn Ketcham and his sending agency's (ABWE) coverup of his crimes. It's only been in the last year that Ketcham has faced charges for one of his many crimes.
It was a hot day in July, a Saturday afternoon, and Kim James was bored. Her older sisters had taken her to a church event in their small hometown in Indiana, where the girls were spending their summer. Her parents were back in Bangladesh, working at the remote Baptist missionary compound where the family had lived, on and off, for five years. For an adventurous and high-spirited 13-year-old like Kim, Indiana seemed dull compared to Bangladesh. She missed her friends, the dozen or so missionary kids everybody called "MKs." She missed the menagerie her parents let her keep: goats, cows, a parrot, a monkey. She missed the jackals that called in the distance at night, and the elephants that sometimes crashed through the compound fence.

As she thought about the mission, though, Kim felt troubled. Something was weighing on her mind. So she decided to skip out of the church event—it was for little kids, anyway—and go see the pastor. She found him in his office, trying to compose the next day's sermon. Kim ambled around his desk, picking things up, putting them back down. Eventually, with feigned casualness, she pointed between her legs and said, "Is it wrong when someone does this—touches you here?"

The pastor dropped his pen and looked up. "Kim," he asked, "has this happened to you?"

At first, Kim said no. But as the pastor gently persisted, she began to sob. Yes, she had been touched, there and there, lots of times.

The pastor asked Kim who had touched her.

Uncle Donn, she said.

Donn, the pastor would soon learn, was not really Kim's uncle. He was Donn Ketcham, the 58-year-old chief doctor at the mission hospital in Bangladesh. His father had co-founded the Baptist denomination that sponsored the missionary group, the Association of Baptists for World Evangelism; its goal was to create a "militant, missionary-minded, Biblically separate haven of Fundamentalism." Little known outside the world of Christian fundamentalists, ABWE is among the largest missionary groups in the United States, deploying more than 900 Baptists to 70 countries. His father's legacy made Ketcham a sort of prince within the world of ABWE: the doctor with the "magical name," as one missionary later put it, much beloved by the family of churches that supported the group. He'd been the undisputed patriarch of the Bangladesh mission for almost three decades.

Kim gave the pastor only a partial, fuzzy account of what had happened to her; as a child raised in a fundamentalist "haven," she lacked the vocabulary to describe sex acts, let alone understand them. But rather than call Kim's parents or contact the police, the shocked cleric turned to a higher authority, placing an urgent call to ABWE headquarters in Harrisburg, Pennsylvania.

That, Kim would realize many years later, was when the cover-up began.

….

It didn't take long for Kim to wish that she had never said a word to her pastor. Two days after his emergency call to ABWE headquarters in Pennsylvania, two high-level staffers from the organization landed in Indiana. Kim came to think of them as "the Russes." Russell Ebersole was ABWE's executive administrator for the Far East. Russell Lloyd was a prominent counselor for the missionary group, eschewing traditional psychology for "Bible-based" therapy methods. They arrived at her pastor's home looking grim and official, and immediately set about determining whether Kim's story was true or merely "the exaggeration of an immature teenager," as Lloyd put it in "Journey to Bangladesh," a diary he kept about the case.

For the next two days, the Russes interrogated Kim with only the pastor and his wife present, and without the knowledge or consent of her parents, who were still in Bangladesh. "It was nothing like, 'Kim, we're going to be talking about some things,' " she recalls. "No taking time to get to know me—just point-blank, we have to do this fast." Ebersole and Lloyd asked questions involving terms that Kim didn't understand. Did Ketcham have intercourse with her? Had he touched her clitoris? "What's that?" she responded, bewildered. "I think I was in shock. I'm 13, and I'm being taught the whole story of sex by these men."

The Russes already knew that Uncle Donn had a sketchy past; Ebersole had personally fielded a complaint involving one of his affairs with an adult woman at the mission. But now Ketcham was being accused of molesting an underage girl—the first time ABWE officials had heard an allegation of child sexual abuse. As Kim struggled to answer their questions, the Russes became convinced that she was telling them the truth about Ketcham touching her. What they couldn't believe, given fundamentalist precepts about the nature of sex and women, was that she was an innocent party. "It was lust in its most base form, uncontrolled in the body of a spiritually immature woman," Lloyd wrote of the 13-year-old in his diary. Ketcham, he wrote, had become Kim's "secret lover."

The next thing Kim knew, she was flying back to Bangladesh with her two interrogators. Ebersole and Lloyd had decided to confront Ketcham by surprise, to prevent him from concocting a cover story in advance. However much they blamed Kim for the "affair," they knew the doctor would have to leave the mission if he couldn't exonerate himself. On the long flight, they sat Kim between them and continued to drill her with questions. At one point, when she got up to go to the bathroom, Kim weighed whether to tell a flight attendant that she'd been kidnapped.

The Russes "strongly encouraged" Kim to sign a statement, styled as a confession, in which she apologized for her role in a "relationship" that "transgressed God's word." She didn't understand much of it, but she signed it anyway. "I did exactly what I was told," she says. "I think I was trying to protect Donn, because I cared about him. So I said whatever responsibility I have is fine. I guess that's the way I was raised: You accept your responsibility, and I wanted to accept mine."

Across the world, her parents were in a panic. All they had received was a cryptic message that their youngest daughter would be flying back from Indiana alone with ABWE officers. Unable to reach their other daughters back in Indiana, the Jameses came to fear that something awful had happened to everyone but Kim. Had their other daughters been in an accident of some kind? Were they dead?

When the plane touched down in nearby Chittagong, Ken James was almost beside himself. "Are my other two kids alive?" he asked the Russes. Assured that their other daughters were safe and sound, the Jameses were almost relieved to hear the actual news: There had been some inappropriate touching, the Russes told them, between Kim and Dr. Ketcham. Nothing was said about a rape or a signed confession. Sue and Ken wouldn't know about any of that for many years to come. "They said it was fondling," Sue recalls. "We thought, 'We can handle that.' "

But the parents were given no opportunity to "handle" the situation. ABWE was in charge, and Ebersole and Lloyd refused to leave Kim alone with her parents. The plan, the Russes explained, was to drive back to the compound and confront Ketcham in person. If Ketcham was caught off-guard when they arrived, however, he recovered quickly. The doctor blithely owned up to what he called a "bittersweet relationship" with Kim, characterizing it as one in a long line of extramarital indiscretions. Saying he wanted to start at "the real beginning" and confess it all, Ketcham recounted "illicit sexual relationships with other women" dating back to his college days and stretching through his nearly three decades at the compound. Lloyd was impressed by the accused man's poise. Ketcham's "sense of humor was intact," he wrote. "His creative wit and clever use of words were still laced throughout his comments. He even laughed on occasion. It was as if he were describing someone else!"

Still, the Russes told him, he'd have to leave the mission. After Ketcham excused himself to go home and tell his wife what was happening, the men from ABWE were surprised to see the couple return in less than half an hour. According to Lloyd's diary, he and Ebersole assured Kitty that her husband had not "seduced" the 13-year-old, that Kim had been "a willing partner." And when they told the Ketchams they would have to leave the mission after nearly three decades, Kitty seemed as unaccountably unruffled as her husband. "Interestingly," Lloyd wrote, "her only notable question pertained to how long they would have to pack and be off the field, and to the severance package that ABWE would give." He chalked this up to "unspeakable shock," predicting that "torment, rage, bitterness, resentment, betrayal, shame, embarrassment, grief—if not present then—would soon visit her." The Russes, so indignant over Kim's "lust in its most base form," were brimming with sympathy for the Ketchams. "How we ached for both of them!" Lloyd wrote.

….

Donn and Kitty Ketcham flew back to the States and settled down in Allendale, Michigan. ABWE officials rallied around the couple. On their advice, Ketcham wrote a letter to the churches that had sponsored him, confessing to "sin," but not to child sexual abuse. Ebersole sent his own letter, explaining that Ketcham had left the mission over "immoral conduct"—a vague charge that most interpreted as mere adultery. Ebersole asked the churches to keep funding the Ketchams for two more months, until they'd resettled and found jobs. "A beloved brother has fallen!" Ebersole wrote. "May God help us to biblically restore him and to help bear the deep burden that he and his dear wife, Kitty, carry at this time."

Because no one from ABWE alerted police or the state medical board that Ketcham had confessed to sexually abusing a child 45 years his junior, he was able to return to practicing medicine and teaching Sunday school. He would go on to see patients for another 23 years. For years after their departure, ABWE president Wendell Kempton continued to write the Ketchams warm letters, sending "love and prayers."
You can read the entire story here. I encourage you to read it. If you have any doubt as to why I publish the Black Collar Crime series, let this story settle your doubts.
In 2017, Ketcham was finally brought to justice for one of his crimes, albeit not the ones detailed in Joyce's story.
A former missionary doctor accused of molesting 23 girls and young women decades ago on the other side of the world was in an Ottawa County courtroom on Friday.

Donn Ketcham, now 86 and living in the city of Wyoming, was never charged with the alleged sex crimes in Bangladesh because they happened so long ago and so far away.

But on Friday, he was ordered to stand trial on a charge of first-degree sexual assault, accused of molesting a girl at his practice in Allendale nearly a decade after leaving Bangladesh.

The ruling followed a preliminary hearing that included testimony from the alleged local victim.

She is now 23, but says she was 4 or 5 in the late 1990s when Ketcham assaulted her during an appointment at his office in Allendale.

"I guess what they call is, digitally penetrating me with his hand," she testified.

She said it lasted 10 to 15 seconds.

She testified that her mom was in the room, but that Ketcham was standing between them, blocking her view.

She said she even recalls what she wore.

"I was wearing Tweety Bird overall shorts, I think," she said.

The woman said didn't report it to police until 2011.

"I had watched a TV show, Law and Order: Special Victims Unit," she testified. "There was a case on there that was exactly like what had happened to me."

Ketcham started working in Allendale after being banished in 1989 from the mission field in Bangladesh over allegations of sexual misconduct —  allegations covered up for years by the Association of Baptists for World Evangelism.

At first, the Ottawa County sheriff's department, not aware of the old allegations, didn't pursue the local victim's case.

But detectives reached back out to her after Target 8 told the stories of five women allegedly molested by Ketcham in Bangladesh.

They said it happened when they were young girls, usually under the guise of medicine, some with their mothers in the room.

Carol Finlayson, the owner of Allendale Family Practice, testified for the defense on Friday. She said she started working with Ketcham in 1989 or 1990 at a nearby medical center. She said never heard a complaint about Ketcham.

"We had a wonderful working relationship," Finlayson said. "He was admired; he was well-liked."

Finlayson, a certified nurse practioner, said she treated the alleged victim for years as a child. She said she often came in for "minor issues" and said she never complained about Ketcham.

On Friday, Ketcham's attorney questioned the local victim's memory. The woman has been diagnosed with anxiety, depression and a medical condition that affects short-term memory.

"Do you think maybe the confusion or the memory problems might have muddled the TV show and reality?" defense attorney Matthew Borgula asked her.

"Absolutely not," she responded.

He argued to dismiss the case.

"Her story has changed over time. It's the defense's position that there's not even probable cause to believe that her story is true," the defense attorney said.

….
In December 2017, Wood TV-8 reported:
The women identified as sexual assault victims of a former missionary doctor decades ago in Bangladesh say they never got their justice.

They thought that would finally change when a local woman came forward to report that the doctor from the city of Wyoming had molested her as a child.

But a year after Dr. Donn Ketcham was charged in Ottawa County Circuit Court, the case is still unresolved. Now, the women who say Ketcham molested them so many years ago at a Baptist missionary camp in Bangladesh wonder if they'll ever get to face him in court.

"It felt like maybe something was finally going to happen to him because I knew there was nothing we could do," said Sheryl Marshall, listed as one of Ketcham's victims in Bangladesh.

….

The case in Ottawa County Circuit Court has been delayed repeatedly. The latest delay is to determine if Ketcham is competent to stand trial.

"We've gotten subpoenaed five different times and every time we get it in our minds that we're going to go to this trial, we get a call or letter saying they've postponed it again," Marshall said. "It's very difficult."

It's difficult, she said, to draw on memories she's tried a lifetime to forget.

"It's both anger and frustration. I'm scared. It's scary to think about testifying, so you try to prepare yourself, and then it doesn't happen, so."

Still, she said she wants to face Ketcham before he has to answer to God.

"Too many people need justice," she said.
You can read about ABWE's very much after the fact systemic changes here.