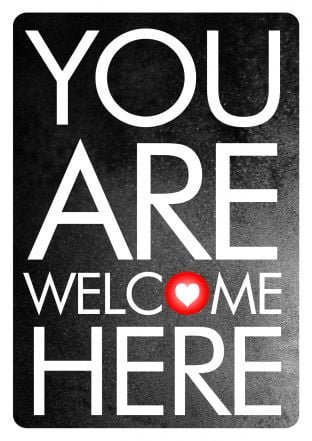 A tagline often used by Christian churches to advertise themselves to non-Christians is this: YOU ARE WELCOME HERE! This statement is meant to convey to people that their church is friendly and accepting of everyone. When mainline churches use this line, they often are just that: friendly, accepting, and welcoming. Years ago, Polly and I, along with our three youngest children, visited the Episcopal church in Defiance. On our first visit there, an older woman — whom we learned later was a pillar of the church — came up to us and said, WELCOME! We don't care what you believe, you are welcome here. This congregation sincerely didn't care what you did or didn't believe, though there were several members of a Fundamentalist persuasion who likely were not as indifferent about our beliefs, especially our pro-choice view on abortion. There's another church in Defiance, St. John's United Church of Christ, that advertises the fact that they are a welcoming church. St. John's caused quite of bit of controversy when they came out in support of same-sex marriage. Both of these churches genuinely accept people as they are, where they are, and don't try to evangelize. They are more focused on good works than right doctrine.
However, when Evangelical churches, such as the one outside of Ney, say, YOU ARE WELCOME HERE!, I chuckle, knowing that they mean something far different when they say this than do the aforementioned Episcopal and UCC churches. Evangelical churches want to be perceived as welcoming places where anyone and everyone can walk through their doors and feel at home. Little do first-time visitors realize that this friendliness is a play; that the church's welcoming of them has an ulterior motive attached to it — to evangelize them and turn them into another soldier in God's Fundamentalist army. Evangelicals will piously say that they love everyone, just as God loves everyone. Sounds good, right? We all want to feel loved and accepted. With Evangelicals, however, their love is a means to an end. They might feign love for you for a time, but their objective is to save you, baptize you, get your checking account number, and add you to the church roll. Yes, Evangelicals say, we love you as you are. But, we love you enough to not leave you there.
Some Evangelical churches are content to leave sinners alone, trusting that the Holy Spirit and the preaching of the Word will bring them to repentance. Week after week, congregants will "love" on sinners, leading them to believe that they are loved and accepted as they are. Little do they know that there is no way for them to truly gain membership in the club until they first change their ways. This is why I laugh when I hear Evangelicals say that their churches LOVE and ACCEPT LGBTQ people. Sure they do. Or, they love and accept them enough to let them take two feet of real estate in one of the church pews, but let someone living in "sin" try to become part of the club and they will be told, sorry, only saved, sanctified, heterosexual people are allowed to be members. Want to sing in the choir, play in the church band, teach Sunday school, or work in the nursery? REPENT and believe the gospel. REPENT and stop being who and what you are. REPENT and realize you are a filthy, vile, broken sinner in need salvation.
It is really easy for anyone to test whether a particular Evangelical church is as welcoming as its members claim to be. Ask the pastor if you and your lesbian partner — whom you legally married last year — can join the church. Or, ask the pastor is you can recruit church members to work at the local Planned Parenthood. Take any of the hot-button social issues or any of the "bad" sins Evangelicals are obsessed with and work them into your life story. Ask the pastor if the church will accept you as a member as you are, with you not planning to change your ways. I guarantee you that Evangelical churches will let you in the gate so they can preach at you, but they sure as heaven aren't going to let you be a club member unless you first go through their particular club's membership rituals.
So, when Evangelical churches put on their advertising signs, YOU ARE WELCOME HERE! don't believe it. When Evangelicals tell you that their churches love people unconditionally, feel free to snort, chortle, and laugh. They don't love anyone unconditionally, and, according to the Bible, neither does their God. (Please read Does God Love Us Unconditionally?  Does God Hate? and Evangelicals Say They Love LGBTQ People, But do They Really?) I am sure Evangelicals reading this might say, Well, Bruce, you aren't welcoming of everyone. You don't love unconditionally. So there! Here's the thing, I have never made such claims as these. I don't live in a mythical world of cheap clichés. While I go out of my way to be kind to and respect everyone, some people are assholes and I have no interest in, nor do I have the time to be fake friends with, such people. The same goes for unconditionally loving everyone. While I generally am a nice guy — just ask anyone who knows me — there are some people who don't deserve my love. One of the joys of unbelief is that I no longer have to fake-love people. As a pastor, I had to feign love towards countless boorish, nasty people. What would Jesus do, right? Now that Jesus isn't in my way, I am free to choose whom I want to love and whom I don't. I spent decades putting up with relatives such as my grandparents, all because I thought that the Bible taught me to do so. Now I am free to say to them, I have no interest in you being a part of my life. (Please read Dear Ann.) Goodbye, good riddance, have a happy death.
Perhaps it is time for Evangelical churches to be honest in their advertising. Stop lying to the public. Stop feigning acceptance and admit that the only people who are truly welcome are those who believe the right things and live a certain way. And that's okay. It's your club, Evangelicals. You have every right to have membership rules and obligations. But, please quit with being the small print at the bottom of an infomercial. Tell people the truth about what you demand and expect of them. Hiding your true agenda behind clichés and word salads only turn people off, especially when they find out you lied to them. Don't tell LGBTQ people you love and accept them, when, in fact, you intend to do everything possible to turn them into Jesus-loving heterosexuals. Jesus said In John 8:32, the TRUTH shall set you free. It's time for Evangelicals to put their Lord and Savior's words into practice.
About Bruce Gerencser
Bruce Gerencser, 60, lives in rural Northwest Ohio with his wife of 39 years. He and his wife have six grown children and eleven grandchildren. Bruce pastored Evangelical churches for twenty-five years in Ohio, Texas, and Michigan. Bruce left the ministry in 2005, and in 2008 he left Christianity. Bruce is now a humanist and an atheist. For more information about Bruce, please read the About page.
Bruce is a local photography business owner, operating Defiance County Photo out of his home. If you live in Northwest Ohio and would like to hire Bruce, please email him.
Thank you for reading this post. Please share your thoughts in the comment section. If you are a first-time commenter, please read the commenting policy before wowing readers with your words. All first-time comments are moderated. If you would like to contact Bruce directly, please use the contact form to do so.
Donations are always appreciated. Donations on a monthly basis can be made through Patreon. One-time donations can be made through PayPal.