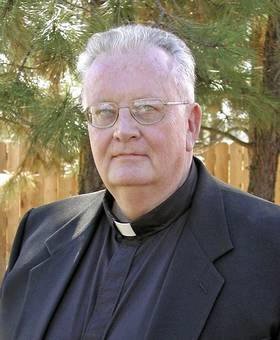 The Black Collar Crime Series relies on public news stories and publicly available information for its content. If any incorrect information is found, please contact Bruce Gerencser. Nothing in this post should be construed as an accusation of guilt. Those accused of crimes are innocent until proven guilty.
W. Thomas Faucher, a Catholic priest with the Diocese of Boise, has been charged with sexual exploitation of a child, distributing sexually exploitative material involving children, and felony drug possession.
The Idaho Statesman reports:
Hundreds of images of child pornography and drugs including marijuana, ecstasy and LSD were found in the home of a retired Boise priest, a prosecutor said at a Monday court hearing.

Longtime Catholic Rev. W. Thomas Faucher, 72, was brought into court in a wheelchair Monday evening for his arraignment on 14 different charges.

Most of the crimes involve Idaho's law against child pornography: He is charged with 10 counts of sexual exploitation of a child, and two counts of distributing sexually exploitative material involving children. His last two charges are both for drug possession. All of the charges, except one of the drug counts, are felonies.

….

Ada County Deputy Prosecutor Kassandra Slaven offered more context Monday. She said some images on Faucher's computer involved young children, including infants and toddlers. The images included children being subjected to different sexual acts and torture, she said.

Slaven also described email conversations where Faucher reportedly traded images and talked about his "sexual interest in children." She said Faucher has a "very sophisticated knowledge" of exchanging and viewing child pornography. And in certain chats investigators viewed, she said, he expressed a desire to molest children. One such chat screen was open on his computer when police served the search warrant, she said.

Faucher talked in the chat about his "desires to rape and kill children," Deputy Prosecutor Cathy Guzman said at a probable cause hearing earlier Monday.

Judge Michael W. Lojek ordered Faucher held on $250,000 bond — half of what Slaven sought — and directed him to have no contact with any children under 18. He is also forbidden from using the internet.

Faucher's attorney, Mark Manweiler, argued that his client should be released, pointing to Faucher's lack of criminal record and "impeccable reputation." Manweiler said the priest answered five hours' worth of questions from police, and said there has never been a claim of abuse or impropriety aimed at Faucher despite the "tens of thousands" of children his client has been around.

Manweiler also argued against the no-contact order. He said Faucher was expected to have many community members visit after leaving jail, and he did not want his client to unintentionally violate the order if visitors brought a child with them.

"(Faucher) is well-liked and well-known," Manweiler said. "He counts among his good friends people at the highest level of both branches, both of state government and our local government and some judicial officials here in Ada County."

….

Faucher grew up in Boise and attended Saint Mary's as a child. He was ordained in Boise on June 4, 1971, and returned here in 2002 to serve at Saint Mary's. He joined Saint Mary's just one month after revelations that a deacon there had viewed child porn.

Faucher has long criticized the Catholic Church's handling of sexual abuse by its priests. Earlier in 2002, while based at Sisters, Oregon, he told one gathering that the church was looking the wrong way at incidents of molested children, and that Cardinal Bernard Law "should resign" for the events eventually documented in the 2015 movie "Spotlight."

….