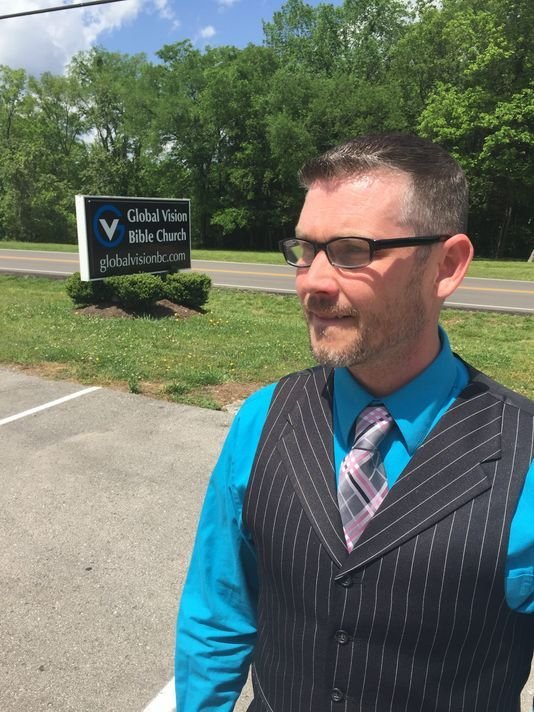 Greg Locke, famous for his insane sermon videos about everything from Starbucks' cups to Target's bathrooms, evidently has divorced from his wife and taken up with a new woman — his secretary. Locke, pastor of Global Vision Bible Church in Mt. Juliet, Tennessee, took to the pulpit to defend (without mentioning it) his pending divorce:
Locke is right about many things he says in this video. People shouldn't stay married to abusers and the like just because some preacher (or the Bible) told them to do so. Life is too short to spend it mired in unhappy, loveless marriages. The problem, of course, is that Locke is a Bible-thumping Evangelical who supposedly believes the Bible is the inspired, inerrant, infallible Word of God, and the Bible is clear: God hates divorce; Moses permitted male (not female) Israelites to divorce only because of the hardness of their hearts; Jesus gave only one grounds for divorce, adultery. And the Bible is also clear that Evangelicals who divorce are forbidden to marry again; and that remarrying is adultery, an act the Bible says damns a person to hell. It seems, then, that Locke is not such a big Bible believer after all, that the Spirit that leads him is his Holy Dick, not the Holy Spirit.
I have no idea about how Locke and his wife got along with each other. Maybe their divorce was justified. But, if a man is going to stand in the pulpit and say, THUS SAITH THE LORD, then he sure as heaven should believe every word of the Bible and practice it in his day-to-day life; and if he doesn't he shouldn't be surprised when he is called a skirt-chasing hypocrite.
According to Fundamentalist website Pulpit & Pen, Locke's wife was the one who filed for divorce, and the good pastor just went along with it so he could get a quick dissolution of their marriage. On to new things — a new woman and a new car:
Indeed, it was Locke's wife who filed for divorce, citing "irreconcilable differences". However, court records clearly show that Locke responded in agreement. In arranging what could fairly be called a "quickie divorce" Locke filed documentation with the court stating that his marriage was "irretrievably broken". There is nothing in Locke's divorce papers that indicate he took action to fight the divorce proceedings or demand a trial. Locke signed a Marriage Dissolution Agreement. If that's not taking action to "divorce his wife", no matter who filed first, then what is?

A trail of witnesses from Mt. Juliet, to Mufreesboro, to the out-of-state women's shelter in which Melissa now resides contend that Locke coerced his subservient and obedient wife into filing divorce in order to preserve for himself the claim that he was "abandoned". These same witnesses contend that Locke basically ordered his wife out of the state of Tennessee. The traumatized woman is now isolated far away from her home and her family. Locke is still in close proximity to his church secretary, Tai McGee. The mandatory waiting period required by Tennessee law to make Locke's divorce final has not elapsed.

Christians still following Greg Locke's internet antics and attending his church should ask themselves if Locke is worthy of their time and generous donations. As an outspoken moralist, Locke's actions towards his wife (and his secretary) are on display for the lost world to see and mock. Rather than condone his continuing pastorate, Locke's familiars would do well to encourage him to repent and reconcile with his wife.
Indeed, those of us in the "lost" world are enjoying the spectacle, including Fundamentalists eating one of their own. It also seems, at least to me, that Locke's ex-wife put his preaching into practice by divorcing his sorry ass. There will come a day — hopefully soon — when the former Mrs. Locke will be very glad that she jumped off Greg Locke's crazy train and ran for her life.
As for Locke, he wants the world to know that his affair with his secretary is justified, as is his divorce from his wife. After all, his Ex is crazy:
She's been in and out of mental health facilities but that is not where she is right now. She is at a place that helps ladies get on their feet again. The only reason why she is there is that the lady who runs it is like her grandmother, and so she's there. She's only there because of the comfort…It is a shelter there is no doubt. But it's not something like a homeless shelter. She's with the lady who runs the place.
Nice guy, right?
If you have the stomach for it, I encourage readers to read Pulpit & Pen's latest article on Locke. Keep in mind the purveyors of Pulpit & Pen live for opportunities to expose sin and heresy among the faithful. In Locke's case, this is a matter of believing the message regardless of the messenger. What matters is whether they are telling the truth, and it seems in this instance Pulpit & Pen is telling the truth about Locke, his wife, his girlfriend, and his recent divorce.