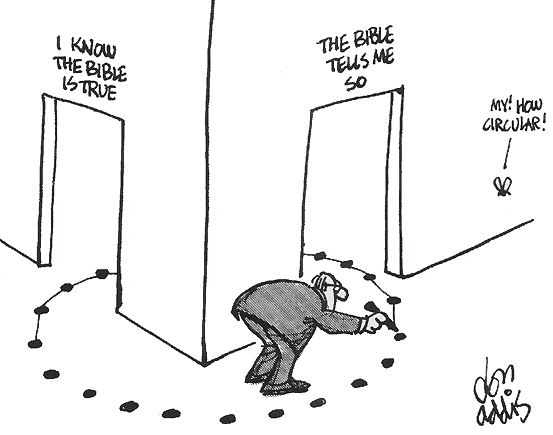 I recently watched a miniseries on David Koresh, the Branch Davidians, and the horrific loss of innocent human life at Waco. The miniseries was a poignant reminder of the fact that bad things can happen when people believe the Christian Bible is the Word of God and is meant to be read literally and taken at face value.
Koresh was considered a cultist, but were his beliefs about the Bible that much different from countless Evangelical churches who say the Bible is the inspired, inerrant, infallible Word of God; that every word of the Bible is to be obeyed and practiced; that God said what he means and means what he said (and in some sects continues to say in prophecies and dreams)? Think about the American religious landscape for a moment. Look at how Bible literalism affects (infects) everything from public discourse to governmental policy. Everywhere we look — IF we dare to do so — we see the tragic consequences of Bible literalism. Never mind the fact that the Bible is an ancient religious text of sketchy provenance and is chock full nonsense. That the Bible plays such a vital part in the ebb and flow of American life should frighten us. Why? Because if history teaches us anything, it teaches us that ruthless, conniving men can use the Bible and naivety of Christians to advance their agendas, leading to everything from slavery and war to colonialism and genocide. It is Bible literalism that lies behind efforts to criminalize homosexuality, ban birth control, make abortion illegal, and constitutionally ban same-sex marriage. It is Bible literalism that fuels the patriarchal movement, causing untold spousal and child abuse. It is Bible literalism that leads people to demand creationism be taught in public schools.
Just look at how often Bible literalism affects government at every level. A hundred years after the Scopes Monkey Trial and a decade after the Kitzmiller v Dover decision, and we still have Evangelicals clamoring for creationism to be taught in public schools. Worse yet, local and state governments gave the Profit of Creationism, Ken Ham, millions of dollars to build and operate a replica of Noah's Ark. Without Kentucky politicians believing in Bible literalism, Ham would have been laughed out of the room. Instead, they gave a con artist millions of dollars so he could pick the pockets of the taxpayers of Kentucky and the visitors to his monuments to Evangelical ignorance.
Here in Ohio, Republican politicians who are Bible literalists are working as hard as they can to make abortion illegal. And unless the Ohio and U.S. Supreme Courts intervene, it is likely they will succeed — even though most Ohioans believe abortion should be legal. Why are legislators ignoring their constituents? Bible literalism.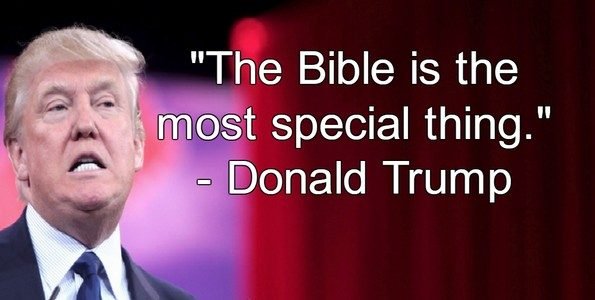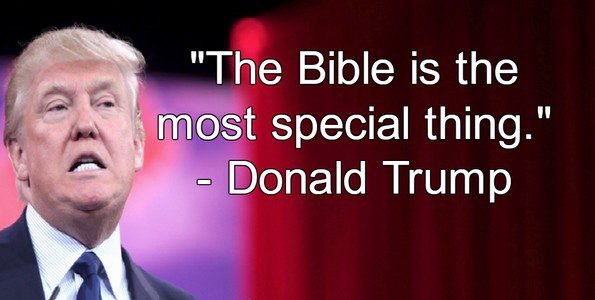 Donald Trump caused quite a stir when he announced that the U.S. Embassy in Israel was going to be moved to Jerusalem. Countless Evangelical preachers got an eschatological boner when Trump said this. Why? Bible literalism. And herein lies the biggest danger of Bible literalism. Trump — who has Evangelicals kneeling before his unzipped pants day and night — is more than willing to use Bible literalism to advance his agenda. Trump is a deranged narcissist who wants to return the United States to its so-called glory days. What's Trump's slogan? Making America GREAT Again. In his mind, the United States needs to reassert itself as a singular world power, and use any means necessary to do so. This is why his proposed budget gives the U.S. military billions in increased funding while cutting spending on everything from the social safety net to the EPA. Trump plans to dominate the world or die trying — taking the human race with him.
Proponents of Bible literalism see Trump as man who has been raised up by God for such a time as this (much like Esther). Believing that the rapture and the second coming of Christ could happen at any moment, Evangelicals are giddy over how Trump's decisions could provoke Armageddon, the end of the world, and the return of Jesus to earth. Making Jerusalem the home of the U.S. embassy and following through with the move will most certainly result in violence, bloodshed, and death. As I write this post, Bible literalism fuels political and religious embers in the Middle East, embers that could turn into flames that engulf the world in World War III. Trump wants war because he thinks the United States, with him as Commander-in-chief, can whip anyone who dares to trifle with God's chosen nation. Evangelicals, believing that Biblical books such as Daniel and Revelation are histories that have yet to happen, see God in Trump's dick wagging. And when Israel, a proxy state for American imperialism, attacks Iran and the Persians retaliate with nuclear weapons, what then? When millions of people are killed and the earth is rendered uninhabitable, what then?  When life as we know it disappears with a push a few buttons, what then?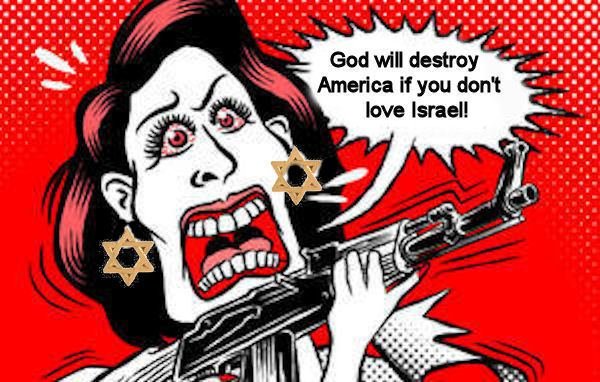 What then? Why, Evangelicals will remind us that the Bible says ________________________; that everything that happens is according to God's purpose and plan; that there is life after death, so no need to worry about dying if you know Jesus; that God, in the near future, plans to make a new heaven and new earth. Surely anyone with more than an ounce of sense can see how dangerous Bible literalism is. It's all fun and games when we are talking about a big boat in Kentucky, but when Bible literalism influences and drives governmental policy and decisions, it should frighten us. This is why we must continue to wage war against Bible literalism. Such thinking must be driven from our governmental process and schools. Treating Bible literalism as nothing to worry about is every bit as ignorant as Bible literalism itself. We must never forget that history is replete with accounts of massive violence and death that were perpetrated because people believed what a religious guru or religious text said was true.
But Bruce, most Evangelicals don't really believe in Bible literalism. Look at how they live, how they pick and choose what to believe and practice. Sure, but let their tribe be threatened, and all of a sudden what the Bible says (or what their pastors say it means) becomes vitally important. Watch how Evangelicals become prayer warriors the moment calamity strikes them. Do you think it will be any different when smart political operatives use the Bible to justify their military responses to perceived threats from North Korea, Iran, or Syria? Remember, George W. Bush believed the Iraq War was a holy war, a battle between good and evil. Where did he get such ideas? The Bible. We err in our thinking if we believe Americans can't be manipulated as Germans were by Hitler. Look at how a sizeable percentage of Americans are impervious to facts about Trump and his nefarious agenda. Facts simply don't matter. Trump was right when he said he could murder someone in the middle of the street and people would still vote for him. And who was it that gave the pussy-grabber-in-chief the White House? Evangelicals. Eighty-two percent of voting white Evangelicals voted for the Trump-Pence ticket. What's even scarier is the fact that if Trump is indeed impeached, a card-carrying Evangelical extremist, a true-blue believer in Bible literalism, Mike Pence, will become president.
Want to see what happens when religious literalism is wed to political power? Look at the Muslim world and the currents violence that has engulfed the Middle East and parts of Africa. Don't think for a moment that a Christian version of this can't happen in the United States. It can. I, for one, intend to do all I can to make sure that Bible literalism dies the swift death it so richly deserves, taking Fundamentalist Christianity with it. I would love to be the person who holds the pillow over the faces of Bible literalism and Evangelical Christianity as they draw their last breaths. I fear, however, due to my advanced age, that I will not have that opportunity. Maybe a Gerencser in the future will have this privilege — that is if Bible-believing Christians and their political operatives don't destroy the world first.
About Bruce Gerencser
Bruce Gerencser, 60, lives in rural Northwest Ohio with his wife of 39 years. He and his wife have six grown children and eleven grandchildren. Bruce pastored Evangelical churches for twenty-five years in Ohio, Texas, and Michigan. Bruce left the ministry in 2005, and in 2008 he left Christianity. Bruce is now a humanist and an atheist. For more information about Bruce, please read the About page.
Bruce is a local photography business owner, operating Defiance County Photo out of his home. If you live in Northwest Ohio and would like to hire Bruce, please email him.
Thank you for reading this post. Please share your thoughts in the comment section. If you are a first-time commenter, please read the commenting policy before wowing readers with your words. All first-time comments are moderated. If you would like to contact Bruce directly, please use the contact form to do so.
Donations are always appreciated. Donations on a monthly basis can be made through Patreon. One-time donations can be made through PayPal.