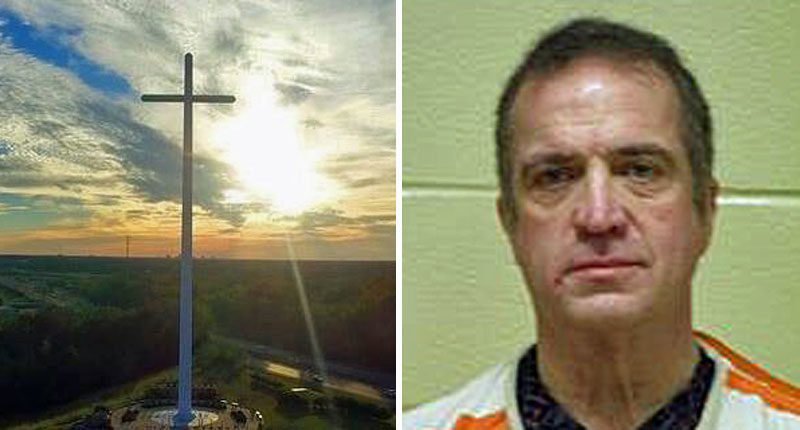 The Black Collar Crime Series relies on public news stories and publicly available information for its content. If any incorrect information is found, please contact Bruce Gerencser. Nothing in this post should be construed as an accusation of guilt. Those accused of crimes are innocent until proven guilty.
Andy Harris, pastor of Central Assembly of God (also known as Church of the Cross) in Haughton, Louisiana, was arrested last week for the possession of methamphetamine.
Bossier Now reports:
A former Bossier Parish pastor admitted to authorities that he had meth in his Bossier City home — and was arrested.

Bossier Sheriff's Office detectives arrested Andy C. Harris, 56, of the 2400 block of Benton Road in Bossier City, charging him with possession of Schedule II controlled dangerous substance (methamphetamine) and possession of drug paraphernalia.

Harris was former senior pastor of the Central Assembly of God Church, also known as the Church of the Cross, in Haughton, according to published reports as well as web listings and social media.

During an investigation, Bossier Sheriff's Detectives learned of possible drug activity at his residence. Harris cooperated with detectives, admitted he was in possession of methamphetamine, and consented to a search of his residence to retrieve the drugs.

Upon arrival at the residence, detectives found approximately 3.4 grams of suspected meth, along with a smoking device and snorting device.

Harris was arrested Wednesday evening and booked into the Bossier Maximum Security Facility with a bond of $5,000.
A letter from former senior pastor Andy Harris chronicling the difficult time he and his family faced in recent years was read aloud during Sunday service at The Church of The Cross in Haughton.

The service came days after Harris was arrested after admitting to Bossier Parish Sheriff's deputies that he had meth in his Bossier City home. The church service was broadcasted live on Facebook. A copy of the service is still on the church's page.

"Dear members and friends of The Church of The Cross, the past 21 and a half years has been a journey of faith and victory," Harris began in his letter to the congregation. "It was our honor to serve you as pastor over the past two decades. Sheryl (his wife) and I have made life-long friends and seen miracles happen for many of you as you were saved, healed and filled with the Holy Spirit. We have loved and felt loved by you all."

Harris described in his letter that the past few years was like being in a "pressure cooker" with sickness, betrayals, family struggles and the daily challenges of ministry wearing down on the former pastor.

"A few months ago, in a time of weakness, I attempted to ease the pain in the wrong way," he wrote. "I have sinned and I have asked the Lord to forgive me. I have asked my family to forgive me. And I am asking you all — all of you — to forgive me."

Harris confirmed his resignation from the church and asked for the congregation to pray for his family.

"Pray all of the good the Lord has done through us will outshine the bad the devil has done to us," he wrote. "Sheryl and I love you very much.

….
Harris' church bio page states:
Pastor Andy Harris began his ministry at Central Assembly of God on September 25, 1996.  Born in Prescott, Arkansas, Brother Harris is a native of Bossier City, and a graduate of Bossier High School.  His parents Chubby & Jamie Harris were a prominent Bossier City builder and schoolteacher, respectively.   He earned a B. S. in Pastoral Ministries and Evangelism at Southwestern Assemblies of God University in Waxahachie, Texas.  He also completed a ministerial internship at his home church, Broadmoor Assembly of God, in Shreveport, Louisiana, under the leadership of Pastor Don R. Logan.  His postgraduate studies were received at Southwestern Baptist Theological Seminary in Fort Worth, Texas.

While attending college, our Pastor married Miss Sheryl Lynn Thompson of Hurst, Texas, on October 17, 1981.  They served as Youth Pastor and Administrative Assistant at Calvary Temple, in Irving, Texas, with Pastor J. Don George.  It was there that Pastor Harris was ordained to the ministry on April 10, 1985.

The Harrises were involved in ministry in Baton Rouge for 2 1/2 years, and then served as Pastor of Kings Corner Assembly of God in Sarepta, Louisiana, for 8 1/2 years, before coming to Central Assembly of God.  In addition to his pastoral duties, Brother Harris has served as a district presbyter, executive presbyter, or general presbyter of the Assemblies of God for more than 20 years.

The Harrises have two lovely daughters:******, and a beautiful granddaughter, ******.

Under the leadership of Pastor Harris, Central Assembly of God has grown from a church of 39 members to a congregation of more than 800 believers.
Harris is best known — at least until his arrest for methamphetamine possession —  for erecting a one-hundred and ninety-nine foot metal cross on church property. Raw Story reports:
"It was under Harris' administration that the 199-foot-tall cross was erected on church property," ArkLaTex reported. "The cross – which in the United States is only shorter than one in Corpus Christi, Texas (210′) and St. Augustine, Florida (208′), was not without controversy.

The planned cross violated zoning restrictions, which the church appealed to the Bossier Parish Police Jury.

"The common man on the street is going to be looking at who's for the cross and who's not, and we all understand the ramifications," Pastor Harris warned.

The church was subsequently granted a zoning exemption from local authorities.
There are better days ahead for The Church of the Cross in Haughton.

The pastoral team and congregation have been dealt a heavy blow with the resignation of senior pastor Andy Harris following his arrest on March 7. Harris, who admitted to authorities that he had meth in his home, had led the church as senior pastor for more then two decades.

The news was absolutely devastating.

"My heart is broken," church secretary/treasurer Doyle Dempsey said. "We're experiencing all manners of emotions. I've been through them all in a matter of days."

Dempsey, who has known Harris for 18 years, considers him a spiritual mentor and friend. Through all the doubts and uncertainty right now, there's one thing he's still sure of.

"My faith is unshaken," Dempsey said. "The word of God that has been taught from this pulpit is our guide to moving forward."

Dempsey read aloud a letter from Harris during the March 11 morning service, which was streamed live and is posted to The Church of the Cross Facebook page. In it, Harris describes living in a "pressure cooker" situation through recent years and how it finally took its toll on him.

"A few months ago, in a time of weakness, I attempted to ease the pain in the wrong way," Harris wrote. "I have sinned and I have asked the Lord to forgive me, I've asked my family to forgive me and I'm asking all of you to forgive me."

He also asked the congregation for prayers.

"Pray that God will heal us mentally, emotionally and spiritually. Pray that we can rest in body, soul and spirit. Pray that all of the good the Lord has done through us will outshine the bad that the devil has done to us," Harris wrote. " God has more great things in store for The Church of the Cross. I believe he is already preparing the next pastor who will be able to take you to the next level. Be faithful, be supportive, keep serving and somehow God will turn this around for all of our good."

Harris is no longer in custody since posting bail the night of his arrest, according to law enforcement officials. Instead, he will be receiving "counseling and restoration" at Emerge Ministries in Akron, OH, according to a post on his personal Facebook page.

"I may be knocked down…but I am getting back up…I have definitely not been knocked out," he wrote, thanking The Church of the Cross leaders and members for their loyal support.

….