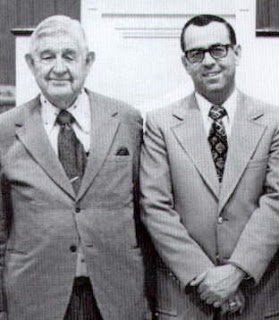 The late John R. Rice, editor of the Independent Fundamentalist Baptist (IFB) newspaper titled The Sword of Lord, is revered as a demigod by IFB preachers and churches. Rice and a cadre of Sword of the Lord affiliated preachers would travel across the country holding pastor's conferences. These conferences were used to inspire the troops to do big things for God — build big churches, win lots of souls, and collect large amounts of money. In the 1970s and 1980s, many of the largest churches in America were IFB congregations. Rice's newspaper and publications were widely read by IFB preachers and their congregations. Rice's Puritanical, Fundamentalist view of the world made a huge impact on several generations of Christians.
Rice died in 1980. Curtis Hutson took over the Rice empire, but never achieved the success of his mentor. Shelton Smith is currently the newapaper's editor. Today, the Sword of the Lord — much like most IFB churches — is a shell of what it was during its heyday. According to Wikipedia, as of September 2012, the Sword of the Lord newspaper has a biweekly circulation of 100,000. The Sword of the Lord masthead states:
An Independent Christian Publication, Standing for the Verbal Inspiration of the Bible, the Deity of Christ, His Blood Atonement, Salvation by Faith, New Testament Soul Winning and the Premillennial Return of Christ; Opposing Modernism (Liberalism), Worldliness and Formalism.