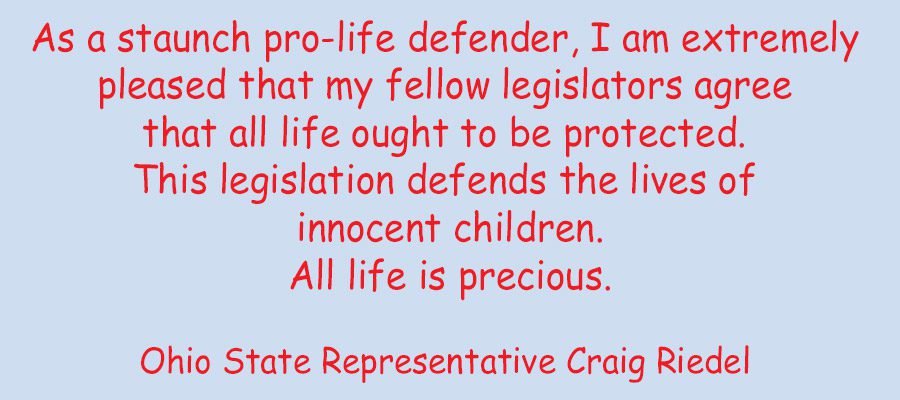 Ohio Republicans introduced a new bill yesterday that takes the phrase 'abortion is murder' to its logical conclusion. HB565 outlaws all abortions and makes performing or having one a capital offense. The bill also does away with exceptions for rape, incest, or the life of the mother.  One of the bill's sponsors is Craig Riedel, state representative for District 82. Riedel is my representative and lives in nearby Defiance, Ohio. Riedel, a Catholic, is stridently anti-abortion, so it comes as no surprise that he is one of the sponsors of HB565. Riedel was also instrumental in the recent passage of HB214, a law that criminalizes doctors performing abortions on women whose fetuses have Down Syndrome.
HB565 doesn't surprise me in the least. The Ohio legislature is controlled by a super-majority of staunch, right-wing, anti-abortion Republicans. These Republicans make Governor John Kasich look like a liberal. The only way to repel their attacks on abortion rights is to run them out of office and replace them with men and women who put people before religion. Make no mistake about it, the assault on abortion is religiously driven, primarily by Evangelicals, conservative Catholics, and Mormons. Only those with minds sotted with religious delusions would criminalize abortion and make it a capital crime. Only the Craig Riedels of the world put God and theological dogma before women's health.
I hope my fellow Ohioans are paying attention to the anti-abortion spectacle currently on display in Columbus. Far too many of us wrongly think that the people who wave signs that say, God is pro-life and abortion is murder, are ignorant, harmless country bumpkins. Nothing could be further from the truth. Ohio is primarily a rural state, and people who live in small communities such as Ney, Bryan, Defiance, Hicksville, and countless other places, have been voting into office right-wing Republicans for decades. Senior Ohioans such as myself remember an Ohio that was considered a progressive state, one governed by officeholders who worked for the common good of the Buckeye state. That Ohio no longer exists. In its place is a state government where God and the Bible come first, especially when it comes to hot-button social issues.
It is unlikely that this bill will pass constitutional muster. But, maybe the real issue here is to get HB565 before the U.S. Supreme Court so the court can overturn Roe v. Wade. Isn't that the ultimate goal of all anti-abortion laws at the state level? Outlaw abortion in the states and then make a full-bore frontal assault on Roe v. Wade. If attempts to criminalize abortion at the federal level are successful, this means the United States returns to the days when abortions were performed in backrooms and alleys. Ultimately, it means more unwanted children will be brought into the world and more women will die of complications from illegal, unsafe abortion procedures. We must not forget that the people who believe that abortion is murder often think that using birth control is a sin too. Imagine, if you dare, a country where women no longer have access to birth control and they once again must live in fear of unwanted pregnancy. Is this really what we want for Ohio and our country? If the answer is "no," then the only answer is to elected leaders who put their duties and obligations to their constituents ahead of their fealty to God.
I am not suggesting that religious people cannot hold office, but if they are unwilling to separate church from state, then they are not fit for office. Our governmental structures are, by design, secular, and politicians who ignore or refuse to understand this must be replaced by people who do. For far too long, voters have treated the religious beliefs of politicians as being beyond criticism and critique. Since we now know that religious beliefs have political and social consequences, those of us who consider the separation of church and state essential to the future of our secular state must expose and critique the religious beliefs of politicians. The same applies to atheistic, agnostic, and humanistic politicians – we must question their beliefs as well. What we believe matters, as HB565, HB214, and other anti-abortion bills show. If we want a country where secular, humanistic ideals drive the legislative process, then we must elect candidates who value these things. It really is that simple.
Previous Articles About Abortion
Abortion Facts, Lies, and Contradictions
25 Questions for Those who say Abortion is Murder
Why it is Impossible to Talk to Pro-Life Zealots About Abortion
Preaching the Anti-Abortion Gospel
What Anti-Abortion Zealots Really Want
Is Abortion Murder? (A Rationalist's Take)
Reducing the Number of Abortions
About Bruce Gerencser
Bruce Gerencser, 60, lives in rural Northwest Ohio with his wife of 39 years. He and his wife have six grown children and eleven grandchildren. Bruce pastored Evangelical churches for twenty-five years in Ohio, Texas, and Michigan. Bruce left the ministry in 2005, and in 2008 he left Christianity. Bruce is now a humanist and an atheist. For more information about Bruce, please read the About page.
Bruce is a local photography business owner, operating Defiance County Photo out of his home. If you live in Northwest Ohio and would like to hire Bruce, please email him.
Thank you for reading this post. Please share your thoughts in the comment section. If you are a first-time commenter, please read the commenting policy before wowing readers with your words. All first-time comments are moderated. If you would like to contact Bruce directly, please use the contact form to do so.
Donations are always appreciated. Donations on a monthly basis can be made through Patreon. One-time donations can be made through PayPal.