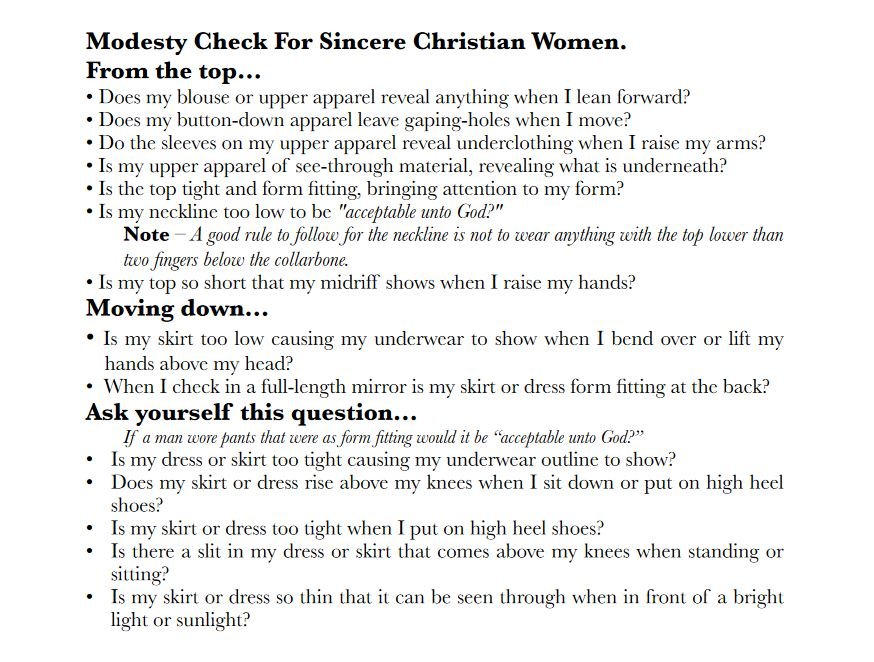 A Guest Post by ObstacleChick
I posit that if one asked 10 different people to define "modesty," there would be 10 different answers. Context is important, as "modesty" can refer to one's demeanor or to one's mode of dress. Dictionary.com defines "modesty" as follows:
the quality of being modest; freedom from vanity, boastfulness, etc. regard for decency of behavior, speech, dress, etc. simplicity; moderation.
While I know better than to engage people in controversial topics on social media, sometimes I still give in and make comments. My brother (and his wife) and I get along really well in person, as long as we do not discuss religion or politics. We enjoy watching movies, having sushi or Mexican food, or having a glass of wine together. But I avoid the topics of religion or politics with them like the plague. Why? Because we hold diametrically opposite views on those subjects. My brother and sister-in-law are more than a decade younger than I am. My brother and I were not raised in the same household – I lived with my grandparents and great-grandmother, and a few years with my mom living there too, and I would visit on weekends at my mom and step-dad's house. I was sent to fundamentalist Christian school from 5th-12th grades, then studied at secular university and graduate school. A couple of years after college, I moved to suburban New Jersey about 20 minutes from Manhattan.
My brother, on the other hand, grew up in my mom and step-dad's house. He went to public school after being expelled in 3rd grade from the fundamentalist Christian school from which I had graduated (yes, expelled in 3rd grade – he was considered too stubborn to be allowed to remain in the school). When he was in middle school, they moved from a suburban area about 20 minutes from Nashville to rural farmland about 45 minutes from Nashville, and he still lives in that area today. After graduation from high school, he never pursued university education and was married with a full-time job by the time he was 20 years old. My brother and his wife are evangelical Christians, though they haven't found a church with which they agree. He is staunchly pro-Trump, anti-abortion, anti-marriage equality, and a gun collector (though he is adamantly for gun safety, he is not in favor of restrictions). He baptized his sons in the bathtub when they were 6 and 7 years old after getting them to pray the "sinner's prayer."
He doesn't know that I am an agnostic atheist. He thinks I am "liberal" but he doesn't know the extent. I think he could handle my differences in political beliefs more than my differences in religious beliefs. Eventually, my family's lack of belief will come out because my daughter is moving to Nashville in the fall to go to college, and she has no qualms about expressing her non-religious, pro-feminist, left-leaning beliefs.
Recently my brother posted on social media this Matt Walsh piece titled The Four Terrible Things That Are Destroying Boys In Our Culture. In my opinion, Matt Walsh shows his misogynistic colors in his rant against feminism in modern culture. It is apparent that Matt's white cis-gendered male patriarchal superiority is being threatened by the machinations of liberal, evil feminists. Knowing I could not comment the extent of my feelings on my brother's post, I posted this:
"He goes to school and his female classmates are dressed like strippers. He goes anywhere and that's how the women are dressed." Where does this guy live that all girls and women are dressed like strippers? I apparently need to up my game and improve my stripper attire!
My brother responded:
I would not have used the word strippers. It is a harsh word. However, I completely understand the point he was trying to make. We are a nation where words like chastity, modesty, and holiness have become bad words while the opposite actions and attitudes are celebrated. We have truly become a nation that has forgotten how to blush. The prophet Jeremiah warned ancient Israel about the same thing in the book of Jeremiah.
I couldn't take it at that point, so I responded:
Modesty is a function of perception. Hasidic Jews and fundamentalist Muslims look at me in my workplace attire – typically pants and a shirt, never low cut – and they consider that immodest. I have had this conversation with many people, but as a woman I find that there is no universal standard for "modesty." People sometimes say, it is common sense. No, it isn't. You have fundamentalist religionists who have their own standards of modesty (typically those modesty standards focus on covering up women as much as possible, but Hasidic men. for example. have to wear beards and black pants and button-down shirts at all times). I refuse to be held to other groups' standards of modesty. Fabricated female modesty rules also send messages about men and women and taking responsibility for one's actions that I don't want to get into on a social media post but I would be happy to discuss my opinion in person.
A person's mode of attire does send certain messages. If I am dressed in sweatpants and a t-shirt, I am signaling that I am in a casual mode. If I am dressed in a cocktail dress and heels, I am signaling that I am going somewhere special, perhaps to a wedding or a gala. Wearing shorts, a tank top, and running shoes signals that I am going out for a run on a warm day. Sporting a Yankees shirt signals that I am possibly going to a Yankees game, or at least I am supporting the team for that day. Donning a heavy coat, gloves, boots, and a hat signals that it is cold outside, and that I am attempting to stay warm. If I see someone wearing a US Postal Service uniform, I will assume that the person works for the US Postal Service. Someone wearing a military uniform is probably active military personnel. These are all situations in which clothing signals a message.
However, what if I am wearing a mid-thigh length sleeveless black dress and high heels? Would someone assume that I am dressed to go to a fancy social function, or would they assume that I am a prostitute? That depends on one's perspective. The fundamentalist religious person who believes that the human body should be covered up as much as possible will automatically assume that I do not share their values in terms of "modesty." I am not one of their membership. I am an "other." Am I lacking in morals? Am I indeed a prostitute, or am I just lacking in "modesty"? Do they consider my bare arm and bare calf to be literally offensive to them, or do they just take it as a signal that I do not adhere to their rules? Does the fact that I am dressed differently mean that I should be treated differently? Should they avoid me, or should they try to proselytize to me in order to inform me of the error of my ways? Is my uncovered status a signal that they have the right to touch me without permission? At what point would adding clothing to my person make me more acceptable in their eyes?
Some guy driving a delivery van cat-called at me while I was out walking the other day. Nothing I was wearing was tight or revealing in any way. I was wearing long pants, a jacket, and a button-down shirt. Apparently, that's "hot" in certain circles. It's further proof that no matter what you're wearing, someone is going to interpret it in whatever way they wish. Obviously, if you are working in a job or attending a school that has a dress code, you must comply with that dress code during working/school hours, but otherwise, wear what makes you comfortable and move on.