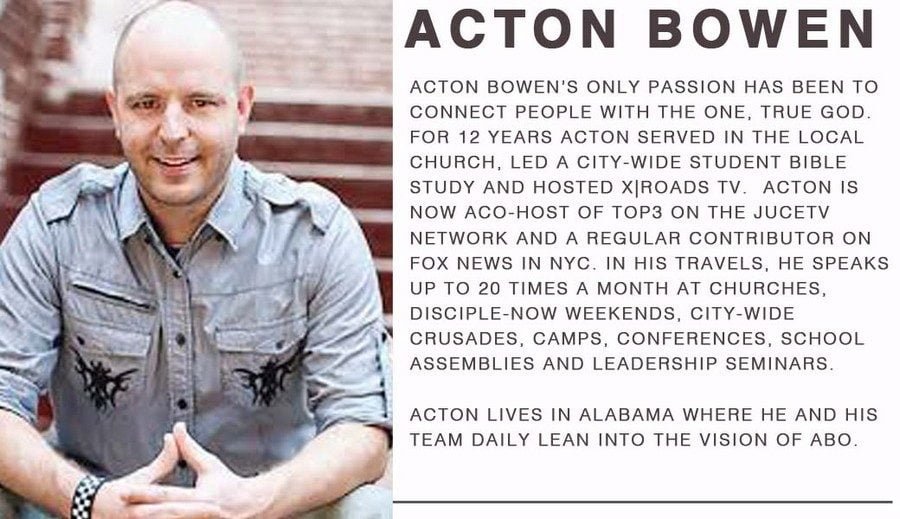 The Black Collar Crime Series relies on public news stories and publicly available information for its content. If any incorrect information is found, please contact Bruce Gerencser. Nothing in this post should be construed as an accusation of guilt. Those accused of crimes are innocent until proven guilty.
(Please read Black Collar Crime: Evangelical Evangelist Acton Bowen Arrested on Child Sex Charges,  Black Collar Crime: Why Did Young Boys Need to be Protected from Evangelist Acton Bowen? Black Collar Crime: Evangelist Acton Bowen Accused of Additional Sex Crimes and Black Collar Crime: District Attorney Says Evangelist Acton Bowen is a 'Danger to Every Child in This Community' for further information about Acton Bowen.)
Acton Bowen, an Evangelical evangelist, stands accused of committing sex crimes in Florida. ABC 33/40 reports:
 The list of sexual abuse accusations against evangelist Acton Bowen has crossed state lines. Bowen was charged with lewd or lascivious battery in Bay County, Florida according to the local sheriff's office.

The charge was filed on May 23rd. According to Florida state law, a person commits lewd or lascivious battery by engaging in sexual activity with a person 12 years of age or older but less than 16 years of age or encouraging, forcing, or enticing any person less than 16 years of age to engage in sexual activity.

….
I suspect that this will not be the last time one of Bowen's victims comes forward alleging sexual misconduct.
Bowen remains jailed in Florida, unable to post a $1.06 million bond.