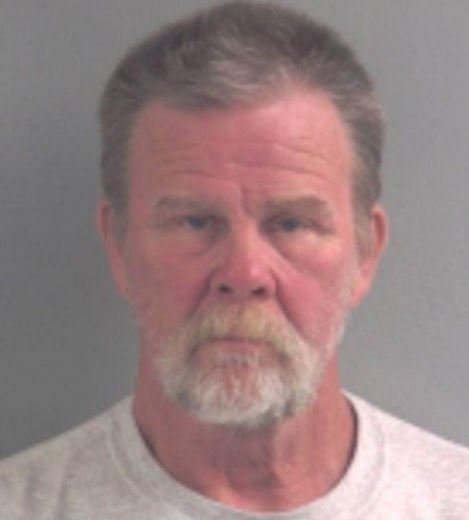 The Black Collar Crime Series relies on public news stories and publicly available information for its content. If any incorrect information is found, please contact Bruce Gerencser. Nothing in this post should be construed as an accusation of guilt. Those accused of crimes are innocent until proven guilty.
Garry Mitchell is the pastor of Focus Church in Lewisburg, Kentucky. In April, a grand jury indicted associate pastor and bus driver Clarence "Willie" White  on charges of sexual assault. The victims were children White picked up for church with Focus Church's van.  Since then, three more alleged victims have come forward. You would think having six allegations leveled against a congregant would cause a church and its pastor to distance themselves from the alleged abuser, especially considering that he previously was convicted in 1980 of third-degree rape. Not Mitchell and the folks at Focus Church. They are resolutely standing behind their man.
Mitchell appeared as a character witness for White, asking that his bond be reduced from a $10,000 cash bond to a surety bond which required no outlay of cash. The judge rejected the bail reduction request.
When Logan Circuit Judge Tyler Gill asked Mitchell:
You understand exactly what the allegations are and you're confident to put him right back into that same position and drive the bus and be associate pastor pastoring 15- and 16-year-old girls? You're okay with that?
Mitchell replied,"Yes, we have no issue with him."
When asked whether congregants felt safe around White, Mitchell replied:
Yes, and the women of our church. He has proven to be a Godly man or I wouldn't be standing here saying these things and I wouldn't be putting my reputation on the line.
When asked about White's previous conviction on rape, Mitchell replied, "It wasn't until I was here in court the last time and heard the brevity of the conviction 40 years ago."
When asked about whether the victims would be allowed to return to church, Mitchell told the judge that one of the victims had tried to return to church several times, and he asked her to stay away due to the allegations she made against White.  Mitchell stated, "We asked them until things were worked out not to be involved with us."
The News-Democrat & Leader reports:
White's wife bailed him out of the Logan County Detention Center May 18.

Soon after the ND&L spoke with the three additional alleged victims found on Facebook, the newspaper contacted Mitchell via email to inform him of the new information and to ask if he and the church had changed their stance on White, which Mitchell detailed in court.

Mitchell released a statement to the ND&L on behalf of the church's leadership team and also posted that statement on the Focus Church Facebook page.

Mitchell asked the ND&L to publish the statement in its entirety and "not to change it in any way that includes editing and or deletions without an agreement between (the NDL) and our church leadership first. If you agree, then you will publish this written statement separate from any other articles relating to this issue."

The ND&L explained to White through email there were a few claims within the official statement that were not mentioned at the bond hearing and appeared to be contradictory. One included the church asking White to step down from any contact with the children and youth ministry, removing him from any leadership role he had with the church children and youth six months before the case came out to the public. This was never brought up at the hearing and questioning by the judge.

Mitchell said the church leadership team had decided they no longer wished for the statement to be printed by the ND&L and wished to listen to the scripture "stand still and see the salvation of the Lord."

….
Focus Church released the following statement. As you will see, their cover our ass press release contradicts what was said in court:
"Let me begin by saying we made a mistake that you would understand our intentions as a community of faith at Focus Church concerning our stand with Clarence White. We need your help to see and understand our decision to support someone accused of such a terrible thing.

"At the time Lead Pastor Garry appeared in court on behalf of Clarence White. Our ministry had already been dealing with the accusations close to six months. During that period of time, we had implemented safeguards for those who attended each week. We ask Clarence to step down from any contact with the children and youth ministry, removing him from any leadership role he had with our children and youth. After the accusations he was removed from all activities related to children and youth including if he was to be a substitute van driver with his wife.

"Our next course of action was to immediately follow up by asking parents, children and youth if there was any behavior that was a threat to their well being. The answer we got was an absolute 'no.' Even though we got that answer we continued to monitor the activity of our children and youth ministry.

"Our church defines itself as 'a church without walls.' It is not our nature to ban anyone who desires to attend our services and ministries, nor have we ever placed a banned on anyone. Our desire is to offer Jesus, His salvation, healing and deliverance. We offer an open door policy and we open our hearts to anyone who seeks Jesus and a new life in God.

"Lets make this clear, we did NOT use any money given in our church for ministries to be use to bail anyone out of jail including Clarence White. We understand the true purpose of tithes and offerings they are intended for the building the Kingdom of God.

"Since Clarence posted bail FOCUS church leadership, Clarence and his lawyer have agreed that he would not return to FOCUS church, or any activity or event until the matter of the accusations would be settled once and for all.

"Our decision as a church to support Clarence White was decided on the basis that no proven evidence had been given to justify the accusations. These accusations had not been proven at the time of Pastor Garry's courtroom appearance. Believing everyone should be treated without judgement we stand with him until proven guilty. If he is proven guilty, then we fully expect judgement and accountability. But like anyone else we will be redemptive and offer forgiveness of God in Jesus name to any person."
Last month, the Kentucky New Era reported:
A Logan County Grand Jury indicted Willie White, 60, on April 27 for subjecting a 16-year old to sexual contact when he allegedly placed his hand in her back pocket and touched her buttocks for sexual gratification between November and December of 2017.

The jury also indicted White during the same time period for subjecting two more victims to sexual contact. One when he allegedly touched a 15-year-old's vagina for sexual gratification and another when he allegedly touched the buttocks of a 12-year-old for sexual gratification.
This is one of those stories that just blow me away. I hope, if and when White is convicted, that the victims sue Mitchell and Focus Church. Mitchell and his fellow church members are oblivious to what they should be doing, so perhaps losing everything will help them see the error of their ways. Of course, White could be innocent too, but I doubt it. The previous rape conviction and multiple current allegations tell me that White is a man that shouldn't be around children — ever.
When asked about reducing White's bail, the judge replied, "You've got all those people at the church, I'll let them post that bond. Go for it. I have some serious questions about judgment here, but it's not my judgment I'm worried about."
Yep. And people wonder why sex abuse victims are hesitant to come forward.
On September 13, 2018,  White pleaded guilty to four-counts of third-degree sexual abuse. He will serve no jail time.
The News-Democrat & Leader reported:
White was originally charged with five counts of first-degree sexual abuse but admitted to the amended charges as part of a plea agreement with acting Commonwealth Attorney Justin Crocker. White was the associate pastor of Focus Church in Lewisburg when he molested the girls.

Circuit Judge Tyler Gill questioned White as to what it was he did.

"When I was hugging the girls, I touched their butts for sexual gratification," White said.

White said there were two victims. In the original indictment, there were three victims, but Crocker said one had moved away and was no longer a part of the case.

Third-degree sexual abuse is a Class B misdemeanor.

As part of the plea agreement, White will be placed on the lifetime sexual offender registry. He also agreed to a 90-day sentence, which will be probated, he will have a two-year probation period and is also barred from having any contact with the victims or their families.

Crocker said that the victims and their families were on board with the plea agreement.

"The families' main priorities was the lifetime registry," Crocker said.