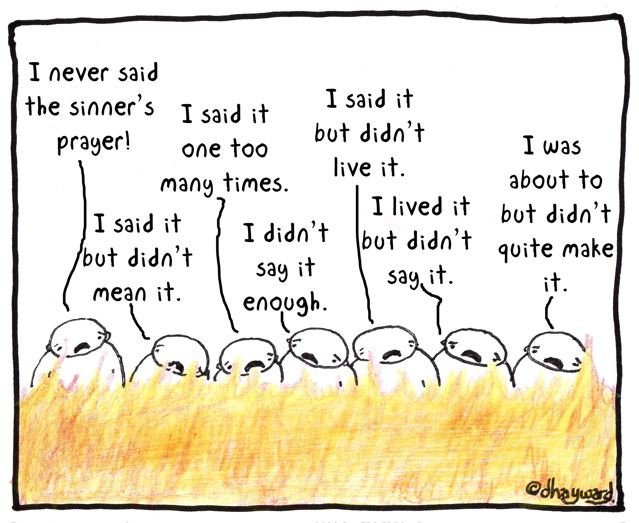 Guest post by ObstacleChick
The number one goal of Evangelical Christian churches is to save souls from eternal damnation in hell. Therefore, the general plan of salvation is taught to children from a very young age. Terms like "getting saved," "making a profession of faith," "getting your heart/life right with Jesus" are bandied about quite a bit, all with the intention of making sure children and teens publicly announce that they have accepted Jesus into their lives as their personal Lord and Savior. Children are taught that we are all sinners; that as sinners our punishment in the afterlife is eternity in hell — a place of torment and fire and demons; that God loved us so much that he sent his son Jesus to earth to die on a cross in our place — for our sins — and that he rose from the dead; that all we need to do to be saved from an eternity in hell is to pray to God/Jesus, confessing and repenting of our sins, and asking Jesus into our hearts. The "Sinner's Prayer" is the typical vehicle to salvation, and there are many versions. Here are a few basic ones listed below:
Bill Graham Version
Dear Lord Jesus, I know that I am a sinner, and I ask for Your forgiveness. I believe You died for my sins and rose from the dead. I turn from my sins and invite You to come into my heart and life. I want to trust and follow You as my Lord and Savior.
In Your Name. Amen.
CRU Version — Formerly Campus Crusade for Christ
Lord Jesus, I need You. Thank You for dying on the cross for my sins. I open the door of my life and receive You as my Savior and Lord. Thank You for forgiving my sins and giving me eternal life. Take control of the throne of my life. Make me the kind of person You want me to be.
The Sinner's Prayer for Children
Dear God,  I know that I am a sinner. I know that you sent Jesus to be my Savior, and that He died on the cross to take the punishment for my sins.  I know that Jesus rose from the dead and is coming back someday. Please forgive me of all of my sins, and come into my life and change me. Please guide me in my life and help me to follow you for the rest of my life. Thank you for saving me and taking me to heaven when I die.
In Jesus' Name, Amen.
Ministry-to-Children Sinner's Prayer
Jesus – I know that you made me and want me to obey you with all my heart. I know I have disobeyed and wanted to be my own boss. I have thought and done things against your directions. I am sorry. I know that you gave up his life to save me from these sins and make me your child again. I accept your promises and ask you to please save me now and forever.
Amen.
Children's Version from SBC Voices
Dear God, I know I'm a sinner. I know my sin deserves to be punished. I believe Christ died for me and rose from the grave. I trust Jesus alone as my Savior. Thank you for the forgiveness and everlasting life I now have.
In Jesus' name, amen.
Among Southern Baptists, that's all you need to do – once you're saved, you're always saved. You aren't always in good standing with the Man Upstairs, but you'll be safe from eternal hellfire and damnation.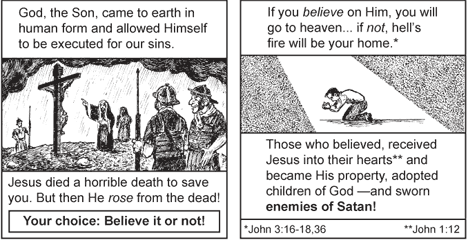 At some point, typically in childhood, people raised in Evangelical churches will pray the "Sinner's Prayer."  What follow is my list of Top 5 Reasons People Pray the Sinner's Prayer.
Fear of Hell
Who wants to spend eternity being tortured by fiery flames in a place where the "worm dieth not, and the fire is not quenched" (Mark 9:44)? Eternity is a long time, longer than most of our human brains can comprehend.
Pressure From Parents
Good Evangelical parents know that their number-one duty is to make sure their children are saved from eternal damnation in hell. Good parents CANNOT rest easy until they know that their child is safe from eternity in hell and that one day they will be reunited in the afterlife in heaven. My grandparents and my mom pestered me to death until I finally picked a day that I would go forward at the altar call and get it over and done with. (Note about myself: hell scared the hell out of me. But I do not like being told what to do, I like doing things in my own time and on my own terms, and if you pester me I will definitely not do whatever it is you pester me about. Also, at that age I did not like being the center of attention, and going forward to the altar in front of the entire church and having the whole congregation shake my hand was one of the least appealing things I could imagine doing.)
All Your Friends are Doing It/Emotional Appeal
If children have not made a public profession of faith in early childhood, they certainly will in adolescence or teenage years if their families consistently attend an Evangelical church. It isn't uncommon for groups of adolescents or teens to make their profession of faith together at the end of a church retreat. Church retreats are designed to be fun but are also very emotionally oriented, as the youth pastor will talk about getting right with Jesus, living your life for Jesus, making sure you are following God's will for your life early on so you don't get into trouble and make a ton of mistakes in life. Youth pastors harp on the evils and dangers of rock music, alcohol, taking drugs, dancing, hanging with the "wrong crowd," and having premarital sex.
Youth retreats would end each evening with an emotional altar call with many teenagers on their knees crying with the youth pastor and adult counselors chaperoning the retreat. It was common after a youth retreat for a long baptismal service to capture in baptism all those young, new converts for Jesus. The more teens who were baptized, the more successful the retreat.
Fear That You Didn't Do it Right Before
I must have said the sinner's prayer a dozen times during my teenage years, though I didn't go to the altar again. The sinner's prayer is so simple that sometimes I was afraid I didn't do it right prior, or that it didn't take, so just to be sure I would do it again just to reassure myself that I wouldn't spend eternity in hell.
A Desire to Fit In
In the church where I grew up, only members – that is, those who had been baptized in that particular church or who had moved their letter from an approved church – could participate in communion and in voting. I didn't care about voting, but I sure cared about being able to take communion while all my peers were taking communion – the last thing a teen wants is to have to pass the communion plate while his or her friends are able to partake in the grape juice and wafers (or broken Saltine crackers if the congregation couldn't afford the wafer tablets).
Does anyone notice how often feelings and emotions are manipulated with the salvation message? Fear is the biggest motivator – fear of hell primarily, fear of being separated from loved ones after death, fear of dying in the next three seconds and never getting a second chance. Without the fear of hell, I probably would have just gone down for an altar call, gotten baptized, and then I would have fit into the congregation. I don't think I would have actually prayed a sinner's prayer and meant it. Sure, I wanted to be a good person, but the fear of hell led me to pray the sinner's prayer in private over and over and over again. I knew I had to go down to the altar call once, because the Bible said that we must do so publicly in order to be saved. And why would I – what would have been the reward for praying such a prayer without fear of eternal damnation in hell?
What was your experience with "getting saved" and praying the "Sinner's Prayer"? Did you have any other reasons for praying the "Sinner's Prayer"? Please let us know with a comment!