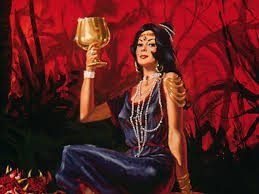 Not withstanding I have a few things against thee, because thou sufferest that woman Jezebel, which calleth herself a prophetess, to teach and to seduce my servants to commit fornication and to eat things sacrificed unto idols.And I gave her space to repent of her fornication: and she repented not. Behold I will cast her into a bed and them that commit adultery with her into great tribulation, except they repent of their deeds.And I will kill her children with death: and all the churches shall know that I am He which searcheth the reins and hearts: and I will give unto every one of you according to your works. (Revelation 2:20-23)
Jesus preached to the church in Revelation on the doctrine of Jezebel and I am doing the same. This false doctrine is prevalent in society and in the church today just before the Great Tribulation.
….
That woman Jezebel'- It may not have been her real name, but it fit her like a glove. Jezebel was a domineering, forceful, strong willed and self-willed woman. A masculine spirit in a woman. And Jezebels always marry hen-pecked wimpy men like Ahab.
The Jezebel Spirit is that wicked Satanic spirit that makes a woman rule over a man (I will not obey him). It's call the Feminist Movement today, but at the beginning of this century, they were called suffragettes. It's the spirit in women today that says, "I will not have a man rule over me- not in my home, not in the church, not on the job, and not in government."
In the U.S.A., it started four generations ago and now has produced its deadly fruit in society. A total breakdown of the family and women ruling in most homes and churches. It has been passed down from mother to daughter to granddaughter. It's a wicked, deadly anti-Christ spirit.
….
Jezebel named her daughter Athaliah, which is a man's name in the bible. First she usurped a man's name, and many women are usurping men's first names today and refusing to take their husband's last name in marriage. She says, "No man will name me," or she gets a hyphenated name.
The Jezebel spirit is one of the main reasons for the high divorce rate and mothers not wanting their children. The Jezebel spirit wants you out of the home. Christian wives are to be "keepers at home" (Titus 2:5) and not bring their children to day care moms to raise. The Jezebel Spirit makes effeminate and homosexual sons and masculine daughters, teaching them to wear the pants in the home. (Mother rules- Matriarch rules).
….
The scriptures teach that a woman is much more susceptible to error in spiritual things than a man. She is more easily deceived for this reason she cannot teach in church or hold leadership positions. The devil deceived Eve, "and Adam was not deceived, but the woman being deceived was in the transgression." (II Tim.2:14)
Third, the church was wrong in practice. They committed fornication. They let her have authority and she led them astray with false doctrine and they sinned by following her teaching. And men flock to churches today to sit under a woman pastor. They have despised their birthright and God-given authority to rule. They are raised by mothers who rule the home and they see nothing wrong with women ruling in the church. They have the Ahab spirit of a wimp.
She taught fornication (both physical and spiritual fornication) – both idolatry and adultery. Many Jezebels are teaching by their example of dressing like a whore with immodest apparel today. Jezebel was a whore. She taught it and she looked like it. Fornication is also taught in churches today- under the deceptive idea of sex education. Showing these ungodly movies and literature in the church.
Women who are living in sin, shacking up, are allowed to become members of the churches today and even teach Sunday School. Now even lesbians are in our churches teaching that form of ungodly fornication. Church leaders are marching on the streets with the Sodomites to our great shame. Beware of the Jezebel Spirit.
….
Jezebels use terms like male chauvinist. She probably wears short hair and dresses, either very sexy or very masculine. She likes to work outside the home and especially be the boss. She doesn't like her kitchen or taking care of her children. She's a career woman. She's the boss in the home and the speaker of the house. She talks and he's silent and she always gets the last word.
This spirit operates through women who desire to control or dominate men. This spirit is behind the woman who will publicly humiliate her husband with her tongue in order to have the control over him. (A daughter of Sarah has a meek and quiet spirit.) And she will use sex to control him also. If women don't war against this spirit today, they will be used for destruction by Satan.
We live in a society where there is hatred for male authority. The Jezebel spirit is anti-father and anti-God the Father also. They are changing the Bible to mother god and goddess worship. Jezebel says, "I must control- I will be the boss." Her heart submits to no man. I will have no man rule over me. I will support myself.
The spirit of Jezebel is controlling most churches today. When the men want to take control, there is a resisting, there is rebellion, and there is out and out refusal to submit by these Jezebels. Or there is manipulation that goes on in order to gain control. Like tears (her favorite way to get her way) or getting depressed. She will even refuse to go to church with her husband or she's always sick or even will threaten to take the children and leave him. She must control at all costs.
— Mike Storti, The Bible Watchman, Jezebel Spirit
Lori Alexander approves of Storti's beliefs. She posted Jezebel Spirit to The Transformed Wife website.