Yet another visit to the doctor's office, visit number eleven since November — primary care doctor, dermatologist, cardiologist, podiatrist, and today a visit to my orthopedic doctor. For the past six months or so, I have been having a problem with my right hip. I would get a dull ache in the hip and at times it would give out on me, sending me banging from wall to wall, much like a steel ball in a pinball machine. Over the past two weeks, the pain in my hip has gotten significantly worse, and on occasion I have been unable to walk without help or a cane. I thought, what the hell is going on now? Just what I need, another fucking problem to deal with!
My orthopedic doctor — a physician's assistant — is a straight-shooting, no bullshit practitioner. He tells me the truth, and doesn't promise medical miracles. I have osteoarthritis from my neck to my feet and in many joints in between. My doctor told me I have a wildfire spreading through my body. Surgery "might" help for some of your joint problems, he told me last time, but we could also make your problems worse and leave you in more pain. At a previous visit, he asked me how my right shoulder was. I have a labrum tear. I told him, it hurts, but I get by. He replied, see, here we are two years later and you are still getting by. If we had cut on you, things might have turned out worse for you. I appreciate his honesty.
The good news from today's visit is that my hip is fine. The bad news is that the ever-narrowing disc spaces in my lower back are affecting the nerves that control my hip's movement. Pressure on these nerves is causing my hip to give way. This is why when I sit for a long time, I can hardly stand straight and the hip doesn't work as it should. Once I stand for a while and get straightened up posture-wise, the pressure on the nerves is decompressed and everything works as intended.
There are days when I just want to put an end to it all. People who suffer with chronic illnesses and endure unrelenting pain often have thoughts about suicide. Well-meaning people tell me that they are praying for me, or that I need to put mind over matter. I love it when someone tells me, you know, there are people who are worse off than you. And this helps how, exactly? There will always be people who are sicker than I am or have more pain than I do. And there are countless people who are in good health, and their biggest pain is a zit on the end of their nose or a backache from too much headboard banging. Each of us lives in a contained world unto ourselves. My health problems and my pain are mine alone to bear. Just think of Jesus' suffering, Bruce. He did it all for you, Christians tell me. What, a day or so of pain, a long weekend, and then a pain-free body? Jesus had it easy I would trade places with him in a heartbeat. Let Jesus walk in my shoes for a while — not that he can, he's dead. Conjuring up an imaginary suffering deity as a way to "encourage" those who are in real pain is not any more helpful than that same God spitting on the dirt making some mud, and using it to restore a blind man's sight. Forget the theatrics. If Jesus is really the Great Physician, what's he been up to for the past two thousand years? I know a lot of people who sure could use his help. His inattention makes me wonder if he is actually dead, and what's really going on here is that the Christian church has been playing a con-game for the past twenty centuries. Just keep praying. Jesus will heal you — some day.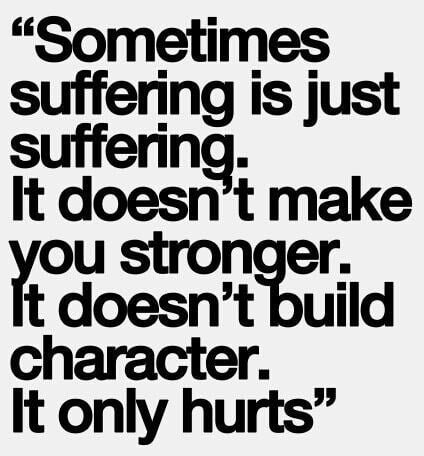 People with chronic pain have often suffered for years. Their lives are an endless repeating of the movie Groundhog Day. I endure the day, collapse in bed, spending several hours getting to sleep, only to start the process all over again the next day. And pain is just one of the plethora of issues I must deal with every day. I am not complaining. I accept life as it is, doing what I can to lessen my suffering. I don't expect my doctors to work miracles, nor do I anticipate waking up one day and finding myself miraculously healed. That's not how things work in the real world. Thousands and thousands of prayers have been offered on my behalf, and I spent the better part of twenty years daily asking God for healing. As the mythical Christian God is wont to do, he remained silent.
When I write about suicide, people immediately worry that I am about to pull a David Foster Wallace. Not today, my friend, not today. All I am saying here is that chronic illness and pain drive people to ponder ending their lives. In fact, it is totally normal to have such thoughts. It's not that I want to die — I don't. I want to live. I want to watch more sunsets over Lake Michigan with the love of my life. I want to eat Polly's food and make love to her. I want to hear Bethany laugh while watching a stupid movie. I want to go to stock car races and baseball games with my sons. I want share Thanksgiving and Christmas with my family. I want to watch my grandchildren come of age, go off to college, and perhaps have families of their own. I want to watch the trees, bushes, and plants Polly and I have planted grow to maturity, covering our yard with summer beauty and shade. There are so many things I want to do, yet when my body is wracked with pain, all I can think is this: PLEASE MAKE IT STOP!
You see, that's what healthy people don't understand. It's not that people such as myself want to die, we just want the pain to stop. Oh, how I yearn for a day  — just one day — of waking up in the morning pain-free. Some of you reading this post know what I am talking about. You understand longing for a day without pain, yet you know such hope doth fantasies make. For the present, we live between the one certain cure — death — and a life of finding meaning and purpose. For me personally, writing, photography, family, and hoping the Cincinnati Reds will, one more time in my lifetime, win the World Series, are those things which give me meaning and purpose. When I devote my energies to those things. thoughts of suicide diminish. That said, suicidal thoughts will never, ever go away, and I have, through anguish and tears, thought on more than one occasion this year, ENOUGH! But today I say to myself, LIVE. Who knows what tomorrow may bring. For now, I focus on the things that matter, hoping they continue to provide reasons for living.
I know the goodness in you will urge you to try to encourage me in the comment section, a text, or an email. There's no need, friends. This is just me talking out loud and being brutally honest about life. I may die today, but it will not be by my own hands. My sister has a project she needs her wise, aged, technologically savvy smart-ass of a brother to take care of (she reads my blog, so I just had to say that).  I can't leave her in a lurch. And besides, NFL football starts soon. How about them Bengals?
About Bruce Gerencser
Bruce Gerencser, 61, lives in rural Northwest Ohio with his wife of 40 years. He and his wife have six grown children and twelve grandchildren. Bruce pastored Evangelical churches for twenty-five years in Ohio, Texas, and Michigan. Bruce left the ministry in 2005, and in 2008 he left Christianity. Bruce is now a humanist and an atheist. For more information about Bruce, please read the About page.
Bruce is a local photography business owner, operating Defiance County Photo out of his home. If you live in Northwest Ohio and would like to hire Bruce, please email him.
Thank you for reading this post. Please share your thoughts in the comment section. If you are a first-time commenter, please read the commenting policy before wowing readers with your words. All first-time comments are moderated. If you would like to contact Bruce directly, please use the contact form to do so.
Donations are always appreciated. Donations on a monthly basis can be made through Patreon. One-time donations can be made through PayPal.