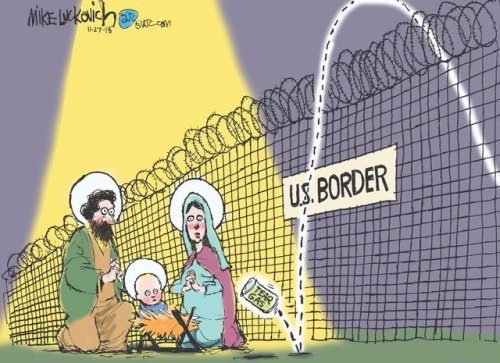 The Bible has some very harsh things to say about those who put children in harm's way. For those who are attempting to illegally enter the United States sovereign territory, in disrespect and contempt for the rule of law, any harm that comes to their children is the consequence of their own sin and lawlessness. Likewise, using children for the purpose of propaganda – knowing they are in harm's way – is one of the most despicable abuses of children imaginable.
Simply put, those attempting to break into the United States with their children are child-abusers. Their children are in far more jeopardy because of the ineptitude of their parents than they are from whatever danger lies behind in Central America.
Although progressive professed Christians told us all along that the migrant caravan wasn't attempting to illegally cross into the United States, but would just politely knock on the door to seek asylum, the horde attempted to forcefully invade the border wall at the San Ysidro border crossing. Some of the criminals threw projectiles at U.S. Border and Customs agents, and given the invasion and violence taking place, American security personnel tossed tear gas into the crowd of invaders to dispel the intruders. They would have been justified to fire bullets.
….
The real culprits in this sad account of the Soros-funded migrant horde are parents who voluntarily use their children as human shields and propaganda narratives, knowing that they are in harm's way. Shame on those parents.
Here's a question: What part of "If you forcefully enter the country we will shoot you" do they not understand? That's exactly what has been very clearly articulated and these parents have been warned by the Trump administration. They chose to take their kids where President Trump promised them authorities had the right to open fire. That's bad parenting, to put it mildly.
Asylum was never intended for people trying to escape poverty. And when the mass numbers of Undocumented Democrats become residents, they'll remain impoverished under their enslavement to the U.S. welfare state. Asylum was designed for political refugees, not people trying to escape ordinary life issues.
Furthermore, these parents have been bribed with cash to put their kids in harm's way, in hopes by propagandists that the presence of children will deter American authorities from protecting her borders. This tactic is no different than the Palestinian Liberation Organization or other terrorist organizations hiding terrorists at schools and orphanages so Israel doesn't rightly bomb them to smithereens. When kids occasionally die in a war zone, it's ultimately 100% the fault of the people who voluntarily brought them into a war zone.
Some may look at U.S. Border Agents or President Trump and say, "How dare you gas kids, you monster?!" Instead, they should look at the parents and say, "Wow. You are really, really bad parents."
— Pulpit & Pen, Why the Migrant Caravan Children Have Terrible Parents, November 27, 2018