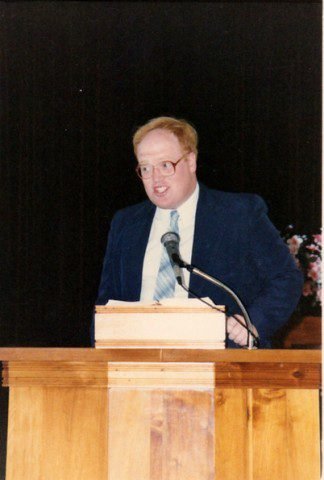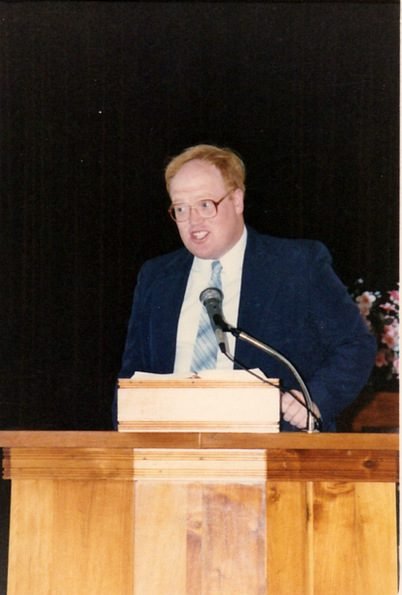 From 1983 to 1994, I pastored Somerset Baptist Church in Mount Perry, Ohio. It was here that I learned the ins and outs of the ministry. From 1986 to 1988, the church grew rapidly, and was, attendance-wise, the largest non-Catholic church in Perry County. Somerset Baptist was a busy beehive of activity. I preached a minimum of three times a week, taught Sunday School, preached at the nursing home, and spent hours each week counseling congregants and evangelizing the lost. The church operated four bus routes, covering upwards of thirty miles one way in every direction. Throw in youth activities, revivals, special meetings, and events, and, well, virtually every day of the week had some sort of church activity going on.
Somerset Baptist was the perfect place for someone such as myself; a type-A workaholic who thoroughly enjoyed the non-stop busyness of the ministry. It was not uncommon for me to work sixty-plus hours a week, taking one vacation in eleven years. Even when I had to work outside of the church, I still pastored full-time, believing the church deserved to have all of me. Of course, I worked myself right into health problems, some of which are with me to this day. If I had to do it all over again, I certainly would have done things differently — or so I tell myself, anyway.
For five or so years, I would once a week play basketball at Somerset Elementary School with a group of men who had no association with the church. One man's teen son rode the bus to our church, and through this connection I joined these men for a weekly game of hoops. I found that this game was a respite from Fundamentalist Christianity and the stress of the ministry. These men were not Christian in the least. Some of them were Catholics, but as is the case with many Catholics, their religion was in name only. Here I was, a Fundamentalist Baptist preacher in the midst of ten or so unwashed, uncircumcised Philistines, yet they welcomed me into their group, and every week I looked forward to the two hours we played basketball together.
The first week, the men were worried about whether their swearing would "offend" me. I told them, not in the least. You are not going to say anything I haven't heard before. And so we played, week after week, year after year. Men would come and go, but the games never failed to provide me a moment in time when all I had to concern myself with was my defense and making shots. Physically, I would sweat off five to ten pounds in the two hours we played. Afterward, I would enjoy drinking a sixteen-ounce ice-cold glass bottle of Pepsi; sometimes even two. I still miss the days of popping the cap off a bottle of Pepsi using the car-door latch and guzzling it down. Good times . . .
I now see that this weekly game was a sanctuary I carved out for myself. No preaching, no evangelizing, no inviting anyone to church. Just testosterone and basketball. Many of these men were underground coal miners; physically strong brutes. Our games were quite physical. Each player called his own fouls, but they were rarely called, adhering to the no blood-no foul rule.
Five years into playing games, several of the men moved away or were divorced. This put an end to our weekly event. Thirty years later, I still have fond memories of our games; of being accepted as a man without any religious expectations. I will always be grateful for these men seeing beyond my Christian Fundamentalism and viewing me as a man, as their equal. All that mattered to them was whether I could play the game. There were other "games" I would play the rest of the week, but on basketball nights, all that mattered was the court, the players, and the score.
About Bruce Gerencser
Bruce Gerencser, 61, lives in rural Northwest Ohio with his wife of 40 years. He and his wife have six grown children and twelve grandchildren. Bruce pastored Evangelical churches for twenty-five years in Ohio, Texas, and Michigan. Bruce left the ministry in 2005, and in 2008 he left Christianity. Bruce is now a humanist and an atheist. For more information about Bruce, please read the About page.
Bruce is a local photography business owner, operating Defiance County Photo out of his home. If you live in Northwest Ohio and would like to hire Bruce, please email him.
Thank you for reading this post. Please share your thoughts in the comment section. If you are a first-time commenter, please read the commenting policy before wowing readers with your words. All first-time comments are moderated. If you would like to contact Bruce directly, please use the contact form to do so.
Donations are always appreciated. Donations on a monthly basis can be made through Patreon. One-time donations can be made through PayPal.