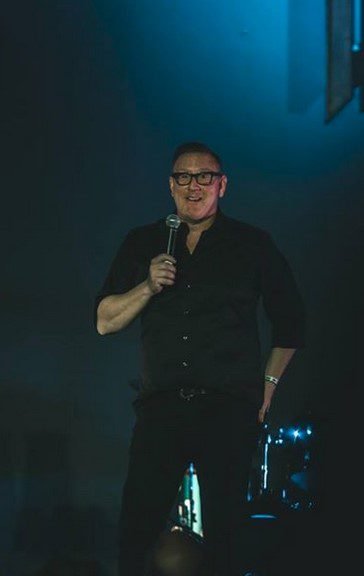 Last July, Dean Curry, pastor of Life Center Assembly of God in Tacoma, Washington, was fired over sexual misconduct allegations. You can read my posts on Curry's firing here, here, and here. After sixth months on the disgraced pastors shelf, Curry has resurrected himself and started a new church in Tacoma, Washington. Called OURCHURCH, Curry's new gig purports to be an inclusive congregation:
CHURCH. It's a word with some baggage. Almost always defined by or linked with a term Jesus never used: "religion." OURCHURCH isn't about religion. We're about Jesus. And Jesus is about truth, love, grace, peace, and life to the full. For everyone.

OUR: belonging to or connected with us; the possessive form of we

By definition, OUR is inclusive. You, me, us, we. OURCHURCH is simply a community of people learning to love Jesus and love people well together. Sound like something you'd like to be part of? Welcome to OUR.
I wonder if "inclusive" means accepting LGBTQ as they are and admitting them into the membership? I doubt. OUR CHURCH's doctrinal statement is quite Evangelical, so I suspect that Curry will continue to preach against homosexuality, premarital sex, and same-sex marriage. The church's doctrinal statement doesn't mention Hell, though I suspect, again, Curry believes such a place exists and all non-Christians will end up there after they die.
Curry in an expert at hiding his real beliefs behind cutesy, evasive words, but make no mistake about it, Dean Curry is a card-Carrying Evangelical; an Evangelical pastor with sexual misconduct allegations in his past. Not that that has ever stopped a disgraced Evangelical preacher from starting a new church. You see, men such as Dean Curry (and Bruce Gerencser) are addicted to the ministry. They love the power, attention, and adulation. The ministry gives them meaning, purpose, and direction. The sum of their life is the ministry. It is for these reasons, and others, disgraced preachers rarely leave the ministry altogether. Once a preacher, always a preacher, the thinking goes. And if men such as Curry believe God has "called" them, they even have Biblical justification for their continuation in the ministry despite their crimes and/or misconduct:
For the gifts and calling of God are without repentance. (Romans 11:29)
I have no doubt Curry believes he is "called" by Jesus to start OURCHURCH and be its senior pastor. When someone believes God talks to them personally, there's little anyone can do to change their minds. It will be interesting to see how many people join with Curry at his new gig. Something tells me, he will draw more than a few people from his former church; people who believe the accusations against Curry are false or they believe he is sufficiently repentant for his past ill behavior.
The current leaders of the church are as follows: Dean Curry, Senior Pastor, Brandon Perritte, Lead Pastor, Melanie Grassi Wood, Executive Pastor, and Tait Stocking, Pastor to Kids and Families
OURCHURCH's Facebook page.