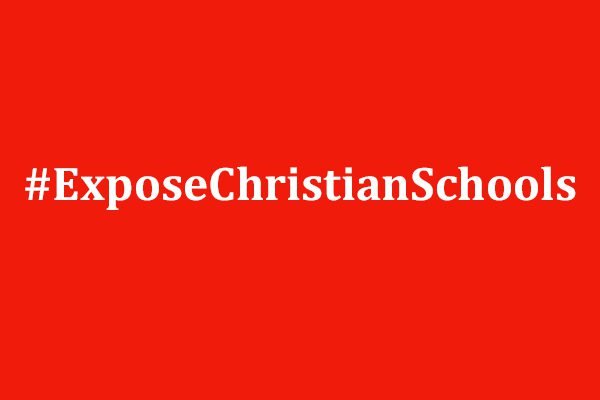 I thought I would kick this back up to the front page in the hope that some of you would see it and agree write a guest post about your Christian School experiences.. Please contact me if you are willing to do so.
Chris Stroop, an ex-evangelical, recently launched the #ExposeChristianSchools hashtag on Twitter in response to "Vice President Mike Pence and conservative commentators like David French lambasting liberals over legitimate criticism of Second Lady Karen Pence for choosing to teach art at Immanuel Christian School in Springfield, Virginia—a K-8 school that explicitly discriminates against members of the LGBTQ community." Needless to say, Stroop's effort has caused a tornado-level shit-storm. You can read Stoop's article on the fallout from #ExposeChristianSchools here.
ObstacleChick sent me a two-part guest post detailing her experiences attending an Evangelical Christian school. As I read her submission, I thought, maybe there are other readers who would like to share their Christian school experiences. If you would like to do so, please email me via the contact form. Anonymous submissions are fine, as are pseudonyms. I hope some of you will consider adding your voice to the discussion. I plan to write a series of posts detailing my experiences as a pastor who started an Evangelical Christian school. Several months ago, the local school superintendent and I were chit-chatting and he asked me, "so where did your children go to school?" I chuckled and responded, "well, that's a long, convoluted story I will have to share with you some day when we have time." I hope this series will provide a vehicle by which I can share my past experiences and readers can understand why I, today, oppose the anti-culture, anti-human beliefs and practices used by many, if not most, Evangelical Christian schools and home schoolers.
Stay tuned. I have lots to share, and I hope other readers of this blog will too. Your voice is important. I look forward to hearing from you.
About Bruce Gerencser
Bruce Gerencser, 61, lives in rural Northwest Ohio with his wife of 40 years. He and his wife have six grown children and twelve grandchildren. Bruce pastored Evangelical churches for twenty-five years in Ohio, Texas, and Michigan. Bruce left the ministry in 2005, and in 2008 he left Christianity. Bruce is now a humanist and an atheist. For more information about Bruce, please read the About page.
Bruce is a local photography business owner, operating Defiance County Photo out of his home. If you live in Northwest Ohio and would like to hire Bruce, please email him.
Thank you for reading this post. Please share your thoughts in the comment section. If you are a first-time commenter, please read the commenting policy before wowing readers with your words. All first-time comments are moderated. If you would like to contact Bruce directly, please use the contact form to do so.
Donations are always appreciated. Donations on a monthly basis can be made through Patreon. One-time donations can be made through PayPal.