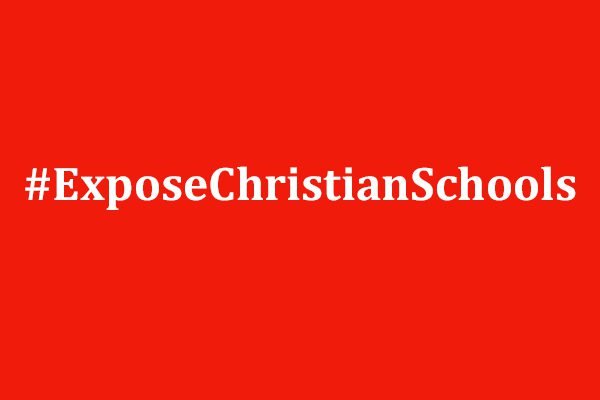 #ExposeChristianSchools, created by ex-evangelical Chris Stroop, has been trending on social media since Second Lady Karen Pence accepted a position at Immanuel Christian School in Springfield, Virginia. Readily available on the school's website is the agreement which parents of admitted students must sign. Included in the agreement is the paragraph as follows:
I understand the biblical role of Immanuel Christian School is to partner with families to encourage students to be imitators of Christ. This necessarily involves the school's understanding and belief regarding biblical morality and standards of conduct. I understand that the school reserves the right, within its sole discretion, to refuse admission to an applicant or to discontinue enrollment of a student if the atmosphere or conduct within a particular home, the activities of a parent or guardian, or the activities of the student are counter to, or are in opposition to, the biblical lifestyle the school teaches. This includes, but is not limited to, contumacious behavior, divisive conduct, and participating in, supporting, or condoning sexual immorality, homosexual activity, or bi-sexual activity, promoting such practices, or being unable to support the moral principles of the school. (Lev. 20:13 and Romans 1:27). I acknowledge the importance of a family culture based on biblical principles and embrace biblical family values such as a healthy marriage between one man and one woman. My role as spiritual mentor to my children will be taken seriously.
As a parent of a student, one must sign an agreement that one does not even condone homosexual or bisexual activity upon threat of expulsion. Additionally, the school teaches creation mythology instead of evolution, and of course, the school teaches typical Evangelical doctrines regarding sin and salvation through grace, along with "the rapture" eschatology.
I attended a fundamentalist Christian school much like this in grades 5-12 (1981-1988). My mom and grandparents heard a rumor that students living in my district would be bused to a mostly-minority community, so they acted fast to enroll me in the private (almost completely white) Christian school. Entering the school, all students were subject to a gender-based dress code and a comprehensive code of conduct. Girls were to "appear as God made them — feminine" (yes, I distinctly remember that description from the student handbook). There were strict guidelines for skirt length and sleeve length, and when we entered 6th grade the female teachers taught us how to go through physical contortions in front of a mirror to determine whether our clothing would properly cover us if we bent over or reached over our heads. Girls' dress code also allowed for pants/slacks/culottes to be worn to extracurricular activities such as ballgames (but we were never to wear jeans – somehow denim is fine in the form of skirt, dress, jumper, or jacket, but it transforms into pure evil if it is cut into the form of women's pants). Boys' dress code included strict guidelines for hair length including a diagram in the handbook and the requirement for a belt to be worn and shirt tucked in at all times. No one was allowed to wear anything with obscenities, racial slurs, or the American flag.
We had a strict code of conduct that allowed the school to suspend or expel students for activities outside the school. Students could be suspended or expelled for having sex, for smoking, for drinking alcohol, for profane language, and for playing rock music on school grounds. There was a year when anyone caught going to the roller-skating rink would be suspended. During my tenure at the school, three boys were expelled for attending a party that served alcohol. A girl overheard the boys talking about it and turned them in. Naturally, we were in a culture that encouraged us to report behavior of other students to the administrators. Additionally, two girls were expelled for getting pregnant. One would think that pro-lifers would commend the girls for giving birth to their babies, but for some reason the administration thought that the correct course of action was to expel the girls. I suppose they wanted to remove the quite-visible reminder that the girls had participated in sexual activity.
To be fair, I was never told that I could not excel academically or take a class because I was female. It was clear that females were not allowed to preach, but we had a female high school principal. However, there were other things that we learned about being female. First, of course, was the emphasis on the dress code as described previously. Girls were sent home from school if their skirts were too short, too tight, or if their shirt was "too revealing" in some way. When I was in 6th grade, our health and physical education teacher taught us that the "perfect female form" had the dimensions of equal measurements of bust and hips with waist measuring ten inches less. Homework required that we take our measurements, and the next day she asked girls to raise their hands who had the "perfect female form" measurements. Three girls raised their hands — we all knew they were liars, but I remember feeling like a loser because at age twelve I had nowhere near the "perfect female form." My entire life, I never had those measurements, though I have always been fit and active except while pregnant and postpartum. Those measurement parameters and their association with the "perfect female form" have stuck in my mind my entire life though.
Another traumatizing moment at school was in preparation for our senior class trip to Florida. Girls were allowed to bring one-piece swimwear on the trip, but we were only allowed to bring pieces approved by female faculty. I will never forget having to put on my two one-piece swimsuits while my female teachers examined them to determine if they were modest enough. They approved both suits, wrote down their descriptions which would be available to the female chaperones, and they told me I looked good. There are few incidents in my life that were as mortifying as this. I do not know what the requirements were for boys' swimwear.
Our school had a culture of pointing out misbehavior/sin. Among students, people would comment upon other students' failings "in a spirit of love" but really, we all knew it was just an opportunity for people to judge others and to highlight things they didn't like to other students. As teachers were the authorities and in charge of correcting misbehavior, they were allowed to point out misbehavior at any time. There was a lot of watching, observing, and judging going on. Faculty sometimes even tried to prevent dating situations from occurring. One of my friends was a PK — preacher's kid — whose father was friends with the headmaster of the school. The headmaster did not approve of my friend's boyfriend (also a student at the school), so he approached my friend's father who broke up the relationship.
Yet there was, of course, rampant hypocrisy. Teachers as part of their employment contract were not allowed to attend movie theaters. It was explained that observing students would not know whether a teacher was entering or exiting a rated-R movie, so in order to protect the testimony of the teacher, the teacher could not attend the movie theater. However, all the young teachers had memberships to the local video store, and they openly discussed movies with students. I never understood how it was acceptable for the teacher to rent movies from the video store, as by the same reasoning that students would not know whether a teacher was attending a rated-R movie, how could we know whether the teacher was renting a pornographic film? Additionally, I always found it odd that two female students married teachers from the school and wondered if any dating was going on while the girls were students.
Students were told that we received the best academic education available, but I learned when I went to a top ranked secular university that this was not necessarily the case. (One could argue that my education was good enough to gain admission to a top ranked secular school.) Of course, as a fundamentalist Christian school whose statement of beliefs included inerrant, inspired, and literalist view of the Bible, evolution was not taught in science courses. Our science textbooks were from Bob Jones University Press, and they included some odd rebuttals of evolution. One of the main rebuttals was that radiocarbon dating was contaminated and inaccurate on the magnitude of millions of degrees of error. The curriculum taught that the earth was only 6,000-10,000 years old and that God had created the earth with the appearance of age. Fossils existed due to upheavals that occurred during (the story of) Noah's Worldwide Flood. I remember the explanation that spontaneous generation of life does not occur because rotten meat that produced maggots and flies meant that flies laid eggs in the meat, not that the rotting meat generated flies; therefore, evolution is false. It's a fair analysis that flies lay eggs in rotting meat, but it has nothing to do with spontaneous generation of life – it just means that ignorant people who thought that rotting meat gave rise to maggots and flies had no understanding of the reproduction and gestation of flies. As for mathematics, our course path was a year behind the honors track at public or private secular schools, so those of us who were "advanced" students were a year behind other top students. History courses were taught from a Christian inclination, and I do not remember much mention of Dr. Martin Luther King, Jr. or of the civil rights movement. Our foreign language curriculum was not very rigorous, and I was required to repeat basic French in college in order to fulfill the foreign language requirement. What the school considered Advanced Placement courses were not the true Advanced Placement courses one finds in other schools in which an AP exam is administered for which one can earn college credit. On the positive side, our writing skills were impeccable as the school focused on constructing proper paragraphs and essays. My college literature professor pulled me aside after our first composition and asked me if I was sandbagging his course because my writing skills were beyond the level of other students in the class. I told him I was not offered another option and explained I had attended a private Christian school. I think he felt sorry for me as he allowed me to take a leadership role in the class.
Many of my teachers were kind, compassionate people who were dedicated to educating students. However, most newer, younger teachers did not last long at the school due to the low pay and the heavy course load — each middle school and high school teacher was required to teach a minimum of four individual classes, each with a separate course prep. The shortest tenure I recall is 5 weeks; a couple of teachers lasted through the first half of the year; the majority quit after the first year. The teachers who made it past the first two years generally stayed for a long time. Male teachers were required to prepare and preach sermons on chapel days (Tuesdays and Thursdays) in addition to teaching courses. A few teachers coached sports or drove school buses in order to make a little extra money, and all had summer jobs. The teachers chose life in a Christian school whereas most of the students did not — our parents and guardians chose for us.
Stay tuned for more about #ExposeChristianSchools.