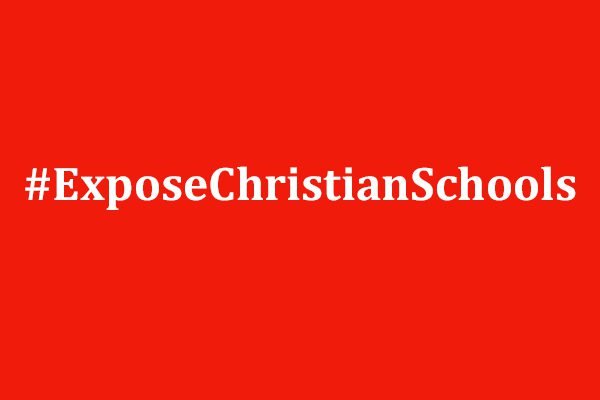 Guest post by by ObstacleChick
In the wake of Karen Pence's decision to accept a position at Immanuel Christian School in Springfield, Virginia, which requires parents of admitted students to sign a statement that they do not participate in or condone any sexual immorality, including homosexuality or bisexuality, ex-evangelical Chris Stroop created the social media hashtag #ExposeChristianSchools. Please see Part 1 for some of my experiences in a fundamentalist Christian school from 1981-1988.
After reading an article that Ms. Pence had accepted the position, I went to the school's website to find out more about the school before jumping to conclusions, and I found that it is very similar to the fundamentalist Christian school I attended in the 1980s. While I am not surprised that Ms. Pence would support such a school, and I believe she has a right to teach wherever she wishes, I also believe that she should not act surprised or offended when other people call her out on teaching at a school that promotes bigotry against LGBTQ people.
One of my friends from the fundamentalist Christian school came out as gay after he left the school. Fortunately, his parents were very supportive of him. He and I have stayed in touch through the years because I was one of the few former classmates who did not treat him like a pariah due to admonishments from writings of ancient, ignorant people.
I noticed my friend shared the story of Ms. Pence's acceptance of the job at Immanuel Christian School on his social media page with the comment, "I went to a private Christian school. I wish I had come out during my time there to shake things up." It made me sad to read his comment, knowing that he would have either been silenced or expelled. Knowing full well that my post would probably upset former teachers and classmates, I posted my own #ExposeChristianSchools story. I believe it is important that people from my post-evangelical life understand what these schools are and that they may actually know someone who attended one of those schools. Also, I felt it was important for people from my past and present to realize that people can change their views.
Several friends from my post-evangelical days thanked me for posting and sharing the story. None of them knew my background with regard to religious indoctrination. Many commenters were members of my husband's family or were former coworkers. I am sure they were shocked to find out I was raised that way, especially as I no longer hold the bigoted views espoused by these types of schools. Only one of my former classmates commented, and she thanked me for posting and admitted that she did not think about these things while growing up, is currently sending her children to this type of school, and struggles with the legalism.
My father-in-law, who attended Catholic schools through grade school and undergraduate university, was concerned that I was judging all Christian schools, so we had a telephone conversation and cleared things up. My brother and my former mathematics teacher, however, were not pleased with my assessment. I had already decided that if any of my teachers saw my post, I would not feel bad, as they must be held accountable for their complicity in such a system regardless of whether they were active perpetrators of abuse. While my former mathematics teacher is a nice lady who is in her early 90s, she still holds unapologetically to the abusive fundamentalist evangelical beliefs that I wish to expose. I thanked her for her response, but she did not apologize for being part of the system and I did not offer absolution.
My brother, about whom I have written before, stated unequivocally that he cannot understand how we were brought up in the same system yet have such completely divergent world views. He and my former mathematics teacher then proceeded to orgasm over each other's conversion stories and how Jesus has saved them from their depravity. I let them have their little orgasmic bonding on my post, hoping that previous commenters would read what sounds to outsiders like ridiculous ranting and raving in order to solidify the points that I was trying to make. I won't bore you all with the details of their stories, but suffice it to say theirs are typical tales of "I was a sinner and Jesus totally saved me glory hallelujah amen praise Jesus." Evangelicals really have no idea how ridiculous their "testimonies" sound to those outside the system.
In any case, my husband and I were concerned that my brother would cut us off as we have feared, given my brother's increasing zealotry. This particular interchange led me to realize that my brother is too far gone to have a rational discussion about religion, and I have determined not to bring it up to him anymore. If he wishes to persist in his beliefs, he will need to follow his own journey. My pointing out scientific and historical flaws in his beliefs has no impact on his desire for faith in ridiculous (and harmful) views. I commented a few days later on one of his few non-religious posts, and we had a nice banter back and forth, so he is not averse to banalities. I think he understands that my children and I are the only blood relatives with whom he has any type of relationship, and if he cuts us off, he will only have his wife's family. They are definitely more Christian than we are, but even they do not seem to be participating in his hard-core fundamentalist zealotry. I don't think he has any friends outside his Skype men's prayer group.
In any case, I accomplished my goal of raising awareness about the abuses in fundamentalist Christian schools. And while I am not ready to be completely public about my atheism for fear of prompting my brother to sever ties, I will say that my name is Laura, and I #ExposeChristianSchools.
Please share your experiences with Christian schools in the comments. We would love to hear your stories.