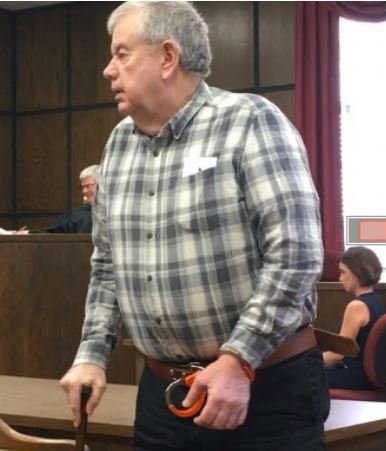 The Black Collar Crime Series relies on public news stories and publicly available information for its content. If any incorrect information is found, please contact Bruce Gerencser. Nothing in this post should be construed as an accusation of guilt. Those accused of crimes are innocent until proven guilty.
Earlier this year, I posted a story about Larry Mullins, pastor of Apostolic Christian Ministries in Nebraska City, Nebraska being arrested and charged with sexually abusing a minor.  On Wednesday, Mullins was found guilty of two counts of first degree sexual assault of a child and six other charges.
The Sandhills Express reports:
In closing arguments, Defense Attorney Robert Schaefer said the 70-year-old Mullins has been afflicted with hip and back problems leading to surgery and said he suffers from long-term troubles in balance and personal mobility.

He said Mullins was physically incapable of performing the acts as alleged by an 11-year-old girl, who was in the courtroom as the verdict was read.

Deputy Otoe County Attorney John Palmtag told the jury that "disability is a weak defense."

Palmtag: "The claim that he was not able of performing these 'not rigorous' sex acts, I think holds no water. The jury should find it holds no water."

At trial, the prosecution showed a two-hour video of the girl's interview at the Child Advocacy Center. Palmtag said the girl was truthful in the video, in a deposition with lawyers and on the stand during trial.

Palmtag: "There's not anyone in her extended family that would tell her to do this stuff, would sit down with her and concoct this incredibly intricate story to take down Larry Mullins. There's just no reason. There's no motive."

Palmtag also offered an explanation for why the girl did not come forward earlier, over the four-year period. She did not alert her parents until March of last year, when she said Mullins hit her after she resisted his attempt to put his hand under her shirt.

Pamtag: "She was confused, she was scared. Larry Mullins was telling her she would be hurt. He was telling her that she would lose her family. He was telling her not tell anyone. He's a trusted adult.