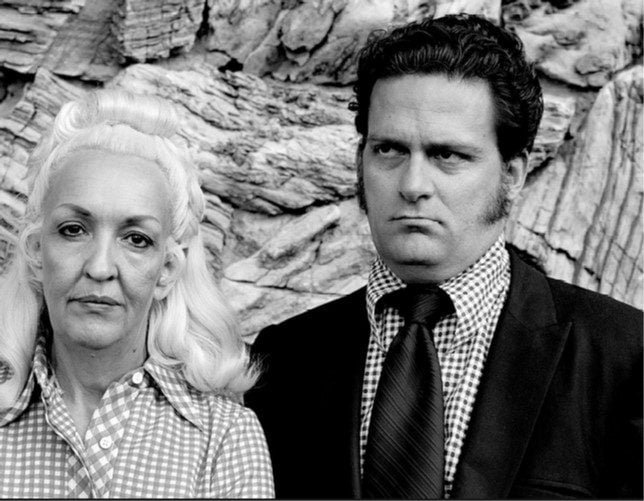 Sundance TV is currently showing the series Ministry of Evil: The Twisted Cult of Tony Alamo. Alamo and his wife Susan were popular Evangelical evangelists and TV preachers in the 1970s-1990s, and are still revered by many people. Ministry of Evil details the Alamos' rise out of the Jesus Movement of the 1960s to cultism and, later, Tony's incarceration for sexually assaulting children. The program is a disturbing look at how easily and quickly Evangelical churches can become full blown cults. The seeds of cultism can be found in virtually every Evangelical church. That why I consider Evangelicalism a psychologically and, at times, physically harmful sect. No, I am not saying all Evangelical churches/sects are cults, but many of them are. As I watched Ministry of Evil, it was easy for me to pick out the similarities between the Independent Fundamentalist Baptist (IFB) church movement and Alamo's Pentecostalism.
Tony and Susan Alamo are dead but, sadly, their cult lives on. (Tony died in prison in 2017.) For some True Believers®, no amount of evidence will convince them that their prophets (and gods) are false.
My editor suggested that I define for readers my use of the word cult. According to TheSage VII dictionary, a cult is:
An interest followed with exaggerated zeal.
A system of religious beliefs and rituals.
A religion or sect that is generally considered to be unorthodox, extremist, or false.
Followers of an unorthodox, extremist, or false religion or sect who often live outside of conventional society under the direction of a charismatic leader.
Followers of an exclusive system of religious beliefs and practices.
Most religions, then, are cults. Evangelicalism, the Independent Fundamentalist Baptist (IFB) church movement, Islam, and Roman Catholicism most certainly are, as are many other sects and churches.  Of course, these groups don't they are cults. In their minds, cults are other sects beside theirs; other beliefs beside theirs. Every sect believes they are right, and all other sects are false. Welcome the wonderful world of religion!
Note
TheSage dictionary is the primary dictionary I use when writing. You can purchase it for $10 — a worthy investment.
About Bruce Gerencser
Bruce Gerencser, 61, lives in rural Northwest Ohio with his wife of 40 years. He and his wife have six grown children and twelve grandchildren. Bruce pastored Evangelical churches for twenty-five years in Ohio, Texas, and Michigan. Bruce left the ministry in 2005, and in 2008 he left Christianity. Bruce is now a humanist and an atheist. For more information about Bruce, please read the About page.
Bruce is a local photography business owner, operating Defiance County Photo out of his home. If you live in Northwest Ohio and would like to hire Bruce, please email him.
Thank you for reading this post. Please share your thoughts in the comment section. If you are a first-time commenter, please read the commenting policy before wowing readers with your words. All first-time comments are moderated. If you would like to contact Bruce directly, please use the contact form to do so.
Donations are always appreciated. Donations on a monthly basis can be made through Patreon. One-time donations can be made through PayPal.