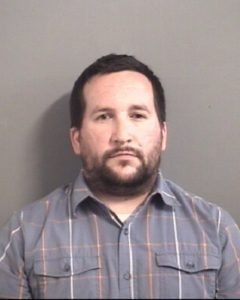 Daniel Heath, the associate pastor of First Baptist Church — affiliated with the Cooperative Baptist Fellowship — in Wilson, North Carolina, stands accused of first-degree sexual exploitation of a minor and coercion and enticement of a minor. The Wilson Times reports:
A Wilson pastor and a volunteer youth baseball coach accused of sexual exploitation of a minor now faces a federal charge in connection to the case.

A Texas grand jury indicted 33-year-old Daniel Franklin Heath on one count of coercion and enticement of a minor, according to a unsealed federal indictment obtained by The Wilson Times. That indictment was handed down Wednesday. Heath, a former associate pastor of First Baptist Church in Wilson, was arrested a day earlier on the charge of first-degree sexual exploitation of a minor.

According to the Texas federal indictment, Heath used an LG model cellphone to "persuade, induce, entice and coerce," a minor to "engage in sexually explicit conduct for the purpose of creating a visual depiction of such conduct, knowing that such depiction would transmitted in interstate and foreign commerce."

Federal authorities say activity occurred from December of 2017 until April 11 of this year, according to the indictment out of the U.S. District Court for the Eastern District of Texas Sherman Division. Heath could face 10 years to life in prison if convicted on the federal charge.

….

Heath's arrest warrant in Wilson alleges that he did "encourage" a 16-year-old girl to "engage in sexual activity, perform sexual activities to herself for the purpose of producing material containing a visual representation depicting this activity, the defendant knowing the character and content of the performance and material."

Church members were also seated inside the courtroom Friday.

Heath is currently being held on a $500,000 secured bond in the Wilson County Detention Center.

….

The Federal Bureau of Investigation contacted the Wilson Police Department in April regarding Heath, who was the subject of an ongoing investigation, officials have said.

On Tuesday, the police department's FBI Task Force detective assisted FBI agents in executing a search warrant at Heath's home in Wilson, according to officials. Based upon evidence gathered at the scene, authorities arrested and charged Heath on that same day.