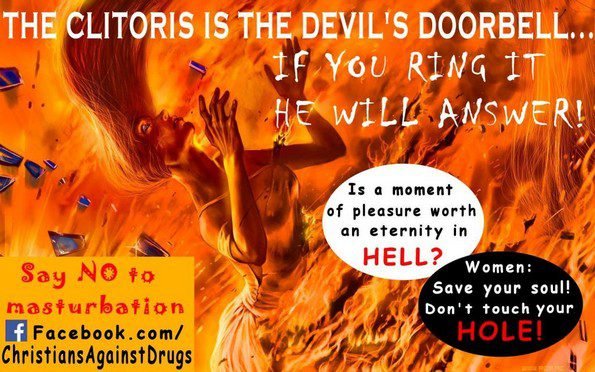 The reasoning in favor of masturbation is quite curious: if we tell people it is wrong and that God disapproves, what happens to those [implied multitudes] who aren't able to stop? They grow up thinking God hates them or that they are some miserable, shameful, dirty creature that belongs under a rock. Therefore, let them do it . . .
It's essentially a secular libertarian, or even utilitarian argument, not a Christian one. It's contradicted whenever the same advocates decry pornography and contend that exposure to it might begin a terrible and perhaps lifelong addiction. As pornography is addicting, so is masturbation, and often they coincide. So do we also argue that pornography ought to be freely available, as a good thing, lest those who can't break the habit feel condemned and worthless and turn against God as a result?
Do masturbation champions advocate free availability and moral sanction of cocaine and heroin, or approve of alcoholism (or oppose remarkably successful programs like AA)? Do they also take a position that homosexual acts are permissible and moral simply because the lifestyle is extremely hard to break (as we know it is)? Why make an exception for masturbation?
The Catholic Church disagrees, of course, It regards masturbation as a mortal, soul-threatening sin. And it will continue to do so, no matter what the prevailing zeitgeist may be. If something is wrong, it's wrong. What period of history (or cultural decadence) we happen to be in has no bearing on that wrongness. Strong Church authority is precisely what prevents these "slippery slope" descents into sexual compromise.
Masturbation is a form of non-procreative sex. It perverts sexuality and has an adverse effect on proper, healthy sexual development. It turns sex into something entirely selfish, rather than giving and other-directed. This "if it feels good, do it" mentality is in perfect harmony with the sexual revolution and humanist ethics and hedonism, but in perfect disharmony with traditional Christian sexual morality.
— Dave Armstrong, Biblical Evidence for Catholicism, Masturbation: Thoughts on Why it is as Wrong as it Ever Was, August 14, 2019